24 of The Best Christmas Cookies Ever
8 min read
These are 24 of the Best Christmas Cookies ever! You're going to want all of these festive treats on your holiday cookie platters. From classic soft sugar cookies to spiced gingerbread, traditional Christmas cookie recipes, and loads more.
It's that time of year again. The house is decked out with tinsel and lights. Mariah Carey's "All I Want for Christmas" has officially defrosted (and will be on repeat until further notice). We've been curling up with mugs of Hot Chocolate on the daily. The holidays are HERE, people!
This is not a drill.
To top it all off, I'm back with even more of The BEST Christmas Cookie Recipes. This time, I have 24 of my most delicious, festive Christmas cookies ever to share. I can guarantee that I'll be baking these non-stop this holiday season. You'll find everything from perfect spritz cookies to cutout sugar cookies, and snickerdoodles to traditional recipes like Polish kolaczki and alfajores. 
Plus, I'm sharing easy tips for arranging your holiday cookie platters, cookie storing and freezing instructions, and then some. Let's just say, I've got you covered from head to mistletoe.
Ready for the ultimate collection of Christmas cookies to bake this year? You'll find everything you need to fully stock your Christmas cookie platters in the list below.
We'll kick this list off with a classic: cut-out sugar cookies! This is the ONLY Christmas sugar cookie recipe I'll ever use, because it's basically foolproof and always tastes amazing. These buttery cookies are perfect for decorating with my favorite sugar cookie icing, also included in this recipe!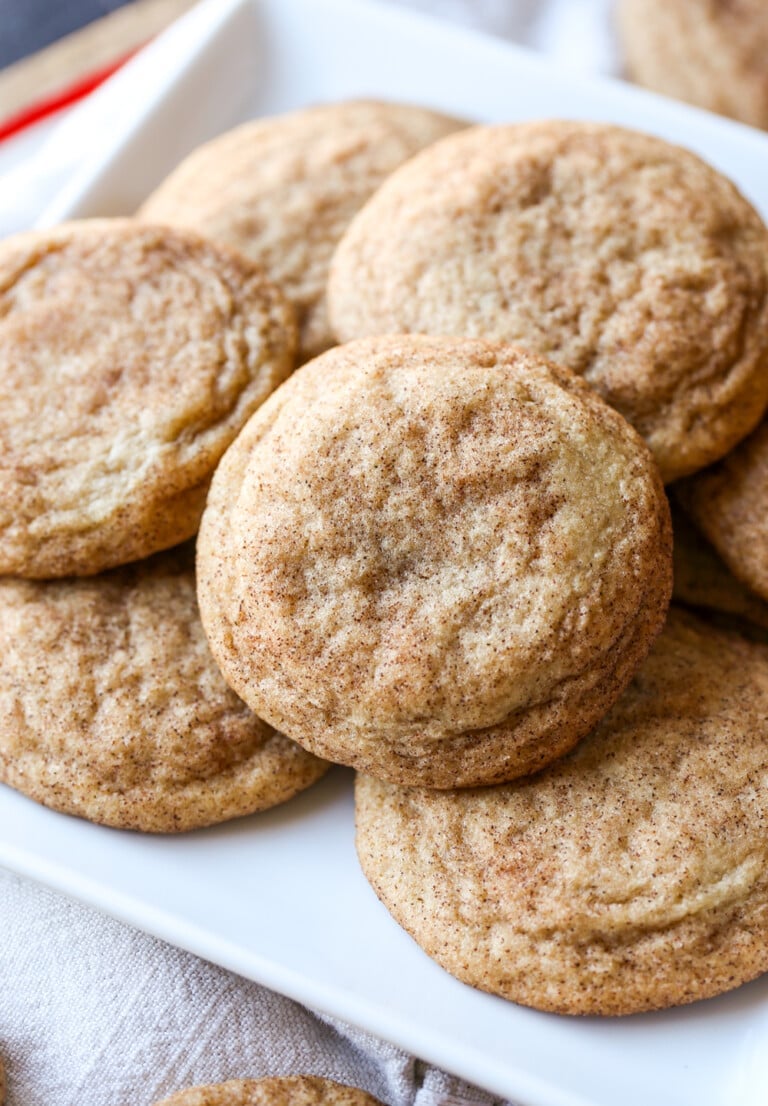 Another classic, these soft and chewy snickerdoodles are just the best. They're buttery on the inside, chewy on the outside, with an irresistible sugary crunch. Plus, that characteristic snickerdoodle tang, of course!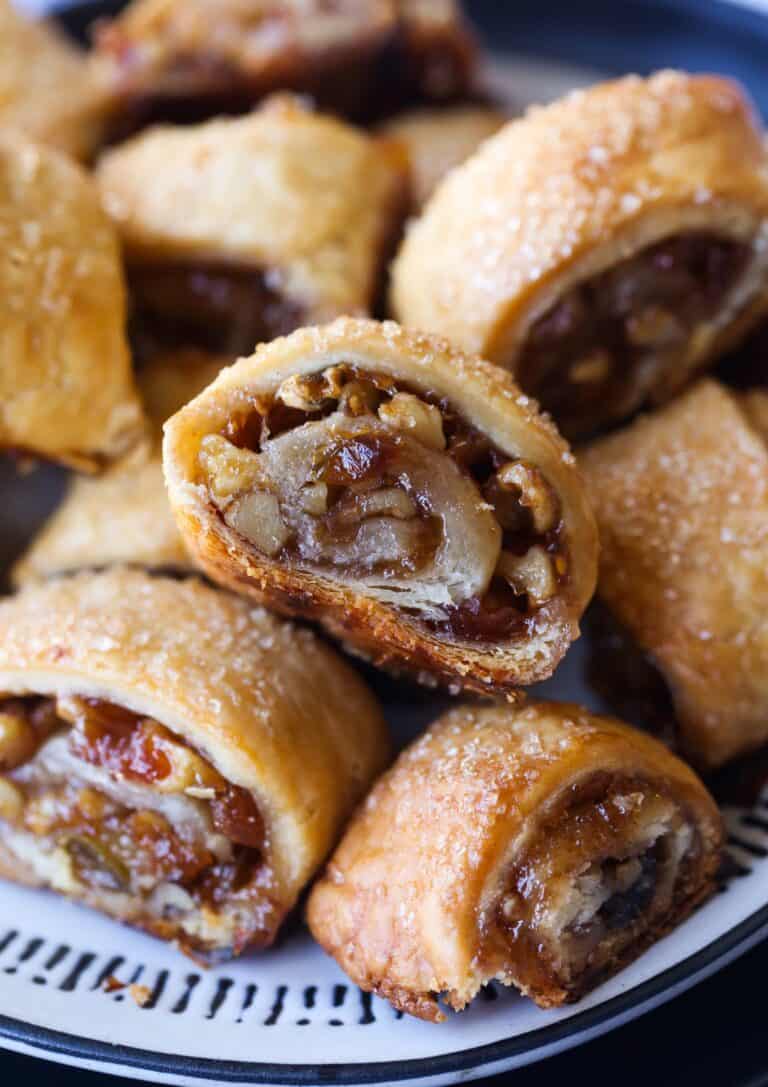 Deliciously Easy Rugelach
Rugelach are traditional Polish Christmas cookies, made from nuts, fruit, preserves, and cinnamon sugar rolled up inside soft cream cheese pastry dough. The result is a delicious and festive combo of flavors and textures!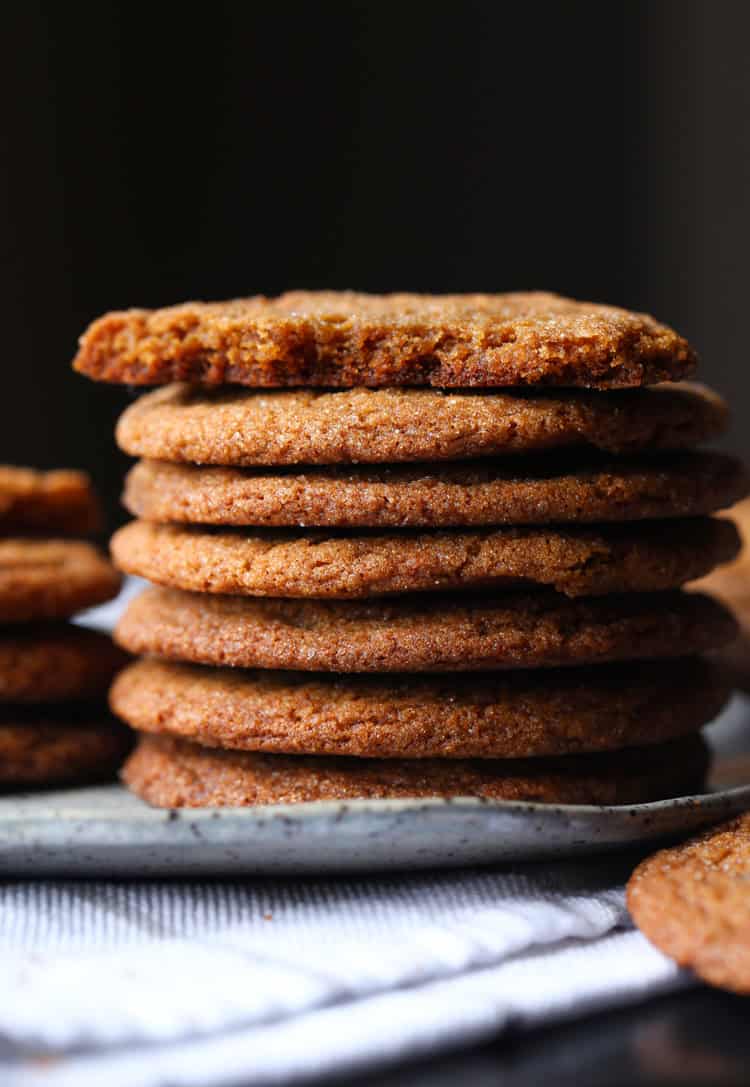 Chewy, spicy gingersnap cookies are perfect for the holidays, and this recipe is so easy! These gingersnaps bake up on the softer side, for a less crisp yet still SUPER tasty version of a crispy gingersnap cookie.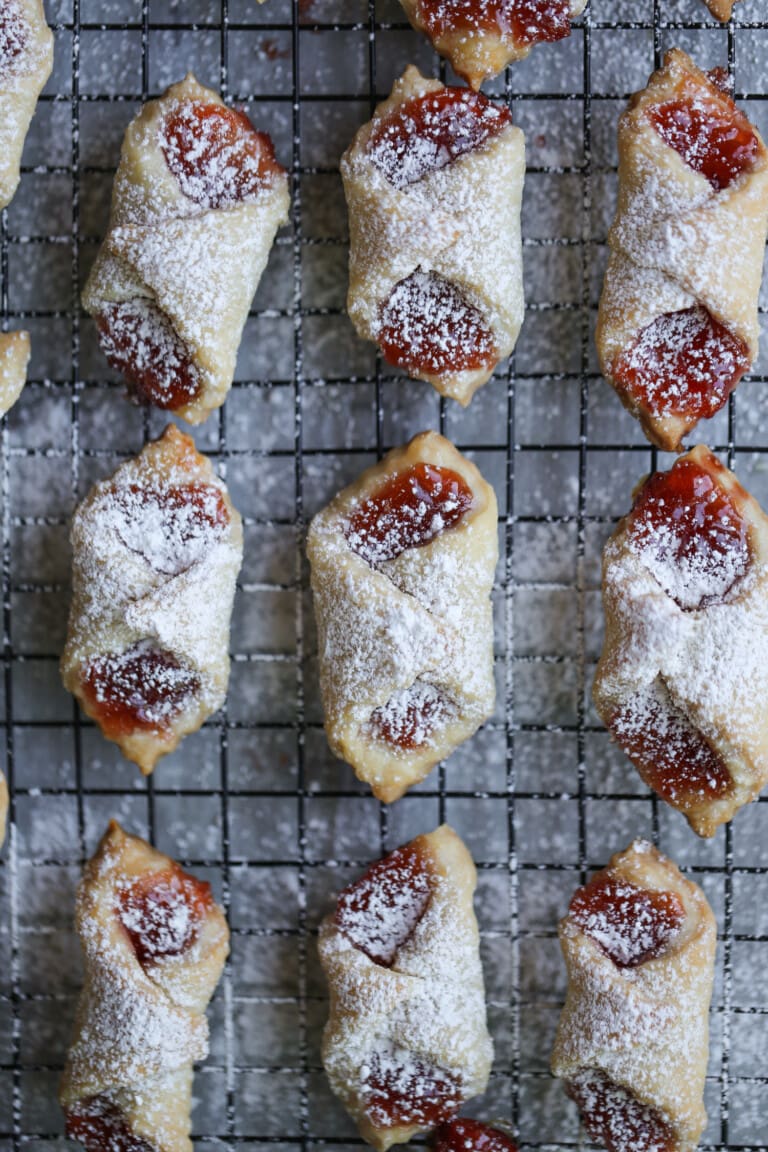 Homemade Polish Kolaczki
A traditional Polish recipe, my homemade kolaczki cookies are made from cream cheese pastry folded around a filling of jam or fruit preserves, then dusted with powdered sugar. These always make an appearance at our house during the holidays!
Easy Homemade Alfajores
If you're looking for something a little different and SO delicious, this easy recipe for homemade alfajores cookies is right up your alley! Alfajores are a type of delicate South American sandwich cookie, made from melt-in-your-mouth dulce de leche between two shortbread-style cookies.
An easy recipe for perfect homemade butter cookies, these babies are reliably the best. Serve them as-is or decorate them as you wish, these cookies never come up short.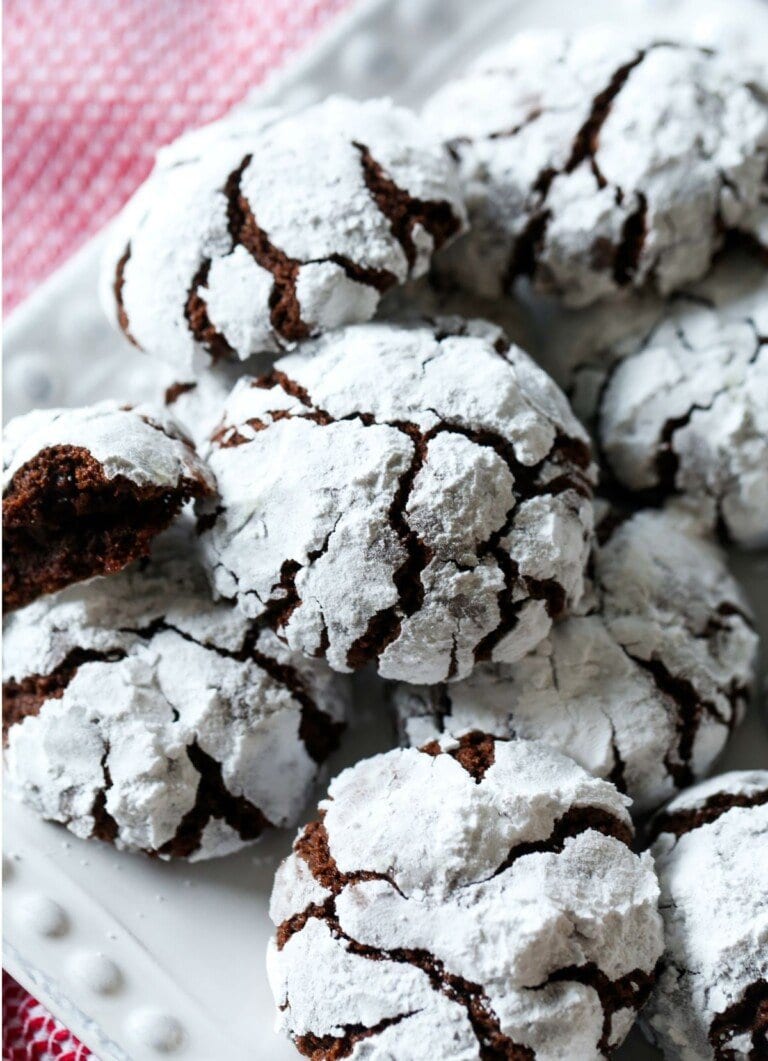 How gorgeous are these "snow"-dusted chocolate crinkle cookies? I just love the sugary White Christmas effect of dusting my crinkle cookies with powdered sugar. These chocolate cookies are fudgy, soft, and perfect on a cookie plate.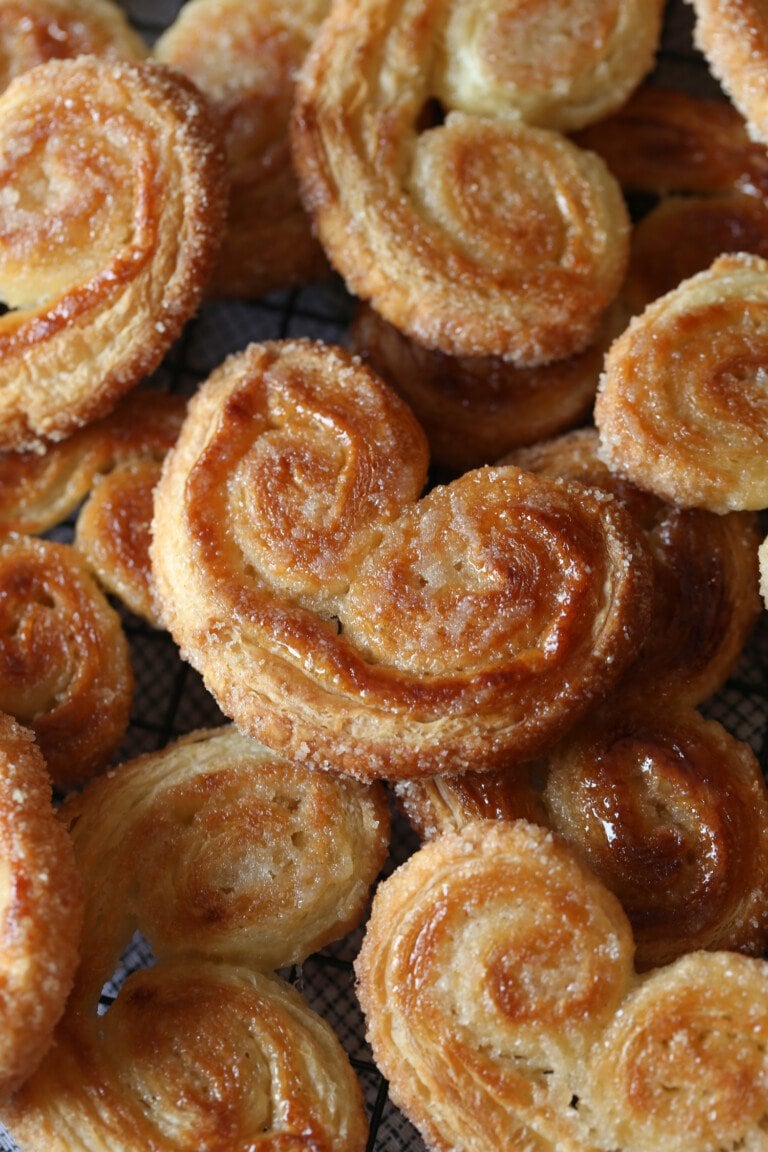 Easy Homemade Palmiers
And now for a cookie recipe that looks super impressive, that's surprisingly simple to make! Homemade French palmier cookies are a real delicacy, made from sugary, flaky pastry rolled up in a classic shape.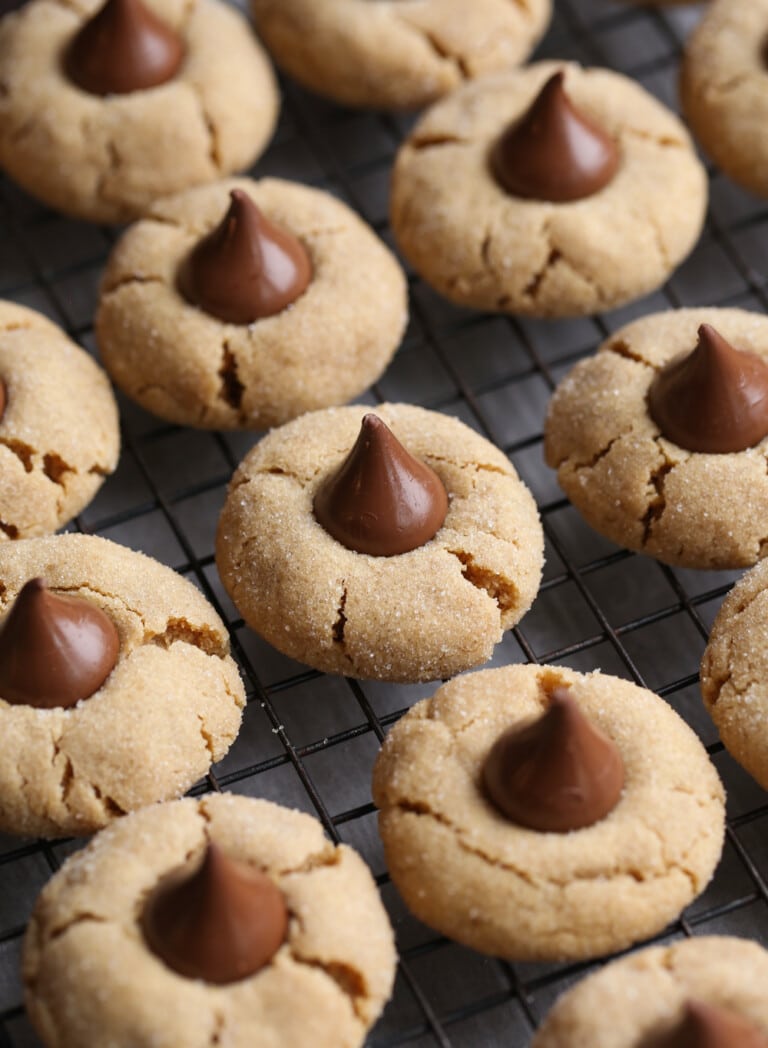 Classic Peanut Butter Blossoms
It doesn't get simpler or more scrumptious than homemade peanut butter blossoms. This is my favorite recipe for peanut butter Kiss cookies, dusted with sugar for a crunchy, peanut buttery, fudgy combination.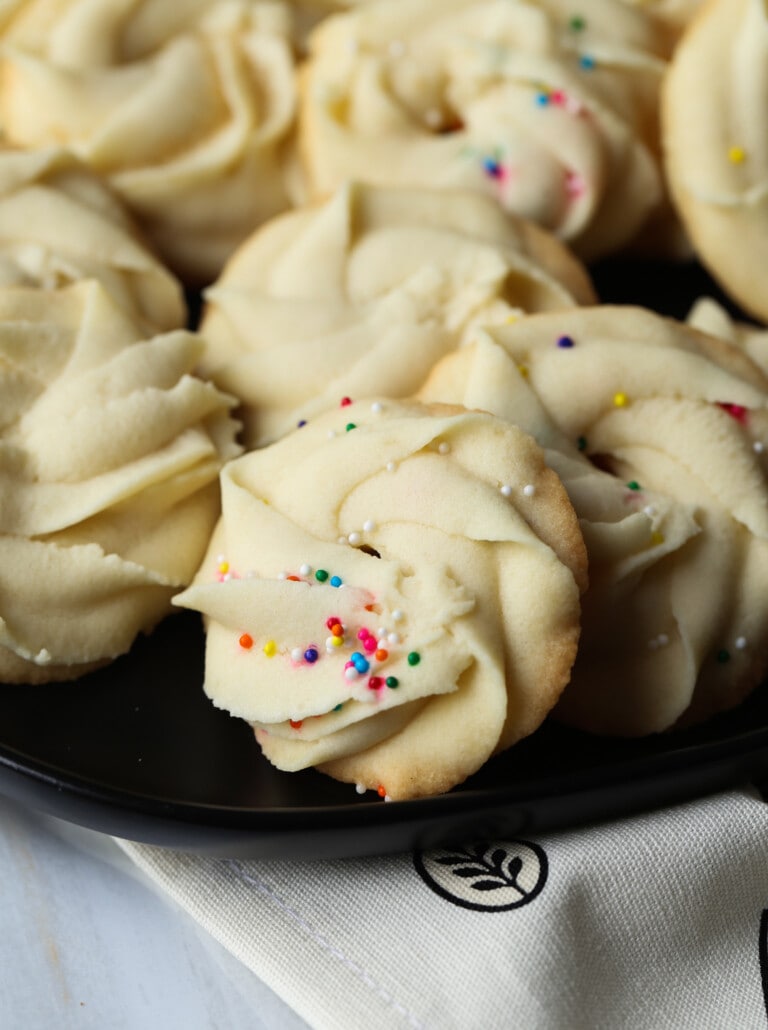 This throwback recipe for Danish butter cookies is crispy, buttery, and just as yummy as the original. And if you also grew up in that era, chances are you even have a blue tin kicking around the house to store them in! (If you know, you know.)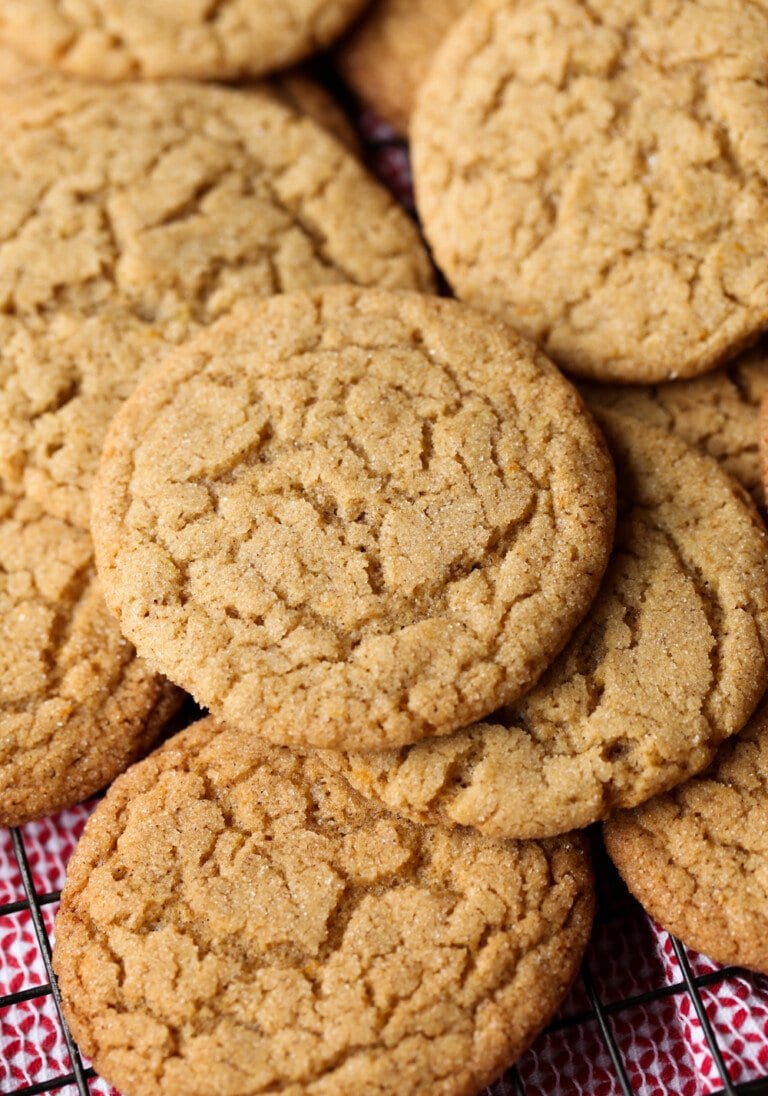 These crackle cookies are brimming with loads of cozy cinnamon flavor, perfect for Christmas! I can't tell you how much I love the taste and texture of these zesty cinnamon cookies: crispy, chewy, with a subtle hint of citrus. Unreal!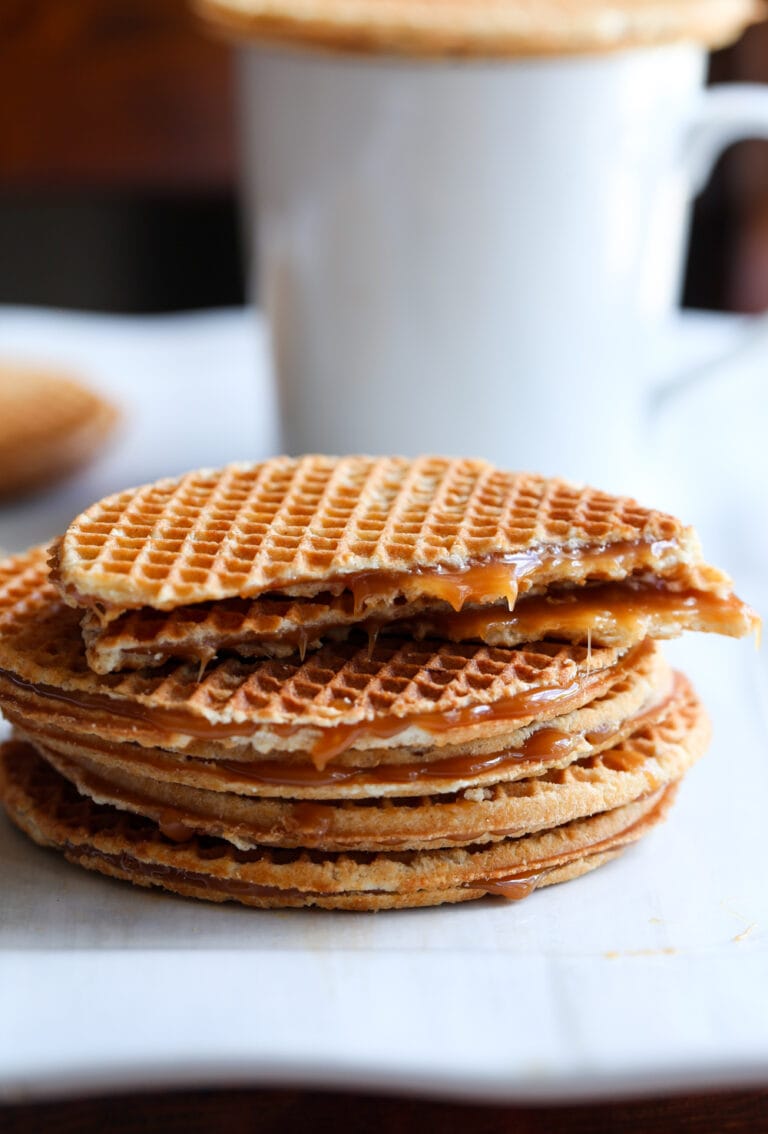 Homemade Stroopwafles
Stroopwafels are a classic Dutch cookie, made with caramel filling sandwiched between two thin and crispy waffle-like cookie layers. It turns out they're easy to make at home!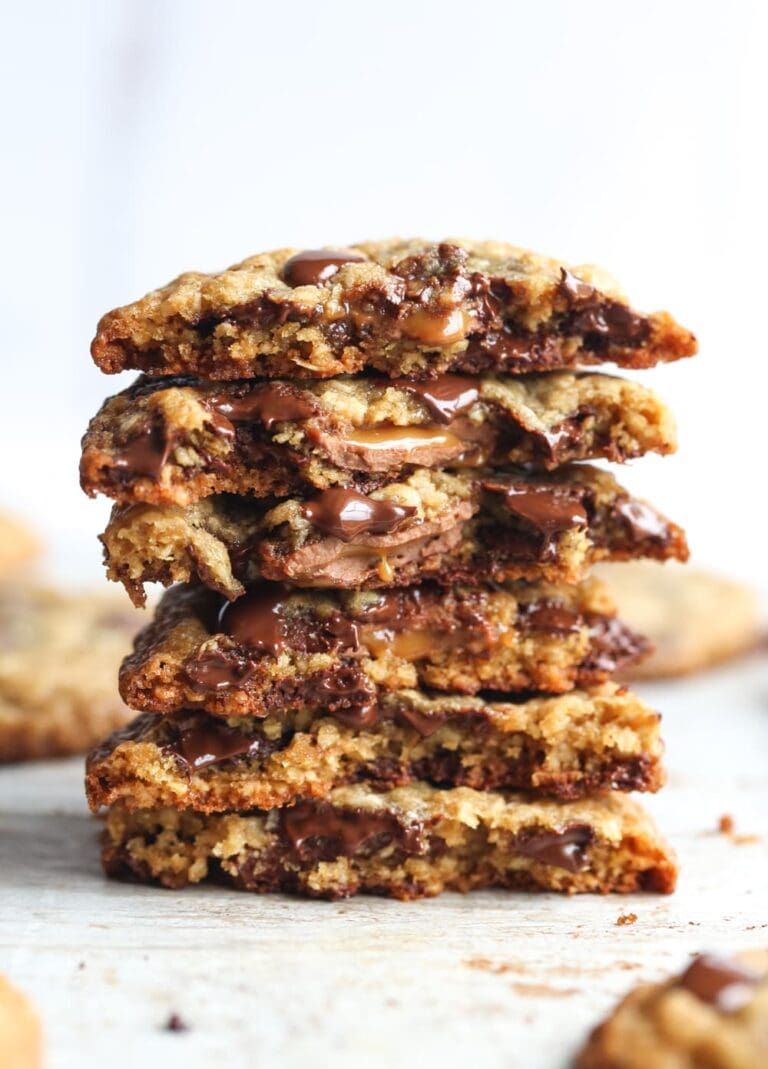 If you love Carmelita cookie bars, wait until you get a taste of these Carmelita cookies! These are the ultimate oatmeal chocolate chip cookies for a reason: they're stuffed with ooey-gooey, creamy caramel!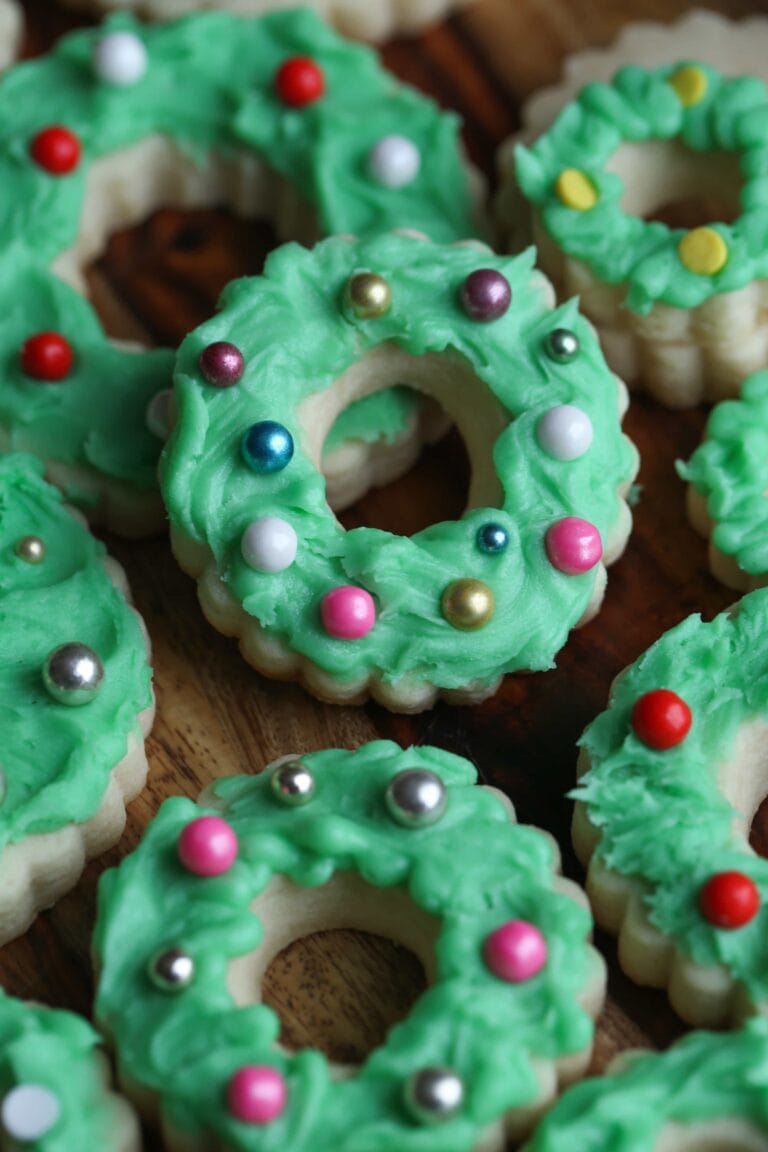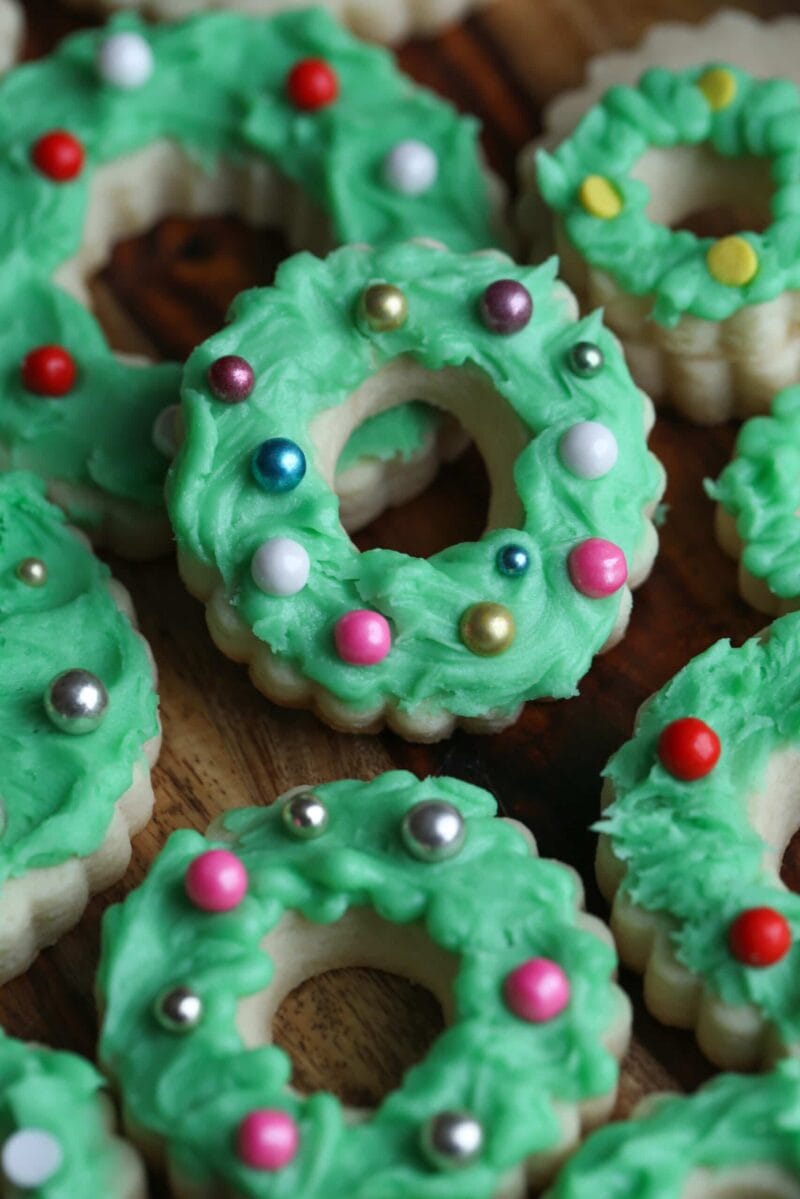 These holly jolly wreath sugar cookies are just too cute. This is the best Christmas cookie recipe to make with kids! We'll spend hours decorating these cheerful, festive wreaths with frosting and sprinkles.
Gingerdoodles
Obsessed with gingerbread cookies? Love snickerdoodles? Then these gingerdoodle cookies are the Christmas miracle you never knew you needed. These are thick, chewy, coated in sugar, and filled with warm spice – the best of both worlds.
Linzer cookies are classic Christmas cookies made from flaky shortbread filled with jam and then sprinkled with powdered sugar. This is a traditional Austrian cookie that I grew up with, and now I make them every year from scratch!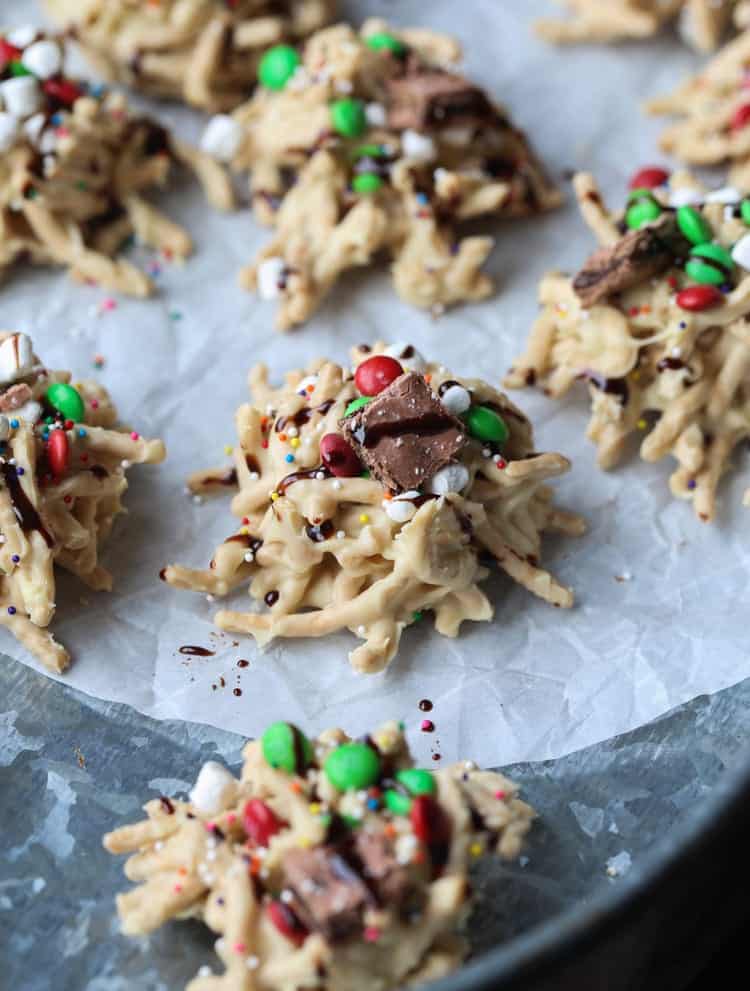 This fun, no-bake cookie recipe is inspired by Buddy the Elf's crazy spaghetti breakfast from the classic Christmas movie! I turned his signature sugar-overloaded breakfast into equally sweet and candy-filled haystack cookies. You're welcome!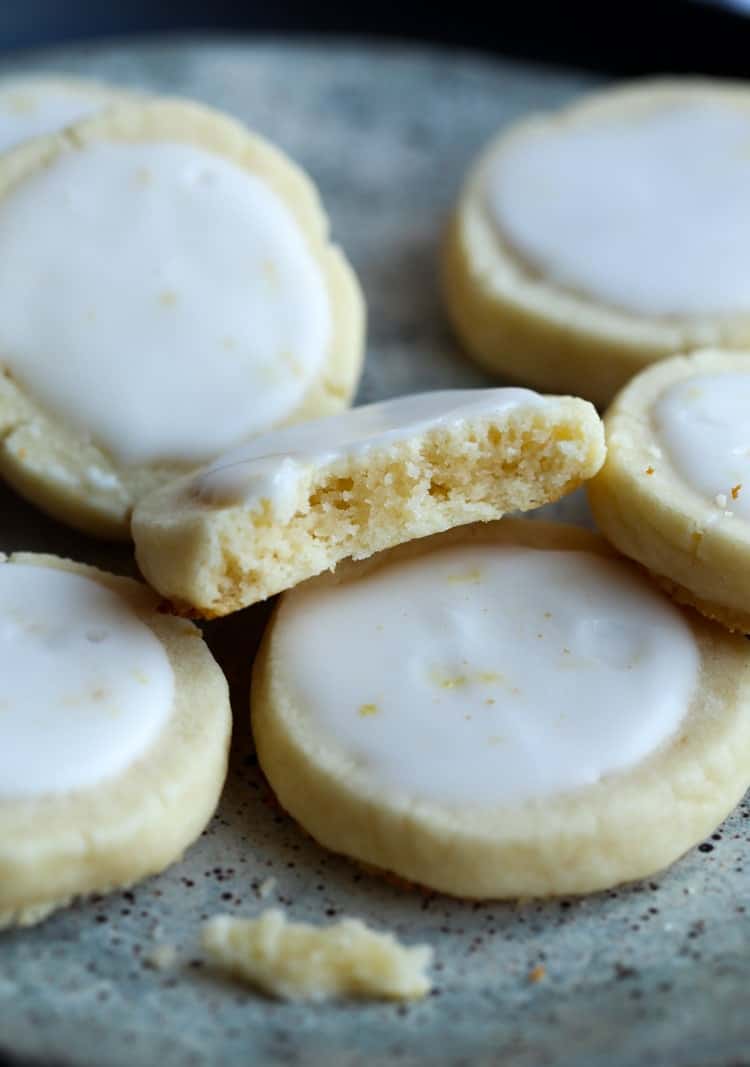 Lemon Meltaways
These easy lemon cookies literally melt away in your mouth, with zesty flavors of real lemon wrapped up into a buttery shortbread-style cookie.
Russian Tea Cakes
Russian tea cakes, snowball cookies, Mexican wedding cookies – you name it, but no matter what you call them, these classic cookies are a holiday staple and easy to make with just a few ingredients.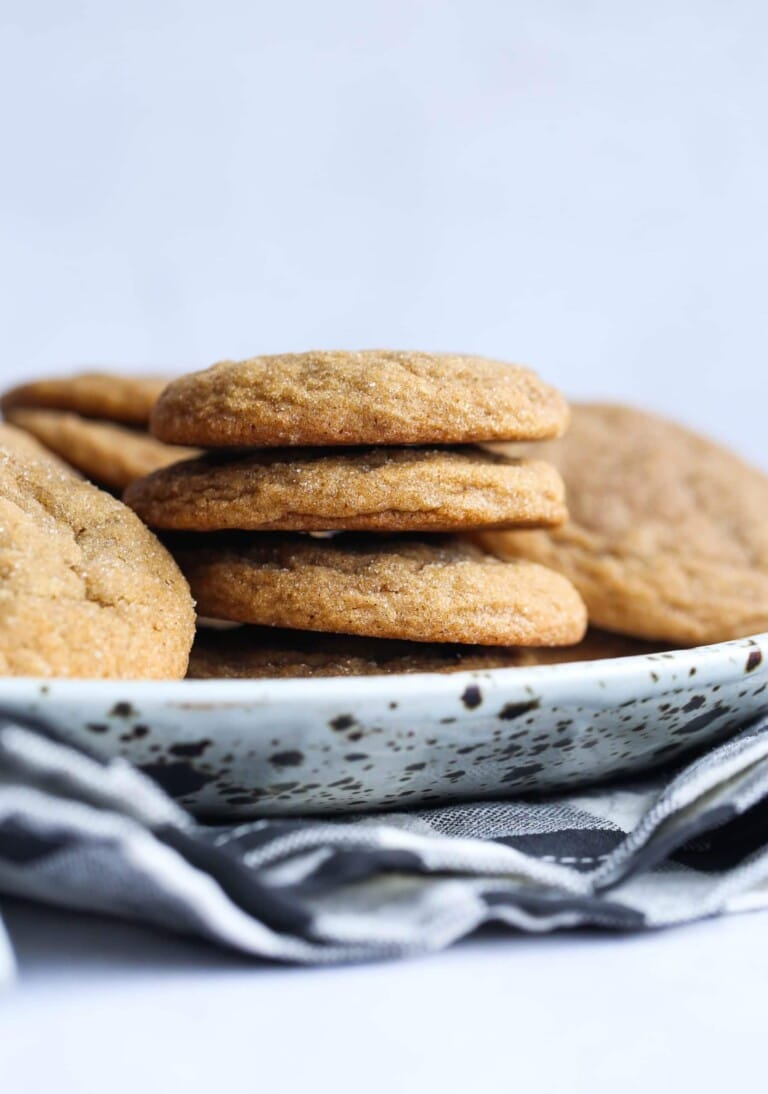 I love these soft and irresistibly chewy gingerbread cookies, and I make them every year! Nothing says Christmas more than a freshly baked gingerbread cookie.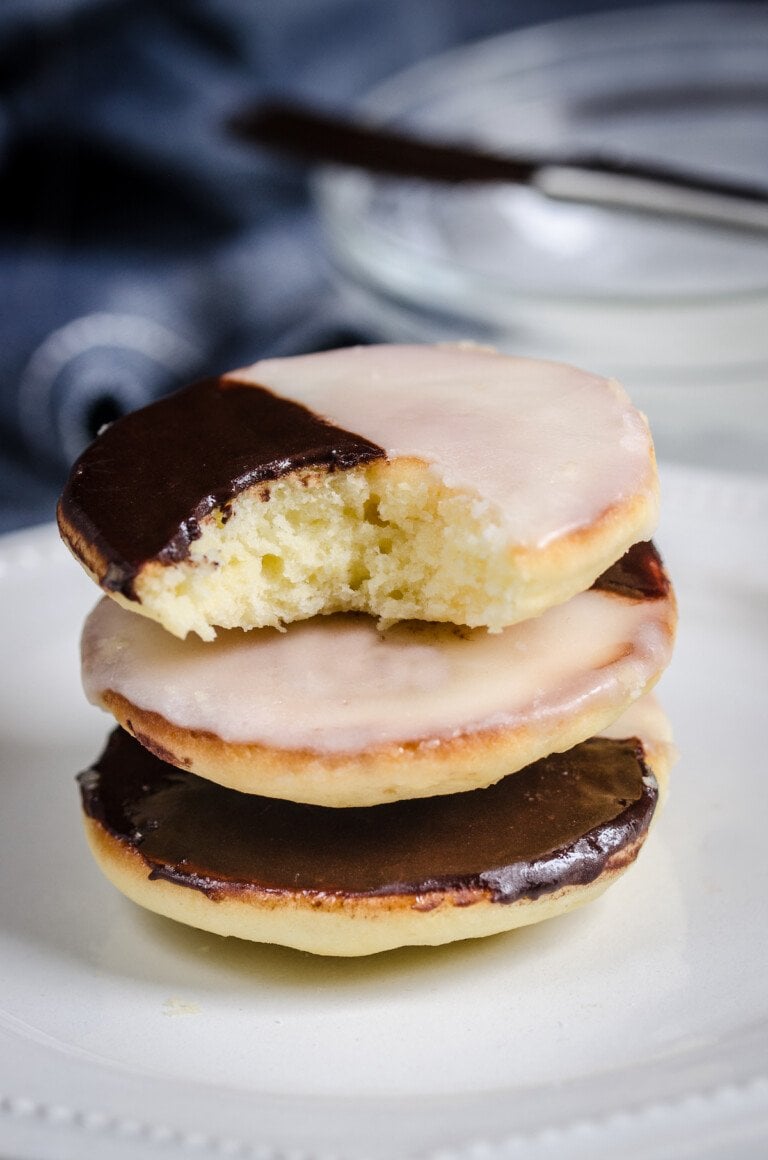 Take a bite of the Big Apple this Christmas with this easy homemade version of black and white cookies of NYC fame! These cake-like, bakery-style vanilla cookies are topped half-and-half with vanilla and dark chocolate icing.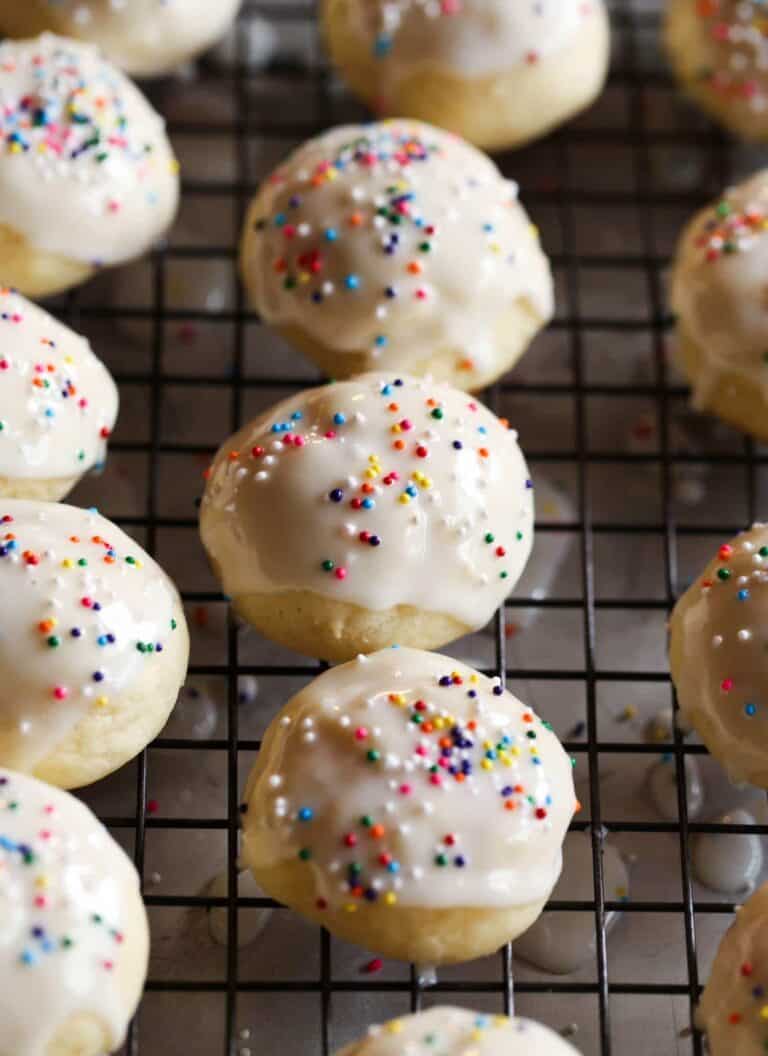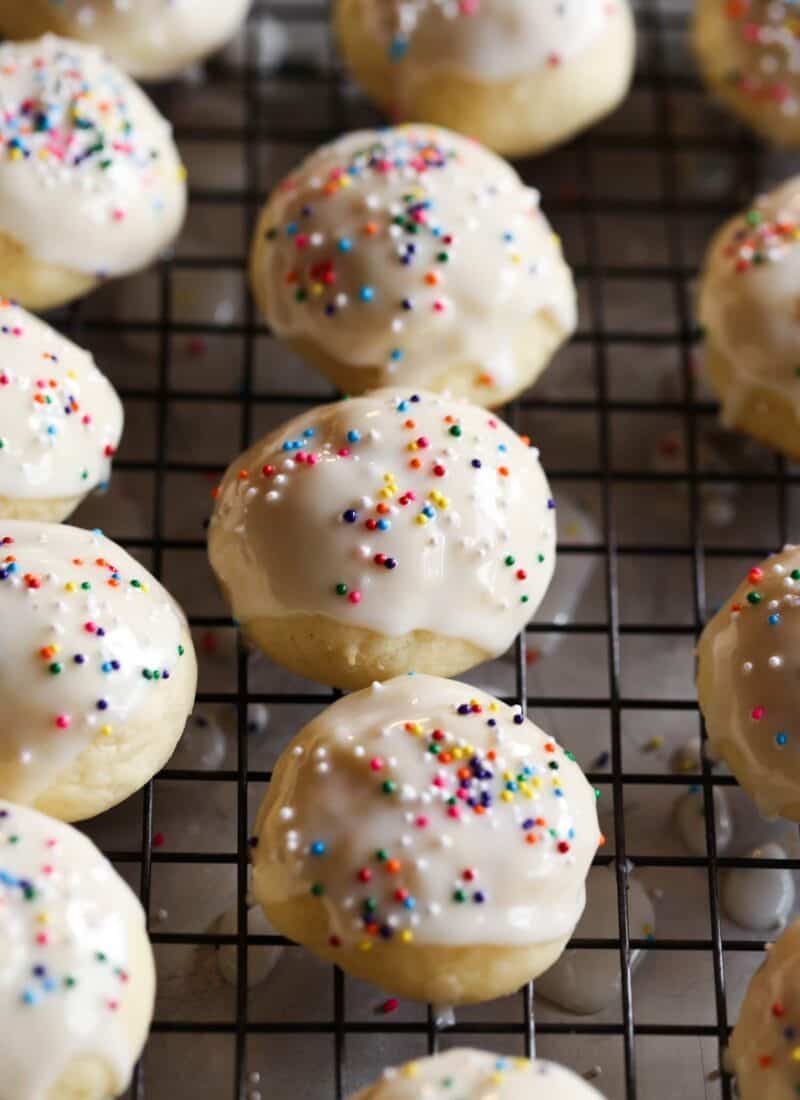 Add an air of effortless luxury to your holiday cookie trays with these Italian ricotta cookies. These cookies turn out deliciously light and airy, like little bites of fluffy cake topped with creamy icing.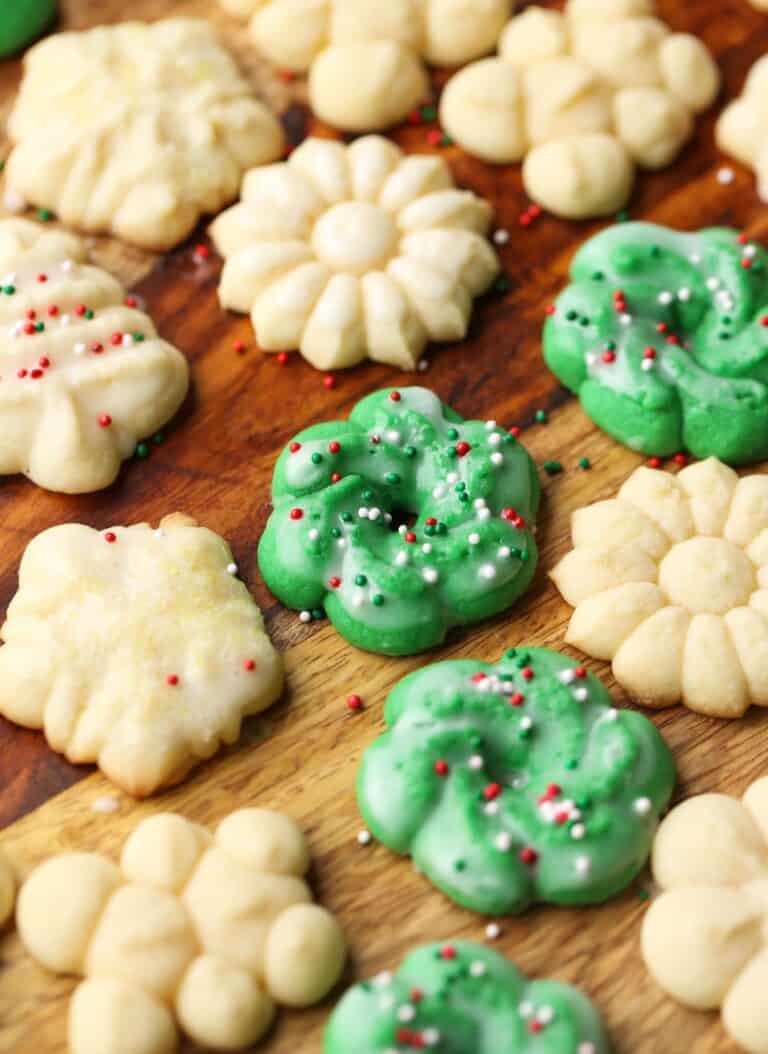 No Christmas cookie plate is complete without my favorite spritz cookies. You'll love this easy cookie recipe because these bite-sized pressed sugar cookies turn out perfect, every time.
Yes! Most cookie dough can be made 1-2 days ahead and refrigerated until you're ready to bake it. Simply wrap the dough in question tightly in plastic wrap, or store it airtight in a container or zip-top bag in the fridge. 
You can also freeze homemade cookie dough for up to 1 month. I've found the easiest way to freeze cookie dough is to portion it into balls beforehand, then pre-freeze the dough on a baking sheet. Afterward, transfer the solid dough balls to a freezer bag to store. Defrost frozen cookie dough balls in the fridge, then bake as directed!
With all these Christmas cookies flowing, presentation is key when you're serving them up at the family holiday party. Below are my tips for putting together the best Christmas cookie platter.
Choose Your Cookies
Variety is the spice of life. It's true, and variety is essential in a well-stocked holiday cookie plate. Make sure to use a mix of both traditional and creative cookies, in different shapes and sizes (cut-out cookies, drop cookies, cookie bars, cookie cups, etc.), as well as colors (red, white, green) and flavors (chocolate, vanilla, peppermint, etc). 
You don't want a whole platter of cookies that all look alike. Although, I'm sure they'd still be delicious. Just saying.
Have a Game Plan
Unless you plan on baking 20 types of holiday cookies to choose from (kudos if you do!), you'll want to go into your cookie platter with, say, 4-5 sorts of cookies you'd like to include, with wiggle room for more (obviously). Here's how to lay out a game plan leading up to the perfect cookie platter:
Make a list of ingredients, and do one big shop where you can get everything you need to make your chosen cookie recipes. 
Set out a time for baking. You don't have to bake all your cookies in one shot, but budget enough time so that you're not scrambling at the last minute! Also, many cookie dough recipes can be made ahead (see above), so definitely keep that in mind when prepping for baking.
Take allergies and diets into account. Planning ahead also allows us to cater to any potential dietary needs. If you know that some guests or cookie-platter recipients are gluten-free, dairy-free, etc., you can fit this into your game plan.
Assemble Your Cookie Trays
Whether you're assembling a cookie platter for a party, or a cookie plate for gifting, it's best to not make them up too far in advance. We don't want stale cookies on our hands! 
When you're ready to assemble your cookie platters, arrange your assorted Christmas cookies as you see fit. You can group similar cookies together on the plate, or arrange different cookies at random – it's totally up to you! Your plate is bound to turn out gorgeous. 
You can also include other, non-cookie treats to spice up a cookie platter. Think Holiday Rum Balls, Homemade Turtles Candy, and Crock Pot Peppermint Pretzel Candy. Or, scatter around candy canes, Andes mints, Hershey's Kisses, and more. Anything goes, really. 
Once assembled, wrap your cookie platters tightly until you're ready to serve or deliver them, so the cookies stay as fresh as possible.
If you have leftover cookies when all is said and done, storing them is easy! Most Christmas cookies are fine to store airtight at room temperature for a few days. 
Of course, always make sure to read the instructions for each recipe just in case, as not all cookies have the same shelf life. Also, depending on the ingredients, some cookies might be better off stored in the fridge.
Like cookie dough (see above), most homemade Christmas cookies are also great to freeze! Store the cookies in an airtight container or freezer bag, using parchment paper to separate the layers as needed. Then, store the cookies frozen for up to 2-3 months. Thaw them on the counter whenever you're craving a taste of the holidays!