Absolute BEST Cheeseburger Soup – Chelsea's Messy Apron
8 min read
Cheesy, creamy, and comforting Cheeseburger Soup is loaded with beef, golden baby potatoes, veggies, and a cheesy cream base.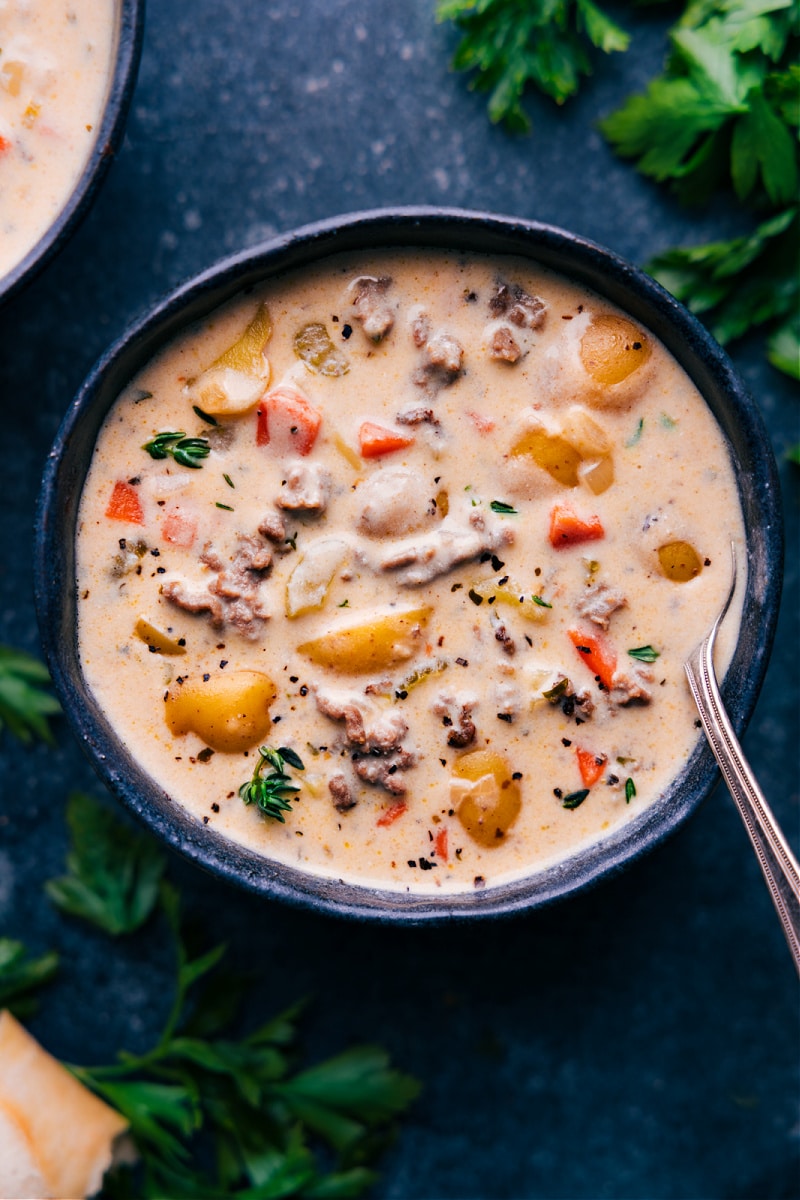 The Best Cheeseburger Soup
Last winter, we shared this Sausage Potato Soup which has turned out to be one of the most popular soup recipes on this website!
It's been so fun to see how many people have loved that recipe. One reader wrote in saying "This is the best soup I've made–ever!…So good. By the way, I've been cooking for more than 50 years. Best soup in all these years." (Wow! Thank you!) And then, a personal favorite review, "Best soup I have ever had. Please don't tell my mom. Lol" (Haha!)
That soup recipe was my "take" on cheeseburger soup, but since sharing it, there have also been so many questions and emails on how to make an actual cheeseburger soup–one with beef and Cheddar, not sausage and Colby Jack. So here we are! This is the best Cheeseburger Soup–I hope you all love it as much as the sausage potato version!
QUICK TIP
This Cheeseburger Soup has no Velveeta! Instead we're using real Cheddar cheese, which gives it a wonderful made-from-scratch flavor.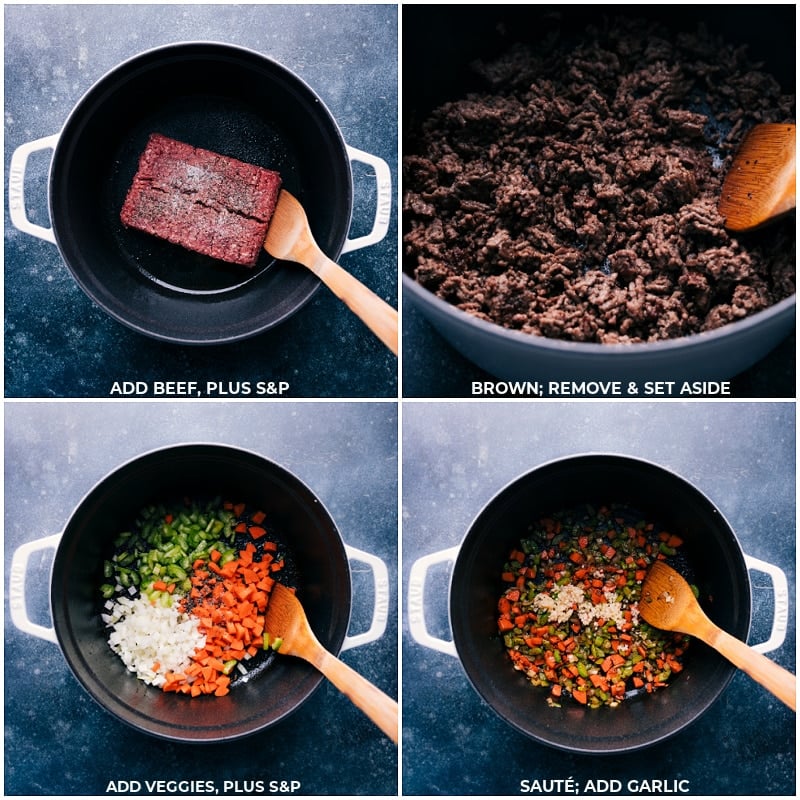 What Is Cheeseburger Soup Made Of?
This comforting, hearty Cheeseburger Soup Recipe combines ground beef, carrots, celery, onion, and potatoes. We then add a cheesy, cream base with sour cream and plenty of sharp Cheddar cheese. This has all the flavors you know and love in a good cheeseburger, but in soup form!
Here are a few ingredient-specific notes:
Use sharp or extra-sharp Cheddar. Sharpness indicates a more aged cheese that will deliver a richer and more pungent flavor. If you've ever noticed your cheesy soups to be lacking flavor, it's likely because the cheese wasn't aged (or the soup needed more salt to bring the cheesiness alive!). See "quick tip" box below.
Pick baby gold potatoes. Baby Yukon golds (also called gold, Yukon, or yellow potatoes) have a light yellow flesh, delicate skin, and an irresistible creamy flavor and ever-so-slight sweetness. The skin is so delicate, you don't need to peel the potatoes before using (which is a huge time saver)!
Add in a flavorful chicken stock. The better quality of stock, the better the flavor (we love Swanson®). Of course, if you have homemade chicken stock, nothing beats that!
QUICK TIP
Make sure to use freshly grated sharp Cheddar so you don't get a waxy Cheeseburger Soup (pre-grated cheese has a cellulose coating to keep it from clumping together but it also doesn't melt as nicely in the soup).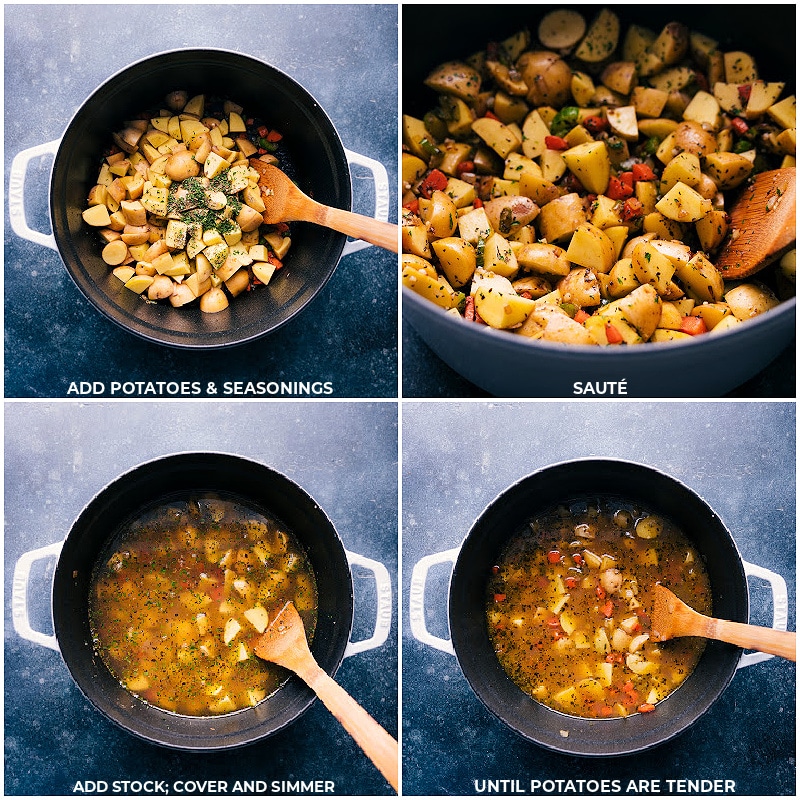 SHORTCUTS
Baby gold potatoes are a time saver since you don't need to peel the potatoes first!
Try freshly made mirepoix (a combination of finely chopped onions, celery, and carrots) from the produce section of the grocery store. You can even find it in the frozen vegetable section of the store; this is another huge time saver! If you don't want to purchase this mix, you can use a food processor to quickly chop equal amounts of onion, carrot, and celery. Going the food processor route adds an extra dish, but isn't too much more time consuming.
Use pre-minced garlic (or a garlic press) as another time saver.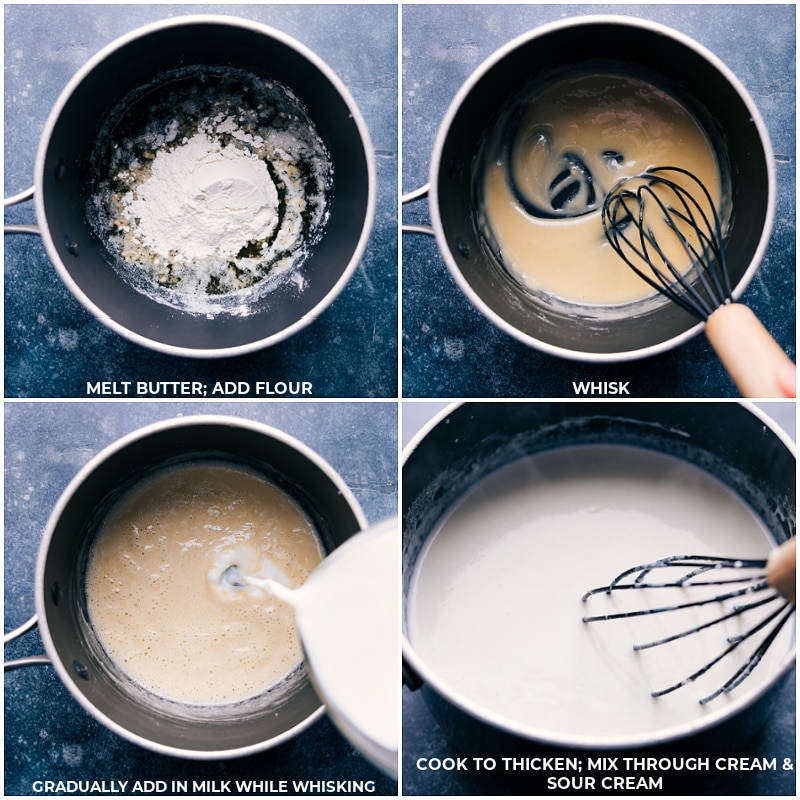 How to make Cheeseburger Soup
This easy Cheeseburger Soup is created to be simple to make and only use two pots! Plus, no blending required. (This is a very creamy soup, but also has chunks of veggies and meat present.) 
Here are our top tips for success:
Use a hot cast iron pan to brown the ground beef. Once you add the beef, let it stand for a minute before crumbling–this will allow it to nicely sear and gain color. Color=flavor!
Dice veggies (celery, carrots, and onion) into small, even sizes so they'll cook quickly and integrate into the soup nicely. 
Cut the potatoes into evenly small, bite-sized pieces so they'll boil to fork tender within 15-20 minutes as indicated by the recipe.
Use real milk. We tried this soup with whole milk which was our favorite, but 2% and 1% also work. We don't recommend using skim milk or milk alternatives (like soy, almond, rice, etc.), as those milks will affect the flavor and consistency.
QUICK TIP
What makes a perfect soup? A really great base flavor! Just the right amount of salt and pepper, complementary spices, and well-cooked components!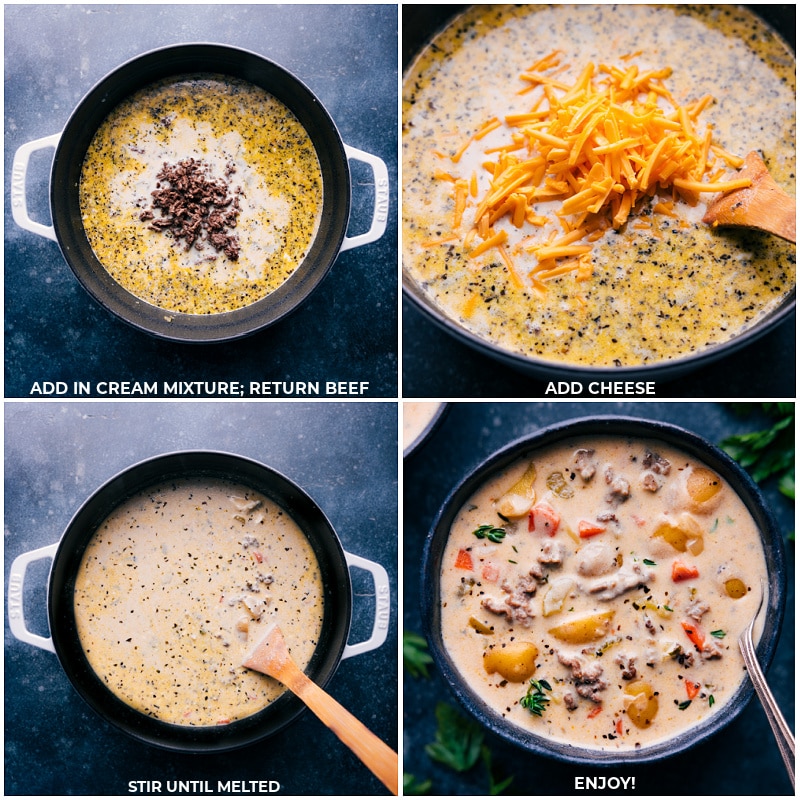 VARIATIONS
Variations
Add some spice: A touch of red pepper flakes or some ground cayenne pepper (add slowly to taste) really adds some zing.
Make Cheeseburger Soup healthy:Use lean ground beef, fat-free or light sour cream, and 1% milk.
Make a Cheeseburger Soup with pickles: Just add a garnish of diced pickles on top.
Try a Bacon Cheeseburger Soup: Brown some diced bacon at the start of this recipe and remove to a plate, leaving the grease behind, Brown the beef in the bacon grease. Top bowls of soup with cooked bacon–delicious!
Make a vegetarian Cheeseburger Soup: Swap out the chicken stock for vegetable stock (or broth) and replace the beef with Beyond Meat® crumbles (or similar brand) or omit the meat entirely.
STORAGE
Cheeseburger Soup Recipe Storage
Freezing: This soup doesn't freeze very well, because of all the dairy in it. If you want less soup, try halving the recipe.
Reheating this soup: We recommend reheating this soup on the stovetop over low heat, stirring frequently. (Boiling may cause ingredients to separate.) Add a splash more milk if needed to thin. This soup is best enjoyed within 3-5 days.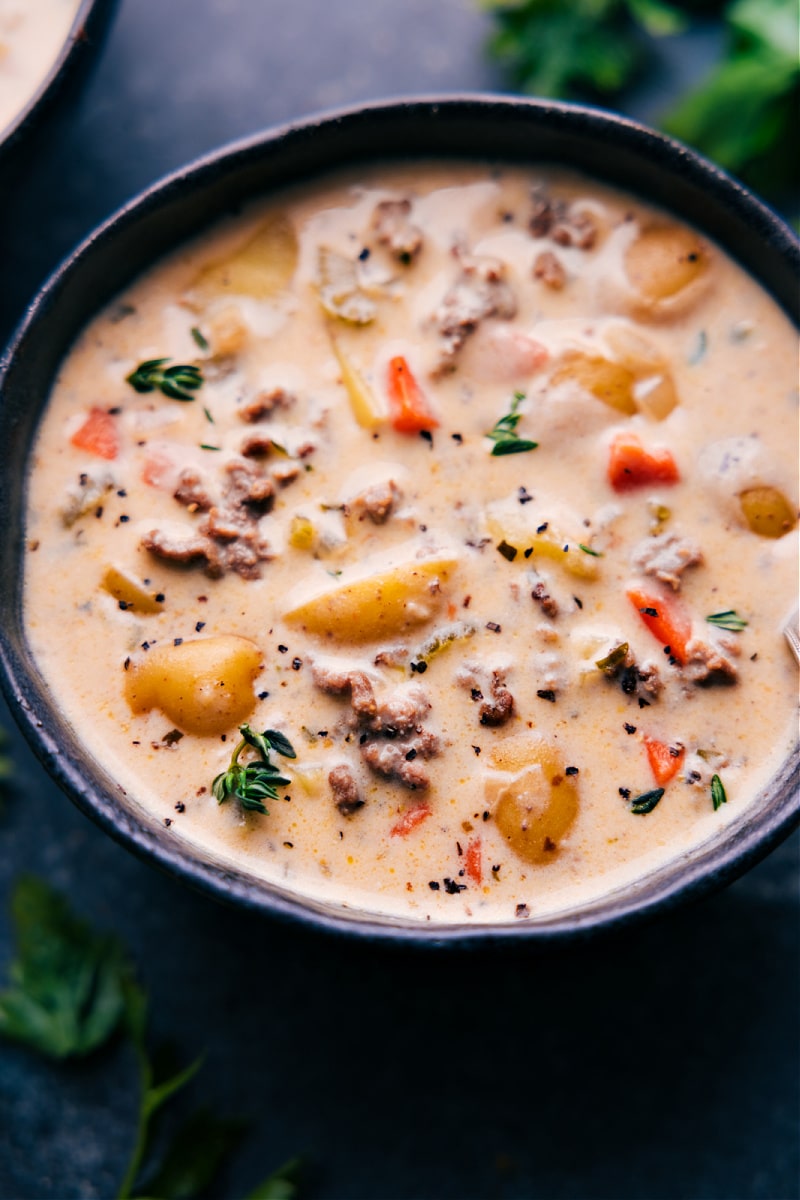 Cheeseburger Soup FAQs
1How many calories are in Cheeseburger Soup?
A serving of Cheeseburger Soup has about 750 calories. It's definitely not a diet soup, but it is a full meal in a bowl that is satisfying, filling and creamy.
2How did this soup get its name?
This is called Cheeseburger Soup because of the similar ingredients and flavors! We've got beef, Cheddar cheese, and mustard powder– which all deliver the flavors of a classic cheeseburger. Plus, the potatoes in the soup give you the element of "fries"!
3What can you dip in this soup?
We love to dip Saltine or oyster crackers in soups–so delicious! You can also try different kinds and flavors of breads to bring variety. Another favorite dipper is pita bread or pita chips.
4What vegetable goes good with cheeseburgers?
We love onion, celery, and carrot as the base for this recipe. Potatoes are another great veggie that pairs well with the cheeseburger flavor.
As far as a vegetable side dish for this soup, below are a few options:
5How do you add depth to a soup?
There are so many ways to add depth to soup, below are our favorites:
Use a robustly-flavored or homemade stock.
Brown the ingredients in stages–if a soup pot is over-crowded with meat and veggies, everything will steam instead of sear. Without the sear, you're missing layers of potential flavor.
Simmer the soup longer.
Use the best possible ingredients.
6What makes a bowl of soup more flavorful?
Fresh herbs can adds loads of flavor and freshness.
And don't underestimate the power of salt and pepper–these seemingly unassuming ingredients can unlock loads of flavor potential.
What To Serve With Cheeseburger Soup
More Delicious Soup Recipes:
Cheeseburger Soup
Cheesy, creamy, and comforting Cheeseburger Soup is loaded with beef, golden baby potatoes, veggies, and a cheesy cream base.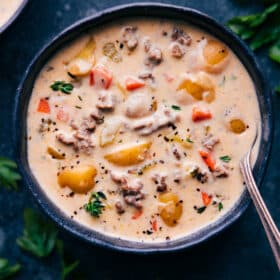 Cheeseburger Soup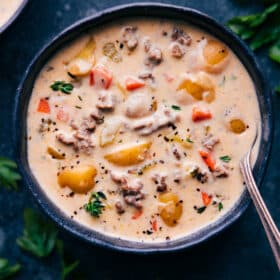 Cheesy, creamy, and comforting Cheeseburger Soup is loaded with beef, golden baby potatoes, veggies, and a cheesy cream base.
Instructions
GROUND BEEF: Heat a very large pot (I recommend cast iron), over high heat. Drizzle in 1 tbsp oil. Once oil is hot, add in the ground beef and season to taste (I add 1/2 tsp salt & 1/4 tsp pepper). Let beef sear for a minute per side then use a wooden spoon to crumble and cook until it is completely browned through. Use a slotted spoon to remove the beef to a separate bowl. Drain off any grease except for 1 tablespoon. If there is no grease, add 1 tablespoon olive oil to the pot.

VEGGIES: In the same pot with 1 tablespoon grease or olive oil, melt 1 tablespoon of the butter. Reduce heat to medium. Add the diced carrots, celery and onion. Season again (I add 1/2 tsp salt & 1/4 tsp pepper). Sauté 5-7 minutes or until tender (if not diced small, you may need 7-10 minutes). Add garlic, seasonings (1 tsp dried parsley, 1 tsp dried basil, 1/2 tsp ground mustard), and potatoes. Sauté, stirring constantly for 1 minute.

SIMMER: Add in chicken stock or broth and stir. Bring to a boil over high heat, then reduce heat to medium-low, cover with lid, and cook 15-20 minutes or until the potatoes are fork tender (easily pierced with a fork).

CREAM SAUCE: Meanwhile, melt remaining 4 tablespoons butter in a medium saucepan over medium heat. Stir in flour and cook, whisking constantly, for 1 minute. While whisking vigorously, slowly pour in milk, whisking well until smooth. Cook, stirring constantly, until mixture begins to gently boil and thicken (See Note 4). Once thickened, reduce heat to lowest setting and stir in the heavy cream and sour cream. Whisk until completely smooth.

FINISHING: Remove sauce from heat and once all soup veggies are tender, pour the milk/cream mixture into the soup and stir. Lower heat to lowest setting and return ground beef; mix through. Add in the shredded cheese. Mix gently until cheese is fully melted. Taste soup and season if needed with additional salt and pepper. Serve warm with freshly chopped parsley or thyme and bread!
Recipe Notes
Note 1: Mirepoix:Use a food processor to quickly chop equal amounts of onion, carrot, and celery or you can buy this mix labeled "mirepoix" (already prepped onion, celery, carrots) at a lot of stores in the produce section or

frozen vegetable section of the store

.
Note 2: Potatoes: Cut potatoes into 1/2-inch pieces. If using gold potatoes, no need to peel (the skin is so delicate). With other potatoes like russets, you may want to peel first.
Note 3: Cheddar cheese: Use sharp or extra-sharp Cheddar (which indicates a more aged cheese that will deliver a richer and more pungent flavor). Grate the cheese fresh; already-grated packaged cheese will give the soup a powdery texture and won't melt as nicely. You can use a food processor to quickly grate cheese!
Note 4: Thickness check: The sauce should be thick enough to coat the back of a wooden spoon. Lift up the spoon and immediately trace a line across the back of the spoon with your fingertip. If the line retains a clear track, the sauce is thick enough. If not, the sauce needs to be cooked a bit longer.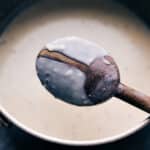 Nutrition Facts
Serving: 1serving | Calories: 667kcal | Carbohydrates: 40.5g | Protein: 39g | Fat: 38.9g | Cholesterol: 137.2mg | Sodium: 1068.1mg | Fiber: 4.1g | Sugar: 12.8g
We do our best to provide accurate nutritional analysis for our recipes. Our nutritional data is calculated using a third-party algorithm and may vary, based on individual cooking styles, measurements, and ingredient sizes. Please use this information for comparison purposes and consult a health professional for nutrition guidance as needed.