Creamy Chicken Enchilada Soup – Creme De La Crumb
7 min read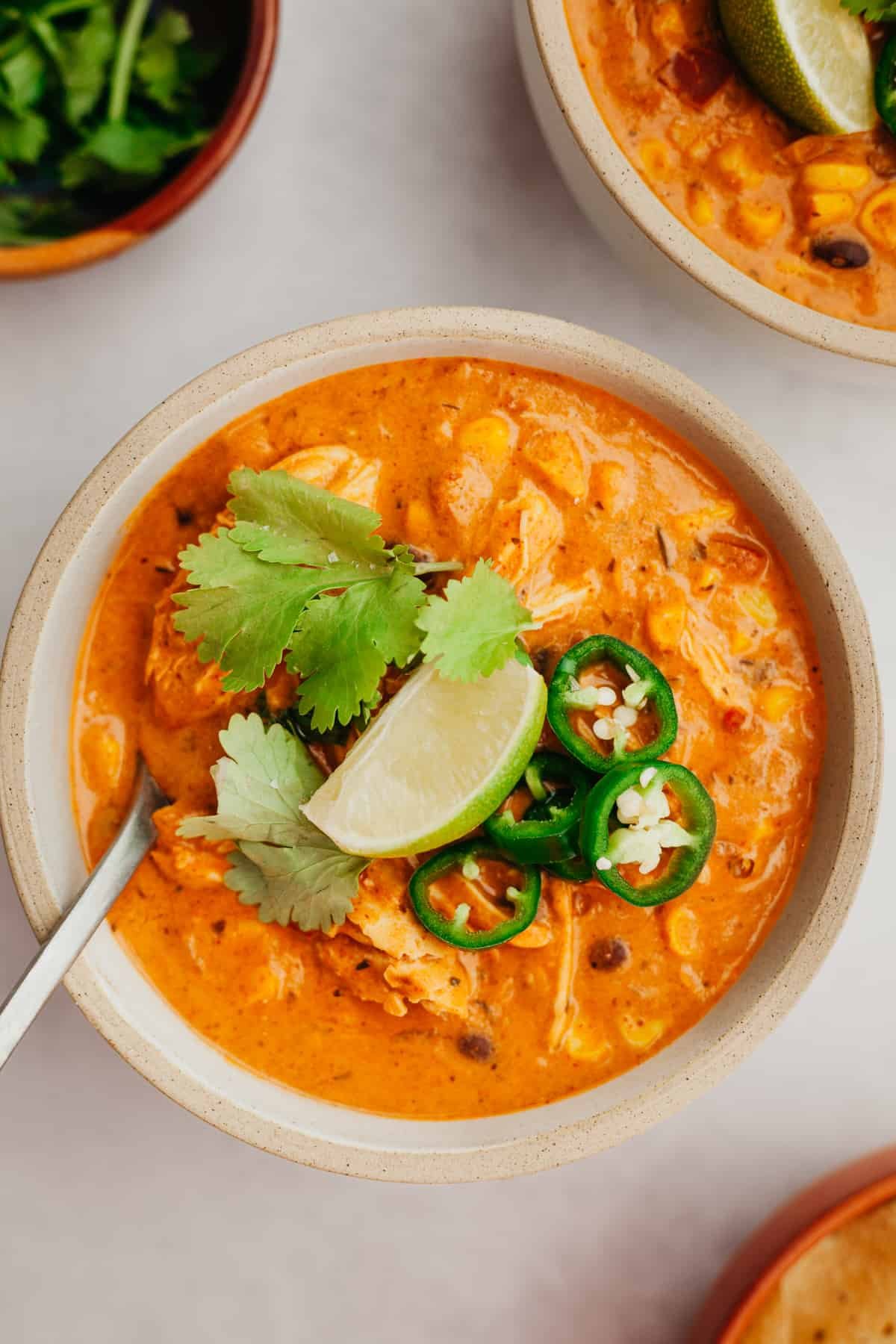 Published: December 16, 2022
This post may contain affiliate links. Read our disclosure policy.
This creamy chicken enchilada soup is cheesy, comfort food made on the stovetop or in your slow cooker or instant pot for an easy, family-friendly meal the whole crew will love!
Looking for more easy, healthy, and crazy delicious recipes for your slow cooker? Try these posts: Slow Cooker Beef Roast, Slow Cooker Barbacoa Beef, and Slow Cooker Chicken Marsala.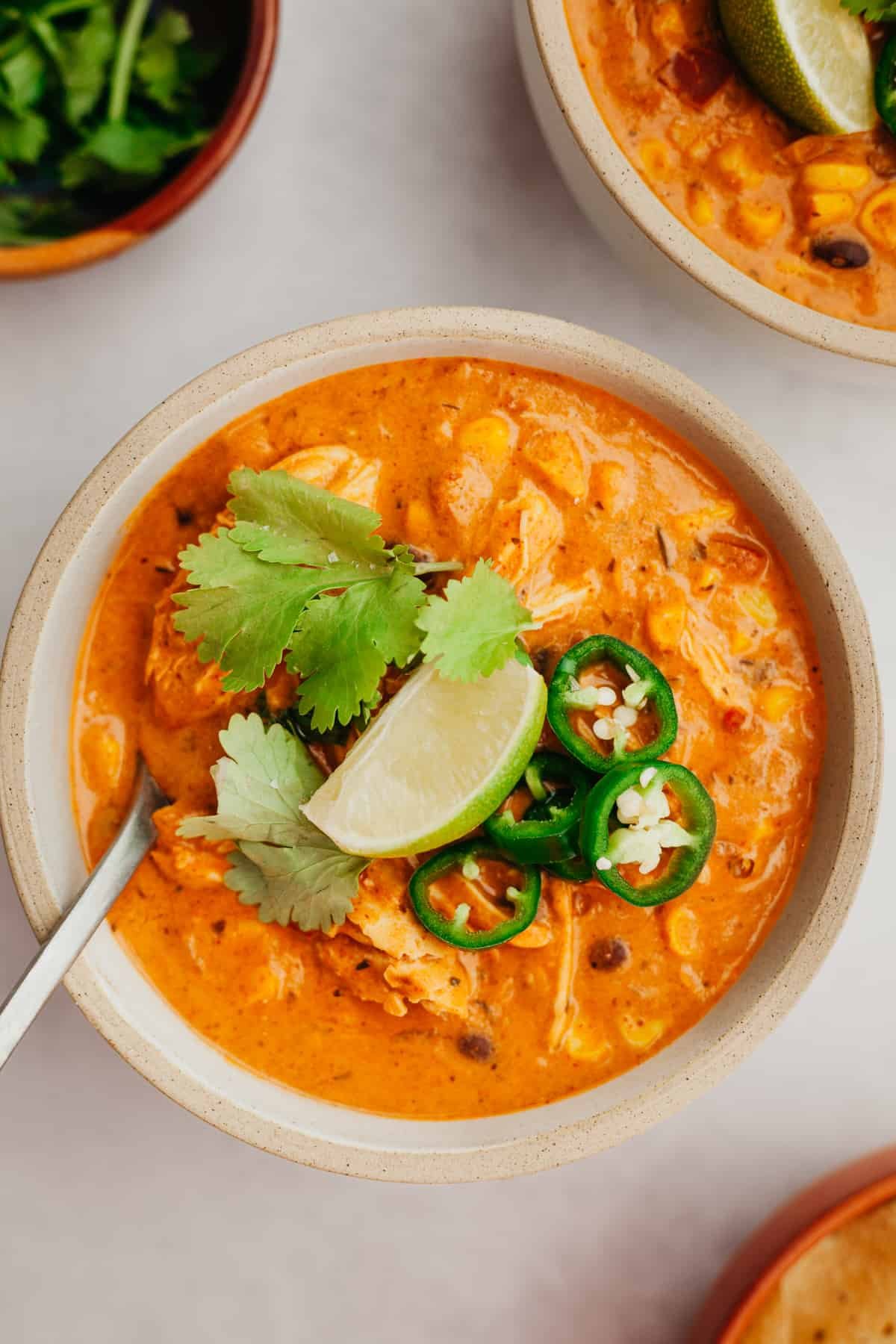 Why This Recipe Works
Slow cooker — It's really hard to make something bad in a slow cooker. Even if you overcook it a bit — it still tastes good! And soups seem like they were created solely for the purpose of slow cooking. There's just nothing like the ease of putting all the ingredients into the slow cooker crock, adding a lid, and going on about your day. Then when you're ready to eat? Dinner is ready, too.
Simple ingredients — The ingredients in this enchilada soup recipe couldn't be any simpler. Chicken, a few spices, some cream cheese, canned beans and corn, enchilada sauce, tomato sauce, and chicken broth — that's about it and you probably have most of the ingredients on hand right now!
Kid-approved — My kids can be picky but this is not a soup they'll turn away. In fact, sometimes I get a bit miffed when they eat more than one serving because that just means less for me tomorrow!
Customizable — I mentioned my kids love this dish, and that's mostly because it's tasty but not spicy. That's where the customization comes in. I keep it mild for them but then add crushed red pepper flakes and hot sauce to mine. Sliced jalapenos work well too. You can also change up the kind of beans you put in, skip the corn, use a can of chili-ready tomatoes, try out some chipotles — really, anything you like to make it yours.
Ingredients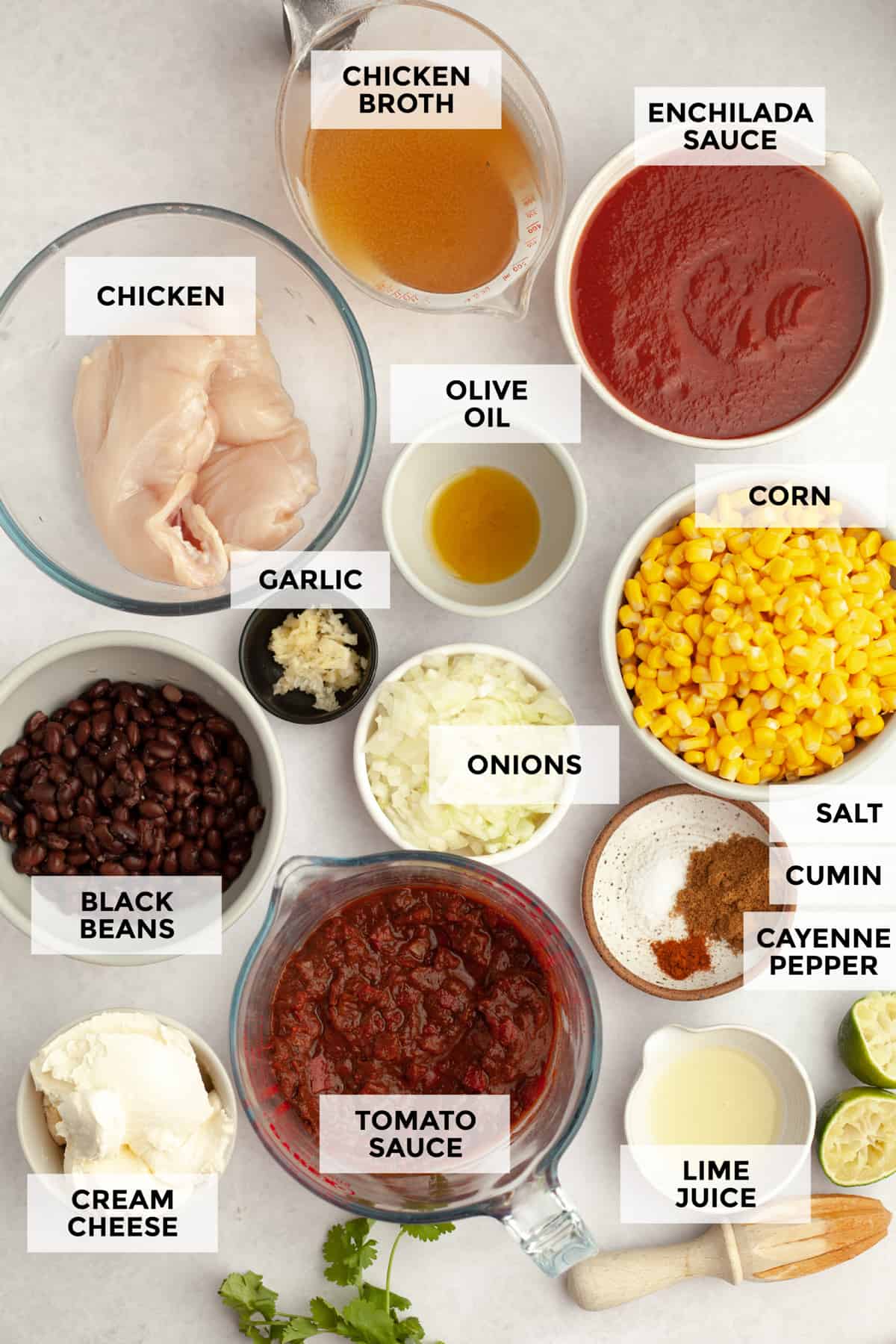 Boneless Skinless Chicken Breasts — I use a rotisserie chicken most often for this creamy enchilada soup, but you could also use leftover chicken you have or cook and shred chicken before adding to the crock pot.
Chicken Broth — I think low-sodium chicken broth is the way to go, then just add salt later to taste.
Cumin and Garlic Powder — Any brand of cumin and garlic powder will do.
Onion Salt — Onion salt isn't as common in the spice drawer as you would think. So if you don't have any, use a combo of onion powder and salt to create your own.
Light Cream Cheese — I use light cream cheese to lighten the fat content of this dish a bit but you could also use full-fat cream cheese too.
Black Beans — Any kind of canned beans is great in this chicken enchilada soup recipe. You'll want to pour them out and rinse them off first before adding to the slow cooker.
Yellow Corn — I use a low-salt version of canned corn kernels. Again, rinse and drain before adding to the soup.
Enchilada Sauce — You can use one large can of enchilada sauce or you can use two of one kind and one of another, or just use one 30-ounce can.
Tomato Sauce — Any kind of name brand tomato sauce is great in this recipe.
Water or Chicken Broth — Chicken broth will be more flavorful in this recipe but you can also substitute water if you don't have any broth on hand.
Masa Harina or Flour — Either kind of flour will work in this recipe. It helps to make a roux with it to thicken the soup before serving.
Optional Toppings: And now for the best part of any soup: the toppings! My favorites to add to this cream enchilada soup include tomatoes, shredded cheese, tortilla chip strips, avocados, and cilantro.
Here's How You Make It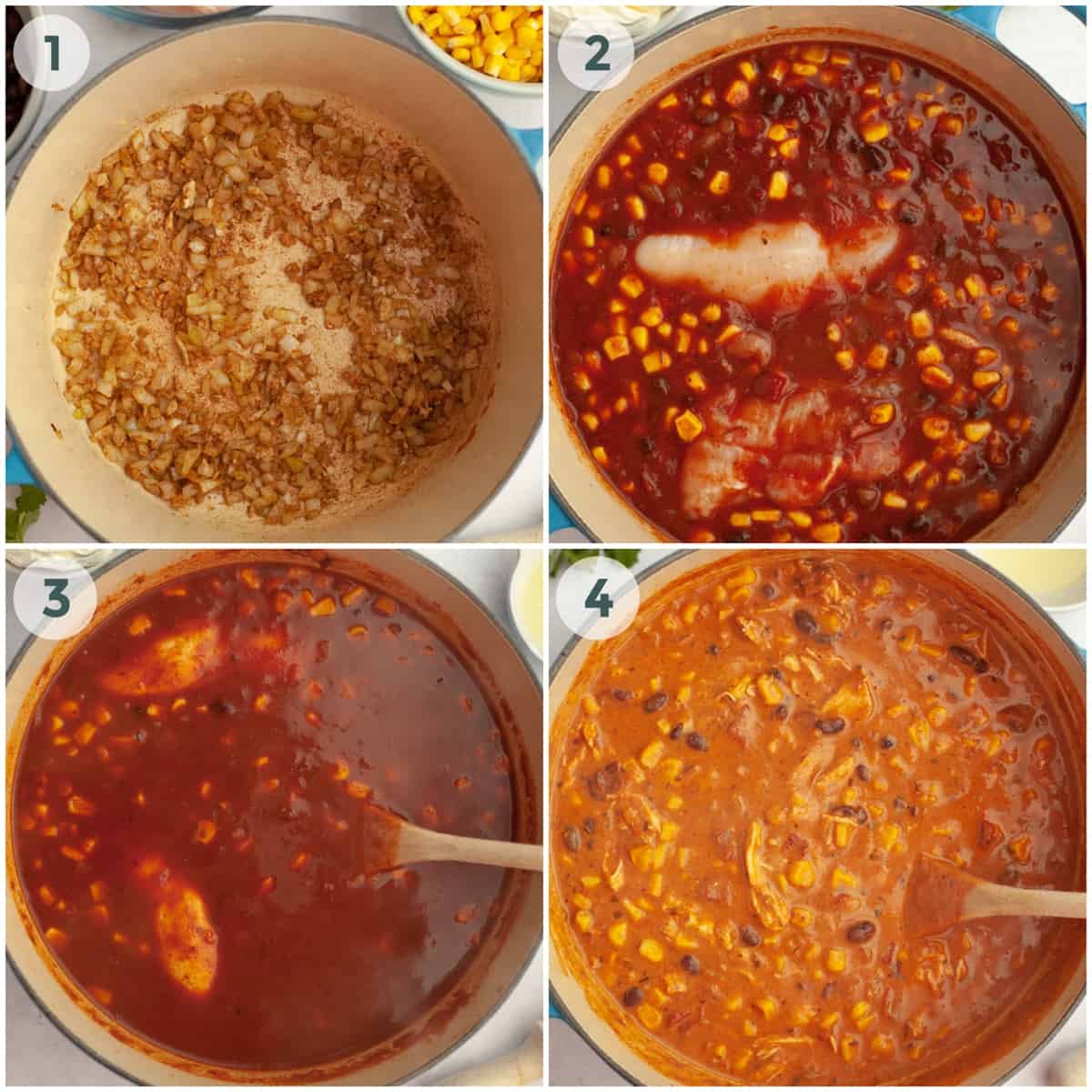 First, add all the ingredients to the slow cooker: the shredded chicken, 3 cups broth, cumin, garlic powder, onion salt, cream cheese, black beans, corn, enchilada sauce, and tomato sauce.
Add the lid and cook on high for 3-4 hours or on low 7-8 hours.
Just about 10-15 minutes before serving, shred the chicken with 2 forks and stir the soup until the cream cheese is combined all together with the soup. Then, whisk the remaining 1/3 cup chicken broth (or water) and flour (or masa harina). Add to the slow cooker and stir until thickened.
Serve warm with additional toppings as desired.
Expert Tips and Tricks
As I mentioned above, when it comes to adding the enchilada sauce, I like to use 2 10-ounce cans of mild and 1 10-ounce medium instead of one large can. You can also make your own homemade enchilada sauce.
This creamy enchilada soup will keep in the fridge for up to 5 days.
Shredding chicken tip: Use a hand mixer! If you find shredding with two forks too tedious, then you can take the chicken out of the slow cooker, put it in a deep bowl and use a hand mixer to shred it, then place it back into the slow cooker. Just be careful though — the chicken is hot!
What Is Masa Harina?
Masa Harina is a flour-like substance that's made from drying the dough used to make corn tortillas. To make the corn dough, dried corn is soaked in calcium hydroxide and then ground to make the dough. If the dough is dried, then it becomes Masa Harina. When you add water (or broth) to the Masa Harina, you get a thicker, doughier consistency that can be used to make tortillas at home, or, in the case of this recipe for creamy enchilada soup, a roux to thicken a soup.
How to Freeze Enchilada Soup?
Yes, you can freeze chicken enchilada soup. But, any cheese you add to the soup when cooking tends to separate in the freezer. For this reason, I suggest you make the enchilada soup recipe as directed but omit the cream cheese. Freeze. Then, when you're ready to eat the soup, simply thaw and add the cream cheese to the soup when you reheat it, making sure to stir it in thoroughly.
More Delicious Soup Recipes
Did you make this recipe? AMAZING! Be sure to snap a photo and tag me on social, then come back here to rate the recipe!
Creamy Chicken Enchilada Soup Recipe
This creamy chicken enchilada soup is cheesy, comfort food made on the stovetop or in your slow cooker or instant pot for an easy, family-friendly meal the whole crew will love!
Instructions
Heat the oil in a large lidded saucepan or Dutch oven set over a medium high heat. Fry the onions until soft but not yet starting to color with a pinch of salt. Stir in the minced garlic. Cook for a further minute, then add the cumin. Cook for a minute more.

Add the chicken broth, enchilada sauce, tomato sauce, black beans, corn and the cayenne pepper. Stir, then add the chicken breasts. Bring the soup to a simmer, then cook on medium with the lid on for 20 minutes.

Remove the chicken breasts and shred the meat with two forks.

Whisk in the cream cheese until melted into the soup and return the shredded chicken. Cook for a further 5 minutes until the chicken is heated through.

Season to taste with fresh lime juice and salt before serving with your choice of toppings.
Notes
For the Slow Cooker:
Cook the onions, garlic and cumin as usual, and transfer to the slow cooker. Alternatively, cook these straight in the slow cooker insert if you have a sear-and-stew model or on sauté if you're using the slow cooker setting of a multi cooker. Add the chicken, only 1 cup of broth, the enchilada sauce, tomato sauce, black beans, corn, cayenne and chicken. Cook on high for 4 hours or low for 6 hours, or until the chicken is cooked through. Finish the recipe as usual.
For the Instant Pot: Perform step 1 in an Instant Pot set to SAUTE. Add ingredients as in step 2 then cover with lid, turn vent valve to SEALED position and set to pressure cook (or "manual") for 13 minutes. Turn valve to VENT to release pressure, then proceed with shredding the chicken and whisking in cream cheese as written in step 4. 
Spice it up: Try it with medium enchilada sauce for a bit more heat. 
No tomato sauce: If you are following this recipe where plain canned or jarred tomato sauce is not available 15 oz of passata can be easily substituted.
Veggies: Frozen corn or pre-cooked dried beans can easily be substituted without any changes to the directions.
Leftovers:
This recipe doesn't freeze well with the cream cheese, but the leftovers heat up well and will keep in the fridge for up to 4 days.
Nutrition
Calories: 219 kcal, Carbohydrates: 5 g, Protein: 12 g, Fat: 17 g, Saturated Fat: 8 g, Polyunsaturated Fat: 1 g, Monounsaturated Fat: 6 g, Trans Fat: 0.01 g, Cholesterol: 62 mg, Sodium: 574 mg, Potassium: 290 mg, Fiber: 0.5 g, Sugar: 2 g, Vitamin A: 534 IU, Vitamin C: 2 mg, Calcium: 57 mg, Iron: 1 mg