Best Apple Pie with Flaky Butter Crust
6 min read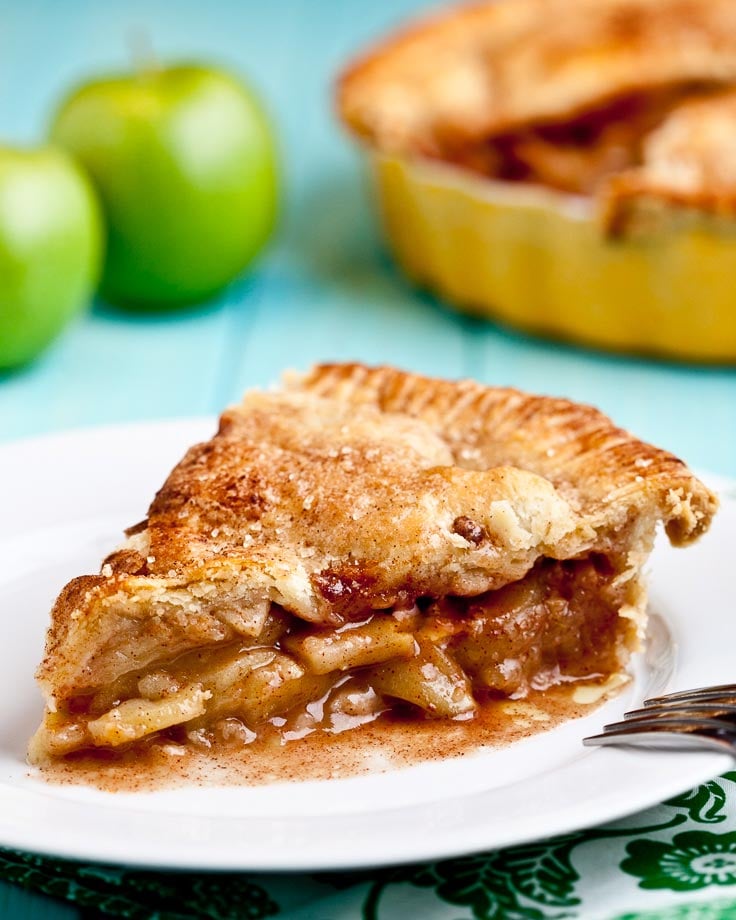 The Best Apple Pie with Butter Crust
I have a little confession.  Despite my affection for all things sweet, cooked apples aren't what my sweet teeth run to. Fresh 'n crisp fall apples just off the tree – those, I adore.  I just don't typically prefer them cooked.  That puts me in the tiny category of people who [used to] regularly pass up the apple pies on the dessert buffet.
Alas, I wasn't destined to stay that way.  I gave this magical apple pie with flakiest butter crust a whirl, and new door opened up.  This best apple pie recipe was a game changer for me.  Now, there's no turning back.
Hubby would never have imagined I'd eat, let alone bake, an apple pie. I'd happily devour this creamy banana cream pie and this luscious blueberry pie. But my better half has never seen me dart for the apple one. 
For reasons still mysterious, I began searching high and low for the best apple pie recipe maybe because I wanted to like apple pie.  After digging through countless variations, I settled on this tried and true version.  And now I'm forever done searching.
Watch This Apple Pie in Action
---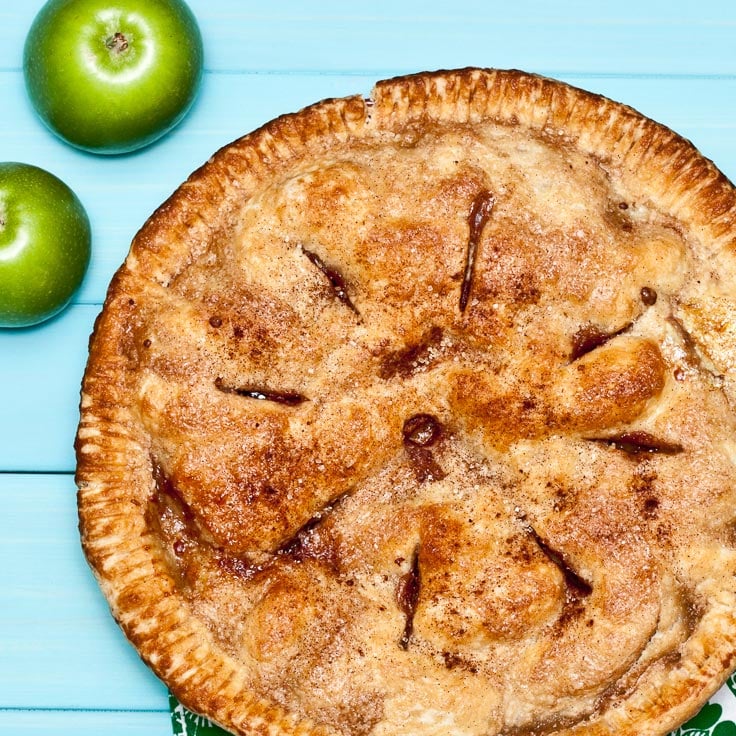 Hello, flaky All-butter crust
What makes this apple pie extra memorable is the fabulous flaky butter crust.  We always prefer using butter rather than shortening whenever possible. 
This is our go-to recipe for a flaky butter crust; perfect for any sweet or savory pies.  Technically, one could use store bought pie dough.  But it wouldn't be right if I didn't say this out loud:  store-bought pie dough won't produce the buttery deliciousness of a homemade crust.  And I am a crust fiend.  Fiend, I tell ya.
So if anything, save this recipe for the crazy awesome all-butter crust that you'll drape over all future pies from now and forever more.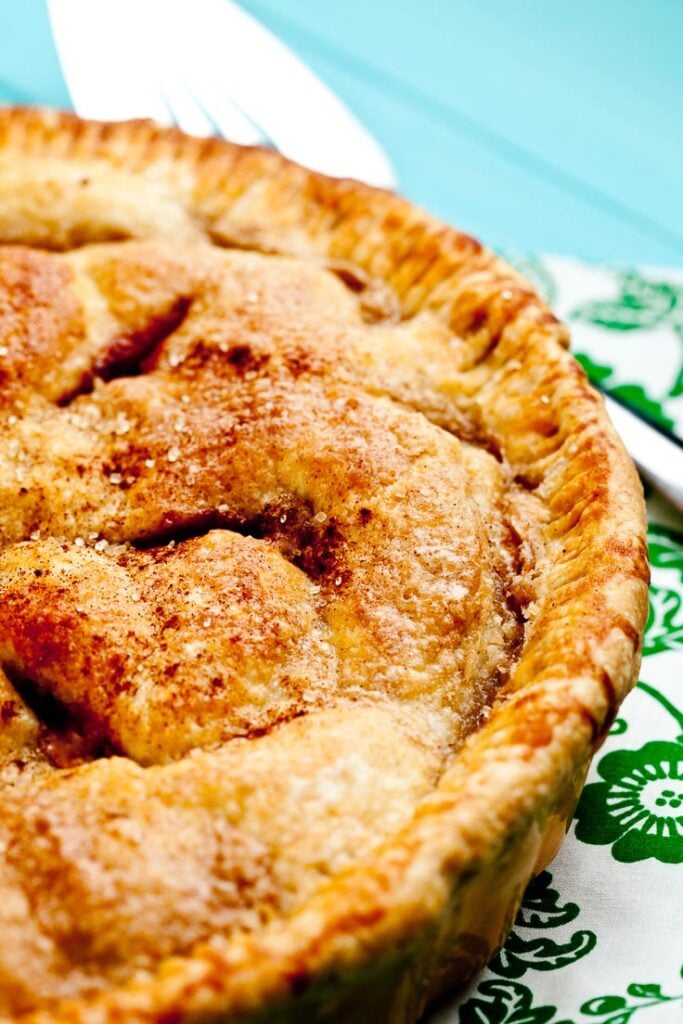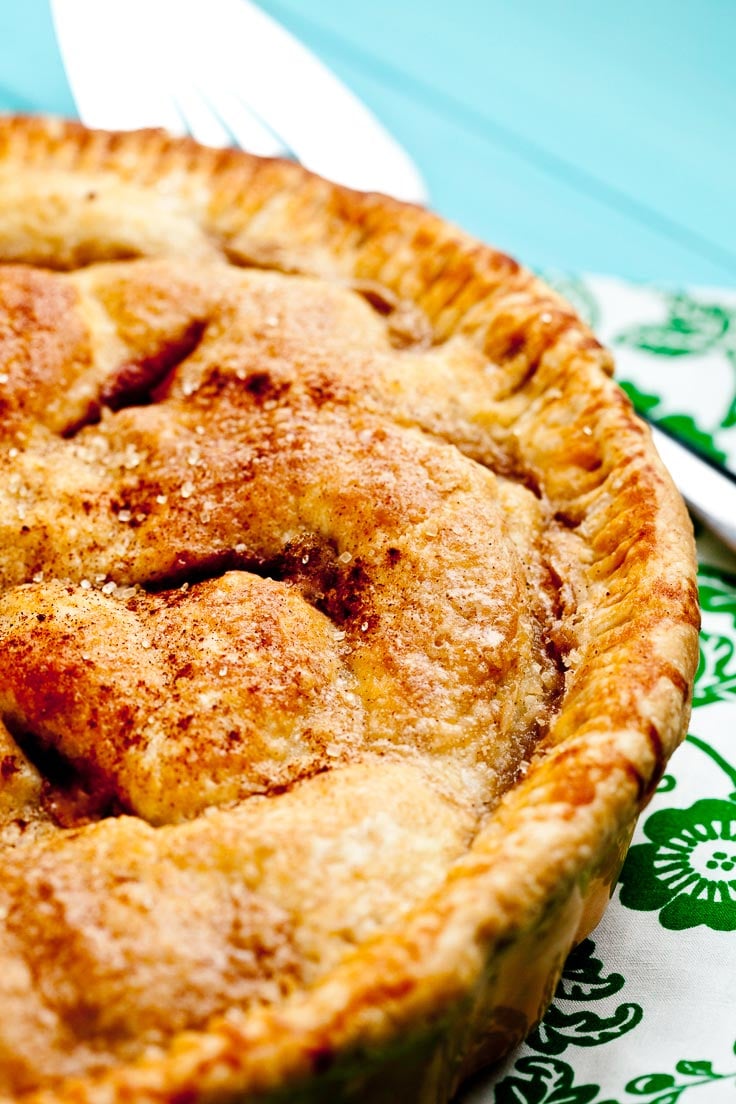 Best Apple Pie and Pie Dough Tips
The pie dough needs a bit of time to chill.  If you plan ahead for that, you're good.  Try to stick with Granny Smith apples for best texture and balance of tart vs. sweet. Granny smith apples also hold up to baking well, unlike some varieties.
You'll love that this apple pie can be totally prepared ahead of time.  In fact, it's best after it's had some time to sit and set. 
Bake it and let it set overnight or at least several hours, so the filling has time to cool and thicken.  The pie reheats beautifully, especially if you're going for a' la mode.  Vanilla bean ice cream and warm pie.
Add this to your dessert list for the holidays… or really any day.  Ever heard of leftover apple pie for breakfast? Been there, done that.  Highly recommended.  Apple pie lovers in your life will go nuts over this one.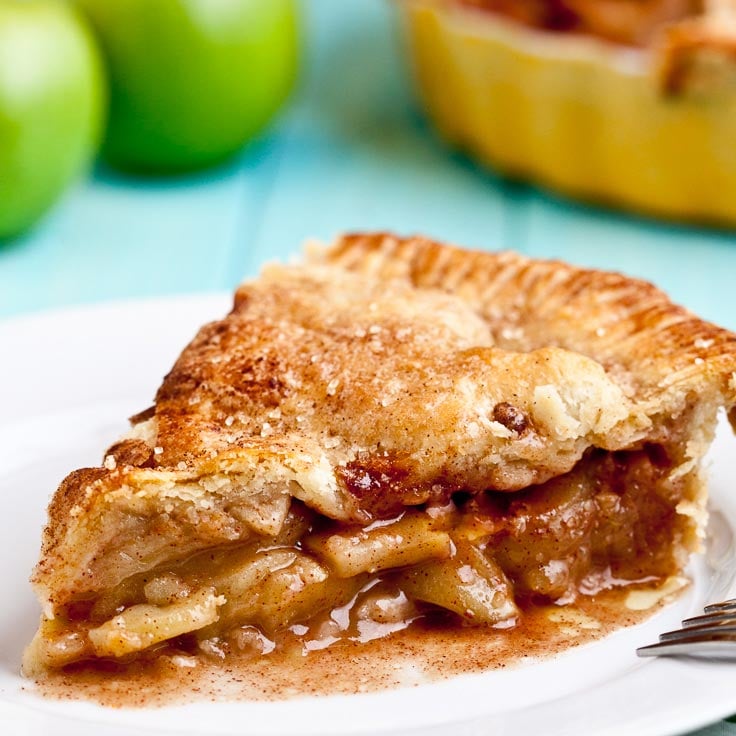 Best Apple Pie
Commonly Asked Questions
Why does apple pie need to cool completely before slicing?
It's important to allow baked apple pie to come to room temperature completely, to allow the filling to set and thicken.
Which apples are best for baking apple pie?
Granny smith apples are perfect for baking, as it can withstand cooking temperatures without becoming overly mushy. It retains its shape well, and gives a great balance of tart and sweet.
Can I leave apple pie out overnight?
Ideally, you would bake the pie in the afternoon or early evening and let it rest at moderate room temperature overnight. Keep leftover pie covered in the fridge for up to 3 days.
Why do pies sometimes collapse?
Often, pies collapse in the center when cooled too quickly from oven to fridge. Allow baked pie to cool gradually at moderate room temperature.
How can you tell when apple pie is done baking?
The best visual cue for a finished pie is the bubbling of filling juices through the top crust vents. If top crust browns too quickly, cover it loosely with foil and continue baking until apples are soft.
More to Bake and Eat
---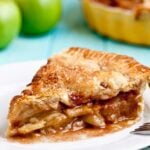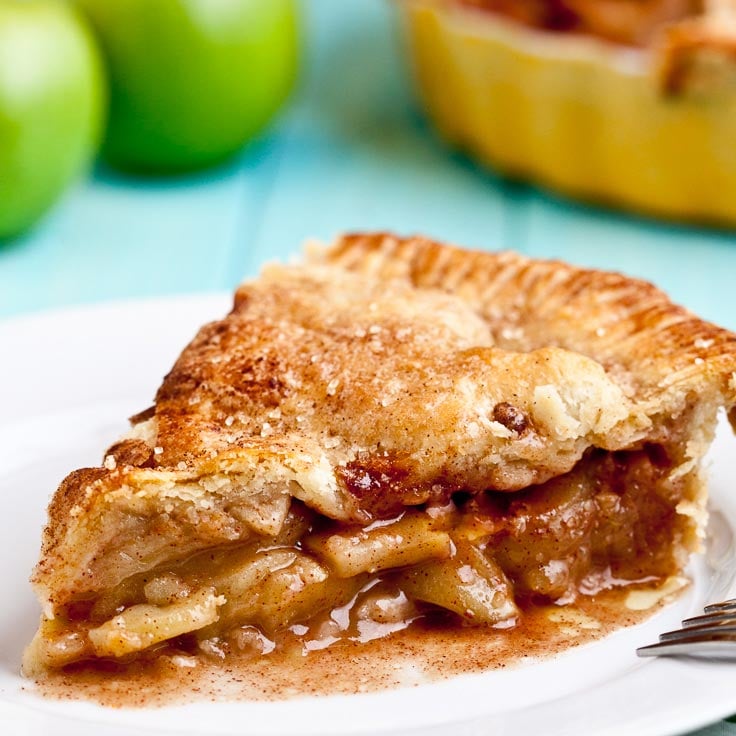 Best Apple Pie with Flaky Butter Crust
This is hands-down the Best Apple Pie ever. The filling is loaded with just the right amount of apples and sweetness. The flaky butter crust is unbelievably delicious. Dough can be prepared ahead of time.
Servings: 8
For the dough (double crust):
2 ½

cups

all purpose flour

½

tsp

table salt

,

fine

1

TB

sugar

1

cup

butter

,

chilled and diced

½

cup

very cold ice water
Prepare the Dough: In a large bowl, combine flour, salt, and sugar. Using pastry cutter or clean hands, cut in butter until dough mixture resembles coarse crumbs, with small pea-sized butter chunks in the dough. 

Add 1/4 cup of the ice-cold water, and gently knead until dough comes together – if needed, add 1 TB at a time of additional cold water as needed, just until mixture is pliable and when you pinch the dough, it holds together – not crumbly nor too sticky. Work dough as sparingly as possible. Small chunks of butter should still be visible in the dough.

Divide into 2 even dough balls. Press them into discs with smooth edges, wrap them in plastic, and chill until ready to use (preferably at least an hour, up to overnight.)

Take dough discs out of fridge; if it's too firm to roll, let it rest at room temperature 5-10 minutes or until it's malleable but still cold. On a lightly floured surface, roll first disc to fit bottom and sides of a 9″ pie pan, with 1/2″ overhang evenly beyond pan edges, trimming as needed. Roll the other disc to fit over top of pie pan with 1″ overhang all around edges. Cover with cling wrap and place both crusts in fridge.

Preheat oven to 425F, with rack on lower middle position.

Peel and cut apples into 1/4″ slices. Melt butter in a saucepan over medium-low heat. Stir in flour. Add juice, both sugars, vanilla, cinnamon, and nutmeg. Bring to a low boil stir well, and remove from heat.

In a large bowl, combine apple slices with most of the warm butter-sugar sauce, reserving about 1/4 cup for brushing over top crust.

Gently transfer apple pie filling into the prepared pie pan, forming a mound.  Place top crust over filling and tuck excess edges of top crust under excess edges of bottom crust. Pinch or use fork to crimp very tightly all around edges to ensure a tight seal. Cut several slits in top crust.

If needed, add just a bit of water to reserved 1/4 cup butter-sugar sauce, to thin it out just a bit. Brush evenly over entire top crust. Sprinkle coarse sugar generously in an even layer over crust. Sprinkle a pinch of cinnamon on top, if desired.

Place pie on a baking sheet and bake 15 minutes. Then reduce oven to 350F and bake about 50-55 minutes, or until top crust is golden brown and crisp. Check halfway through bake time – if edges are browning too quickly, use a pie crust shield or tent loosely with foil.

Cool completely before serving. Cooling on counter overnight is best.  Enjoy…it is totally worth your work!
When measuring flour and dry ingredients, it's essential to measure accurately; use the scoop and level method explained here.
Use a pastry cutter to cut cold butter into the flour; if it's hard to do, use clean hands to combine butter with flour. Be sure to leave some pea-sized bits of butter in the dough. 
The key to a flaky crust is retaining small chunks of cold butter intact within the dough at all times and not over-working it.
Apples can be peeled and sliced up to a couple hours ahead of time and tossed with with 2 TB lemon juice, to prevent browning. 
If you enjoyed this recipe, please come back and give it a rating ♡
Serving: 1slice | Calories: 495kcal | Carbohydrates: 41g | Protein: 5g | Fat: 36g | Saturated Fat: 22g | Polyunsaturated Fat: 2g | Monounsaturated Fat: 9g | Trans Fat: 1g | Cholesterol: 92mg | Sodium: 853mg | Potassium: 27mg | Fiber: 4g | Sugar: 2g | Vitamin A: 1097IU | Vitamin C: 0.5mg | Calcium: 43mg | Iron: 2mg
Did you make this?
Leave a comment below and tag @chewoutloud on Instagram