Dairy Free Chocolate Christmas Bark Recipe
4 min read
My Dairy Free Chocolate Christmas Bark makes a fabulous last minute holiday gift, but it's so delectable and easy to make that we enjoy it all year long.
Dairy Free Chocolate Christmas Bark
Studded with rich pistachios, tart dried cranberries, and speckled with coarse chunks of salt, Dairy Free Chocolate Christmas Bark sports the festive red and green of the holiday season and is a wholesome flavor explosion!
Best Low Carb Candy
While my healthy gluten free recipes are fantastic during the holidays, you may need something very low carb.
If so, make my Chocolate Christmas Bark and swap out the 70% chocolate that's called for in the recipe, using 88% dark chocolate instead. Upping the percentage of cacao in the chocolate lowers the sugar, significantly lowering the carbs.
If you're making this for someone with a real sweet tooth, who doesn't count carbs, feel free to experiment with semi sweet chocolate chips. Either way, this bark is the bomb!
Dairy Free Chocolate Christmas Bark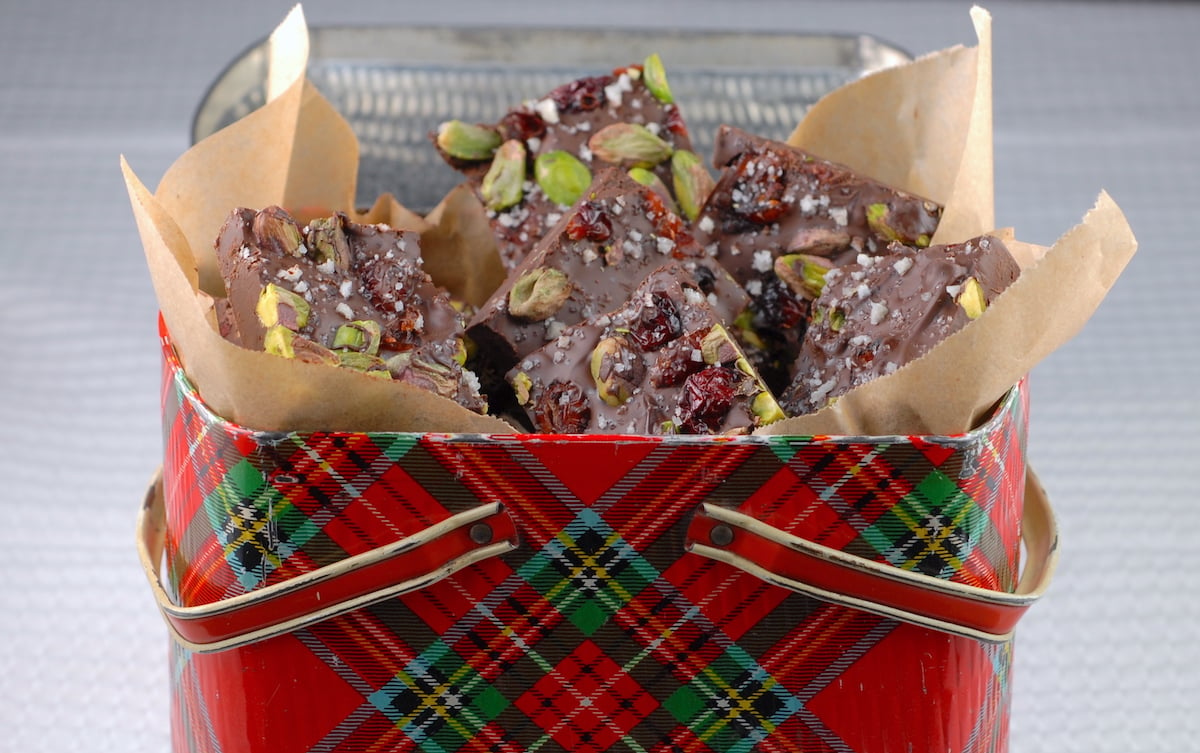 Print
Email
Pin Recipe
Prep Time 10 mins
Cook Time 10 mins
Total Time 20 mins
Prevent your screen from going dark
How to Make Chocolate Bark the Elana Way
The first step to making my Dairy Free Chocolate Christmas Bark is melting the chocolate slowly over low heat.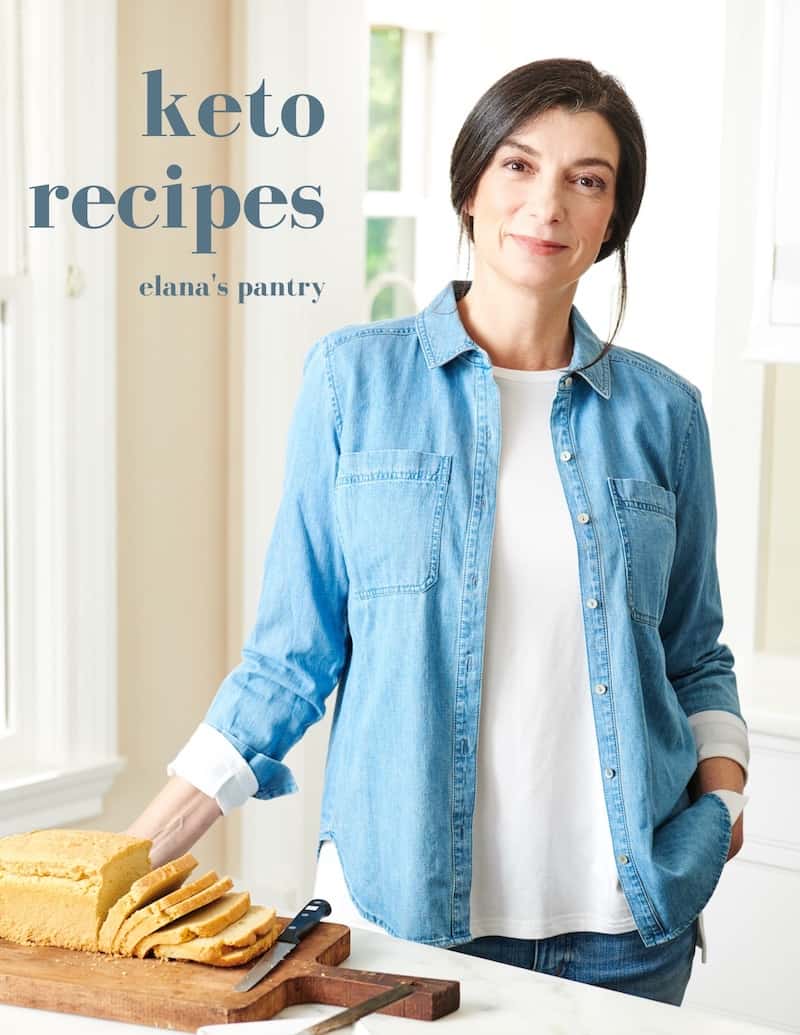 Get My Keto Recipes eBook
Free exclusive eBook, plus recipes and health tips, delivered to your inbox.
Starting with chocolate in chip form is a huge time saver, there's no need to chop the chocolate to get a quick and even melt.
The remaining 3 ingredients –pistachios, dried cranberries, and coarse salt, are the pop of texture and flavor that make this one of my all time favorite gluten free Christmas desserts.
Organic Fruit Juice Sweetened Dried Cranberries
I use organic dried cranberries to avoid putting pesticides on our plates, as cranberries are a heavily sprayed crop.
On top of that, to reduce the consumption of unnecessary sugar and carbs, I use fruit juice sweetened dried cranberries in this homemade chocolate bark.
If you're really counting carbs, cut the cranberries in the recipe from one-third cup to 3 tablespoons.
Unsalted Pistachios
Pistachios are a rich and delectable nut that make this bark special.
My recipe calls for unsalted pistachios, but when I have a hankering for an additional spike of flavor, I use salted pistachios. Beware! I'm a salt-alcoholic, so this may not work for you.
Organic Dark Chocolate
Organic dark chocolate is one of my go-to rich in antioxidants foods, whether for a nibble to satisfy my sweet tooth or for adding an intense chocolatey richness to my recipes.
I also love it because chocolate provides some essential vitamins and minerals like magnesium.
When you buy chocolate, read the ingredient label to make sure it's suitable for your diet, and look for a 70% or higher cocoa content to avoid carb loading.
Healthy Gluten Free Candy
As the old saying goes, everything tastes better from scratch, but taste is not the only thing that's critical when it comes to homemade treats.
If you have celiac or an allergy to gluten, knowing the ingredients that go into your gut is an absolute necessity. Cooking at home makes this easy.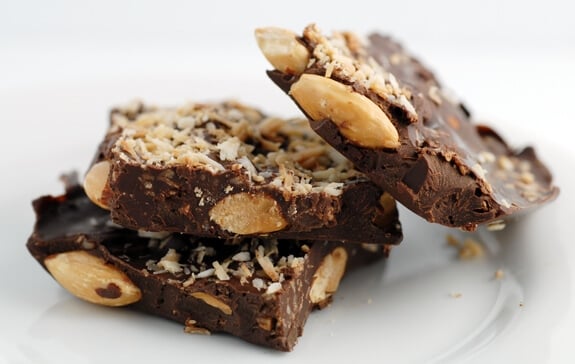 Almond Joy Bark
When I'm not whipping up my Dairy Free Chocolate Christmas Bark, I find myself preparing my Almond Joy Bark. The paring of rich toasted coconut melds deliciously with crunchy almonds, smothered in healthy dark chocolate.
This simple recipe has minimal prep time and only 3 ingredients.
Desserts for Christmas Easy
Not in the mood for chocolate bark? Here are some of my favorite homemade healthy candy and cookie recipes!
Healthy Dairy Free Candy
My dairy free chocolate candy recipes (gluten and grain free too!) are the ideal indulgence for all of your festive gatherings.
Bring my healthy treats to your next party, and everyone –even those who have been diagnosed with celiac disease or have another intolerance to foods will be able to partake in dessert.
Small Christmas Gifts
Love sweet treats, but looking for a more wellness-centric gift to bring to the next holiday gathering you attend? Make one of my easy DIY recipes for the simple homemade luxuries below.
Christmas Bark Recipe
My homemade Dairy Free Chocolate Christmas Bark recipe will quickly disappear throughout the holidays, however, this healthy easy recipe is a present that keeps giving all year round.
This post is an oldie but goodie from the archives. I first shared my Dairy Free Chocolate Christmas Bark recipe in 2010.