Mini Pumpkin Cream Cheese Bread
3 min read
Two flavor favorites join forces in the ultimate edible gift with a quick and easy recipe for Mini Pumpkin Cream Cheese Bread that swirls moist pumpkin bread with tangy cheesecake filling.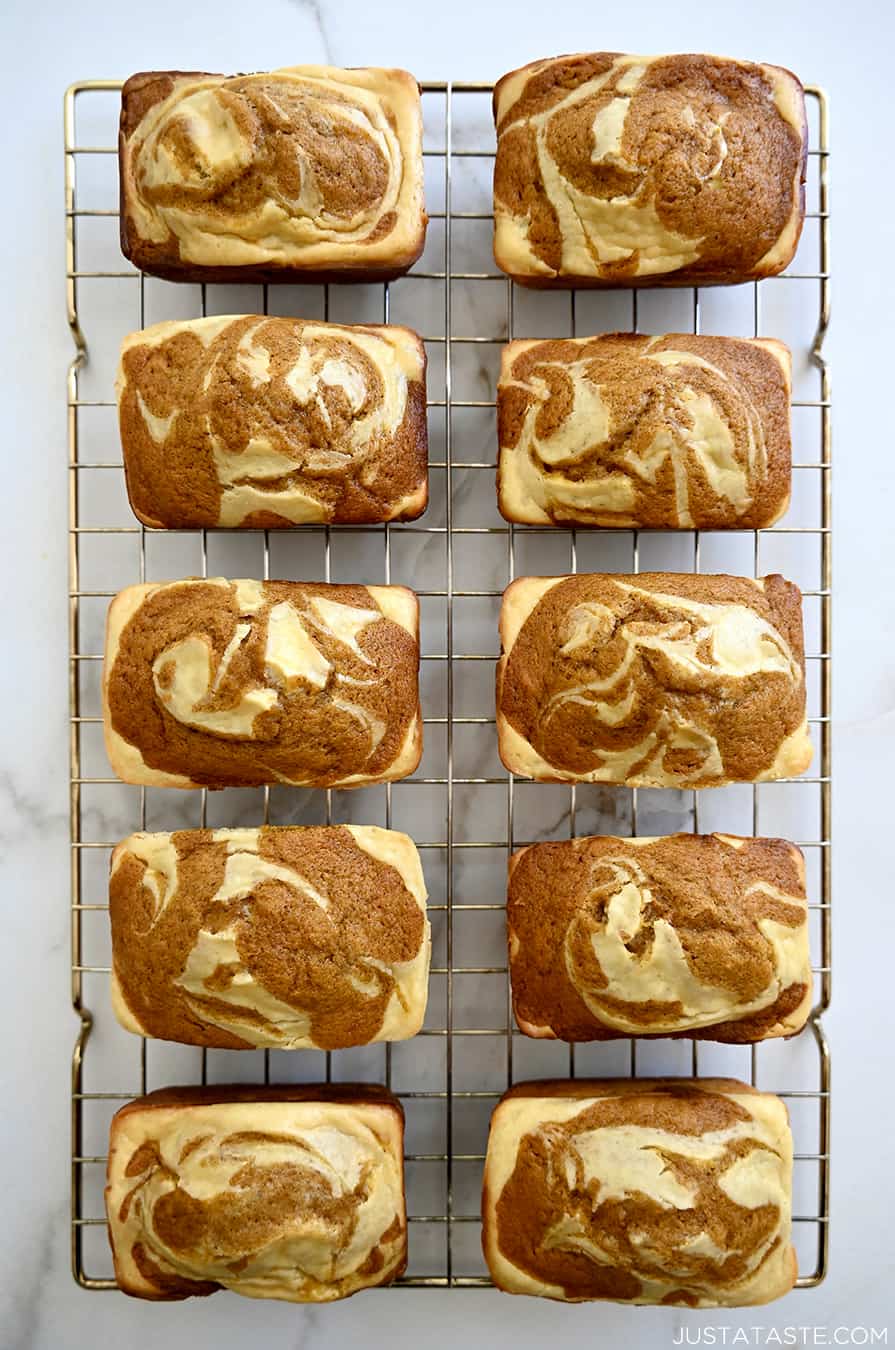 You know those kinds of baked goods, the ones that you bake not only because they're delicious, but you also love how amazing they make the whole house smell? Chocolate chip cookies, Funfetti popcorn and apple pie are also honorable mentions, too. But this recipe for Mini Pumpkin Cream Cheese Bread just might take the #1 spot. Toasty with pumpkin pie spices, and with a rich creamy swirl of a cheesecake-esque filling, these mini loaves will fill your home with the aroma of fall in all of its pumpkin-spiced glory.
The real beauty of these mini loaves? Your mini loaf is exactly that, your loaf. Sure, you can always bake these up into muffins or into a full sized pumpkin bread, but I love how amazing these make for a quick hostess gift wrapped in a decorative mini loaf pan, laid out for a breakfast spread or simply for an afternoon coffee break.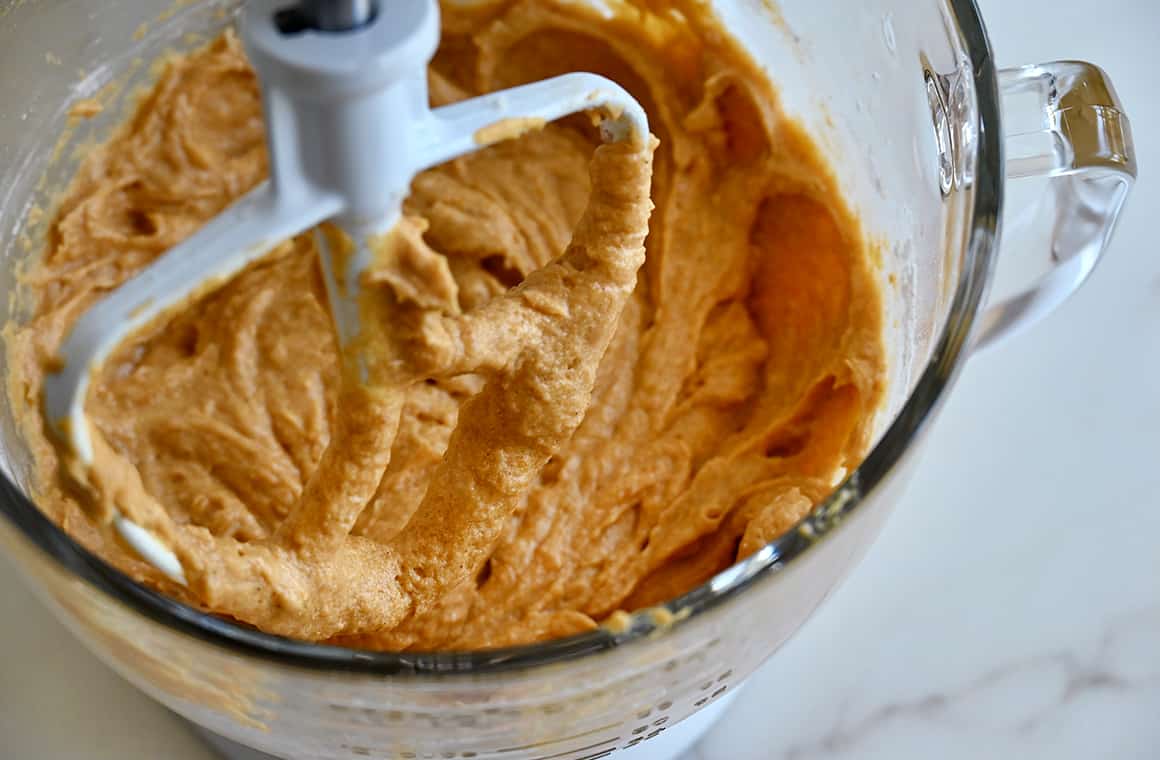 Do You Need to Refrigerate Pumpkin Bread with Cream Cheese?
Yes! The cream cheese swirl means these loaves are best stashed in the fridge to remain at their peak freshness. Once fully cooled, these mini loaves will keep in an airtight container in the fridge for 3 to 4 days. Since quickbreads are more moist than yeasted breads, I wrap cooled loaves in a layer of paper towels before storing them in a plastic bag or sealed container to minimize stickiness.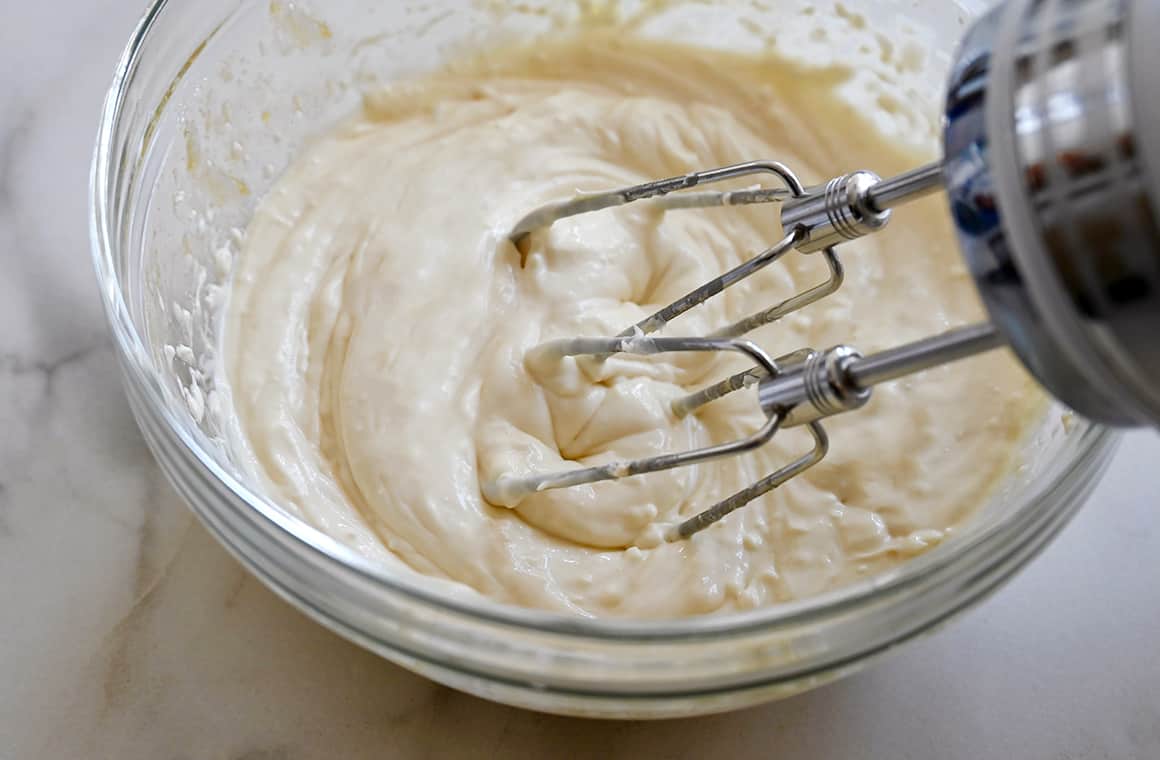 Can You Freeze These Mini Loaves?
You can absolutely freeze these snack-sized loaves. Pro Tip: All baked goods should be completely cool before wrapping and stashing them in the freezer. This ensures no excess condensation and moisture gets trapped, which can make the bread soggy when it comes time to thaw. And speaking of thawing…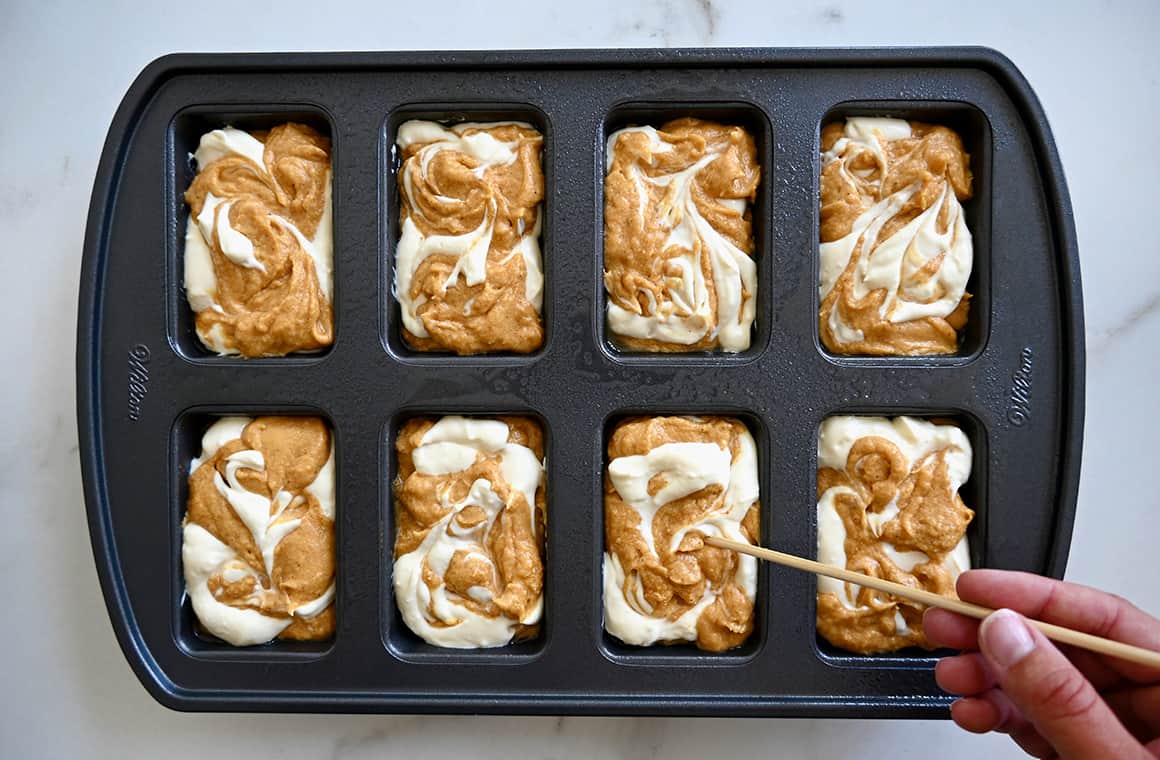 Once you're craving a loaf, simply let it thaw unwrapped on your counter for 2 to 3 hours, and then it's time to dig in. A quick spin in the microwave is an optional final step for those who prefer a warm mini loaf.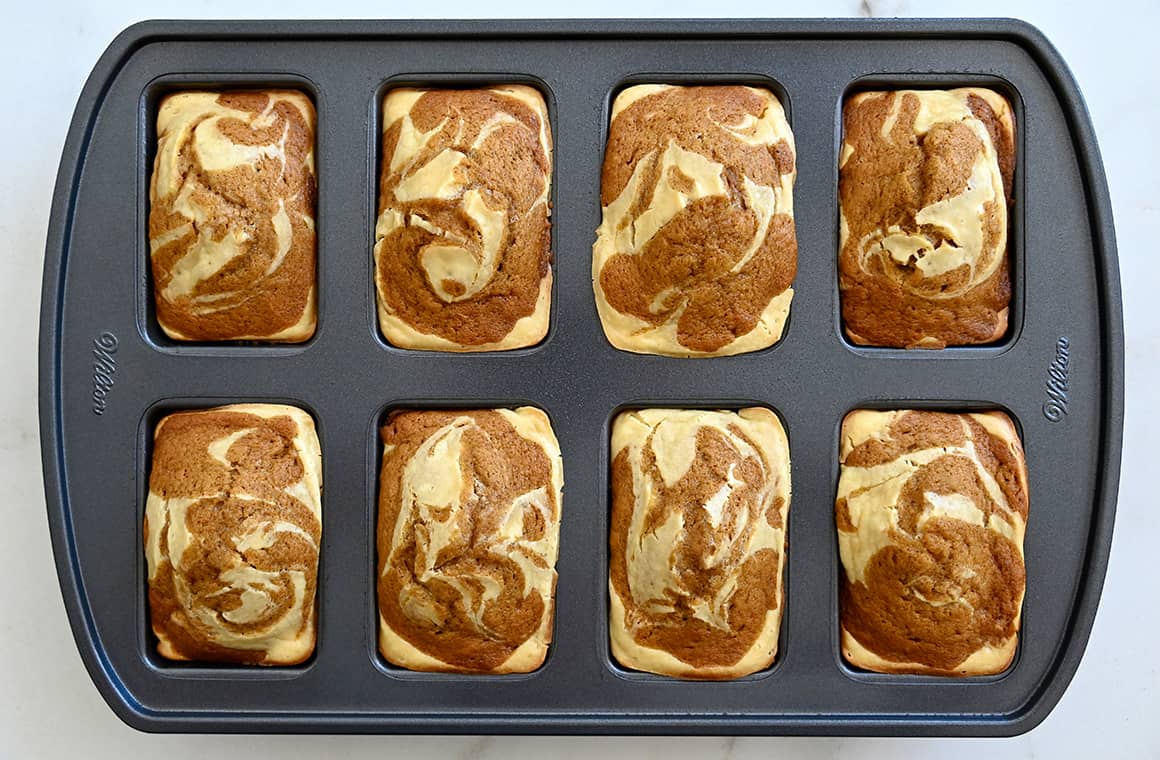 Can You Add Pecans or Walnuts?
Please do! Chopped dates, chocolate chips, sunflower seeds and dried cranberries would also be welcome additions. Feel free to fold your mix-ins of choice into the batter once you've mixed wet and dry ingredients, or top the loaves with nuts just before baking to let them get extra toasty.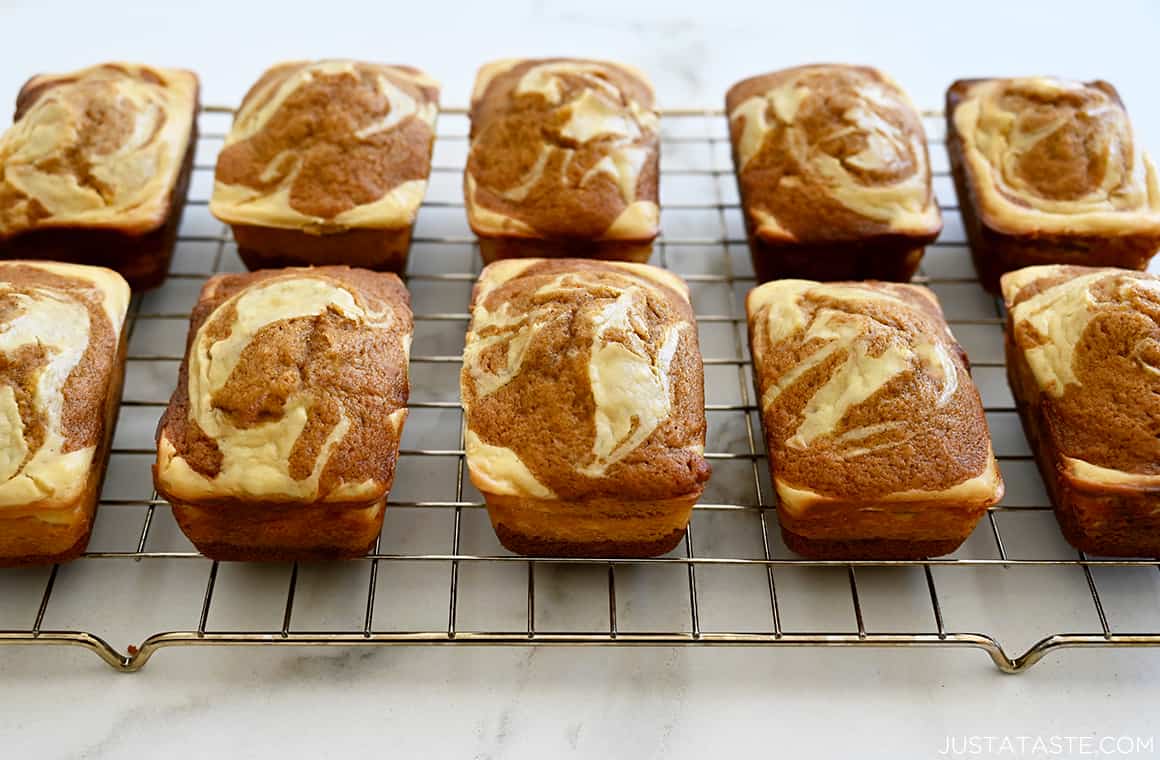 Craving more? Subscribe to Just a Taste to get new recipes, meal plans and a newsletter delivered straight to your inbox! And stay in touch on Facebook, Twitter, Pinterest and Instagram for all of the latest updates.
For the cream cheese filling:
Make the pumpkin bread:
Preheat the oven to 350°F. Grease 10 (4×2-inch) mini loaf pans with cooking spray.

In a medium bowl, whisk together the flour, pumpkin pie spice, baking soda, baking powder and salt. Set the mixture aside.

In the bowl of a stand mixer fitted with the paddle attachment, cream together the butter and sugar until light and fluffy, about 2 minutes. Add the vanilla extract and eggs, one at a time, beating between each addition. Add the pumpkin purée and beat just until combined.

Alternately add the dry ingredients and the water in increments, blending between each addition. Set the batter aside while you make the cream cheese filling. (You will need a stand mixer or a handheld mixer, so if needed, transfer the bater to a bowl and clean out the stand mixer bowl.)
Make the cream cheese filling:
In the bowl of a stand mixer (or using a handheld mixer) beat together the cream cheese, sugar, egg and vanilla extract until creamy.

Fill each mini loaf pan half full with the pumpkin batter then alternately add dollops of the cream cheese filling and remaining pumpkin batter until each muffin pan is about ¾ full.

Using a long skewer or sharp knife, swirl the layers together in each mini loaf pan.

Bake the mini loaves until a toothpick inserted comes out clean, 25 to 30 minutes. Remove the loaves from the oven and let them cool completely in the pan before removing and serving.

★ Did you make this recipe? Don't forget to give it a star rating below!