Simple Recipe for Butternut Squash Latkes
4 min read
My Simple Recipe for Butternut Squash Latkes is the answer to your low carb prayers.
While I love a traditional latke as much as the next person, I can't digest potatoes, so the classic potato latke is not on the menu for me.
Simple Recipe for Butternut Squash Latkes
In its place, I've created my Simple Recipe for Butternut Squash Latkes. It's not only low carb, this gluten free recipe is also SCD compliant!
Side Dishes Low Carb
This Simple Recipe for Butternut Squash Latke is one of my all time favorite dishes because the crispiness of these vegetable pancakes is delightful, along with the hint of sweetness added by the squash.
Gluten Free Latkes
Below is my recipe with 4 Ingredients for low carb, gluten free, SCD butternut squash latkes.
I hope they light up your holiday and fill your family's bellies with cheer!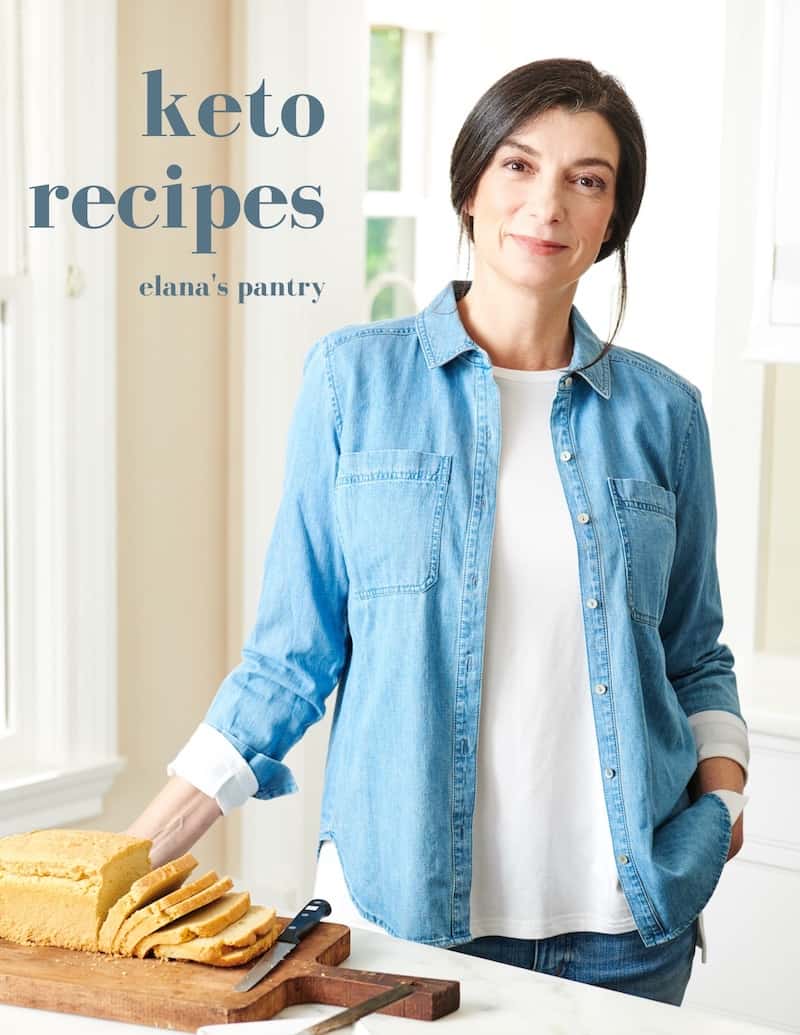 Get My Keto Recipes eBook
Free exclusive eBook, plus recipes and health tips, delivered to your inbox.
Butternut Squash Latkes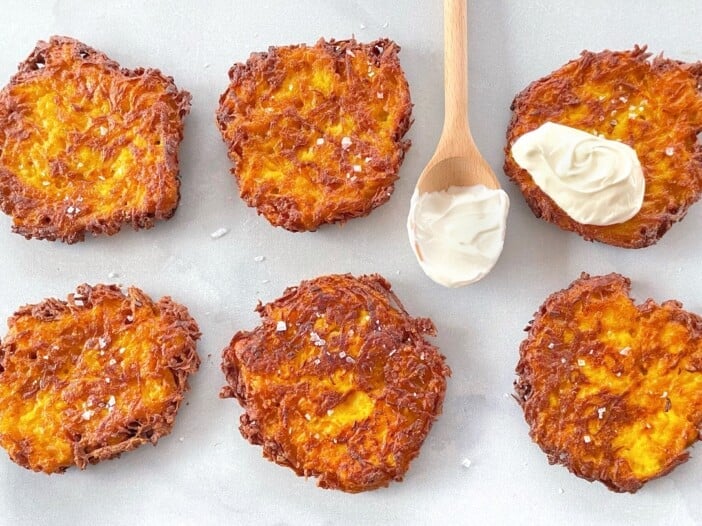 Print
Email
Pin Recipe
Instructions
In a

large bowl

combine squash, onion, eggs, and salt

Squeeze excess liquid from mixture and discard

Scoop ¼ cup of batter at a time onto skillet and flatten

Fry each side over medium heat until browned and crispy

Repeat process with remaining batter

Serve with Homemade Applesauce and sour cream or yogurt
Prep Time 10 mins
Cook Time 10 mins
Total Time 20 mins
Prevent your screen from going dark
Need to reheat your latkes? Here's what to do!
First, as you're making the latkes, you'll want to place them on a paper towel lined baking sheet after you fry them.
If you need to reheat the latkes, transfer from the paper towels to a wire rack that sits on top of the baking sheet, then throw them back in the oven at 350°F for 5-8 minutes to re-crisp.
What is a Latke?
What are latkes? Traditional latkes are a fried potato pancake that often contain wheat flour or gluten.
Latke Pronunciation
For those of you wondering about the proper latke pronunciation, I'm here to help.
You may be wondering, is it latke or latka? The word latke is pronounced "lot-kuh," with the draw in the vowels.
Is Latke a Yiddish Word?
You might be wondering, is latke a Yiddish word? Actually, while the word is Yiddish, it is derived from the East Slavic oladka, the diminutive of "small fried pancake."
Diagnosed with Celiac Disease
I wish I could partake in every traditional food, such as latkes (as is), under the sun. Once I was diagnosed with celiac disease, that was no longer possible.
So, I made it my mission to create healthy gluten free versions of my favorite recipes.
Recipes for Low Carb Latke
Now, I'm not only gluten free, I follow a low carb diet as well. That's where my recipes for low carb latkes come into play.
Low Carb Latkes
While butternut squash is not really a low carb food, it does contain approximately 60% of the carbohydrates found in potatoes.
If you want to celebrate Hanukkah with tasty fried foods and don't want to stray too far from your Low Carb Diet, this is one of those recipes for low carb latkes that makes sense to indulge in.
SCD Latkes
Additionally, my Butternut Squash Latkes are fabulous if you can't digest potatoes, and since they do not contain potatoes, they are also SCD compliant.
I love the SCD, also referred to as the Specific Carbohydrate Diet. This diet heals the gut by eliminating certain starchy foods.
I started following the SCD over 20 years ago, and it provides a fantastic framework for keeping my gut happy and healthy. Goodbye potatoes, hello Hannukkah with butternut squash latkes.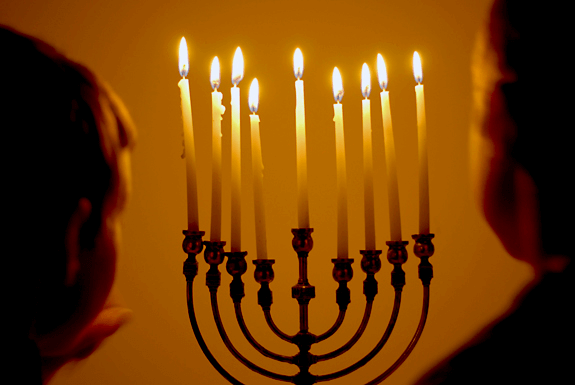 When is Hanukkah and Why Do We Eat Latkes?
Now, on to some other pertinent details pertaining to Hanukkah or Chanukkah. This year (2022), the celebration of lights begins at sundown on Sunday, December 18th.
What is Chanukkah?
Chanukkah is referred to as the Festival of Lights. During this Jewish festival, which is not a Holy Day, we celebrate an incident of divine intervention that occurred over two thousand years ago.
The Chanukkah miracle involved a very tiny flask of pure olive oil that lasted for 8 days until a refill of oil could be retrieved.
To honor this, Ashkenazi Jews celebrate by frying a variety of foods in oil, including, but not limited to, latkes, as well as sweet things like donuts (aka sufganiyot), and much more.
Incidentally, one of our family traditions is my Almond Flour Fried Apples recipe.
Carrot Scallion Latkes: Vegetable Pancakes
Another one of our cherished Hanukkah traditions is making veggie pancakes with all sorts of fun, healthy ingredients.
That includes my savory Carrot and Scallion Latka that have a coconut flour batter –as you can see above, this beta carotene rich mixture browns to a beautiful crisp!
Recipes for Gluten Free Hanukkah Food
Every year at Hanukkah, I make the boys Homemade Apple Sauce to serve over their latkes. Here's that recipe and more for you!
Happy Hanukkah
All in all, when it comes to Hanukkah and frying, latkes aren't the only way, but they're my favorite Hanukkah when it comes to using vegetables for side dishes.
I hope the Festival of Lights brightens up your life in the dark of winter!
This post is an oldie but goodie from the archives. I first shared Butternut Squash Latkes in 2007.