Smoked Chili Crunch Cream Cheese
3 min read
The Smoked Cream Cheese craze continues with this delicious, spicy, chili crunch version! Fire up the pellet grill and break out a brick of cream cheese. You're going to want extras with this dip.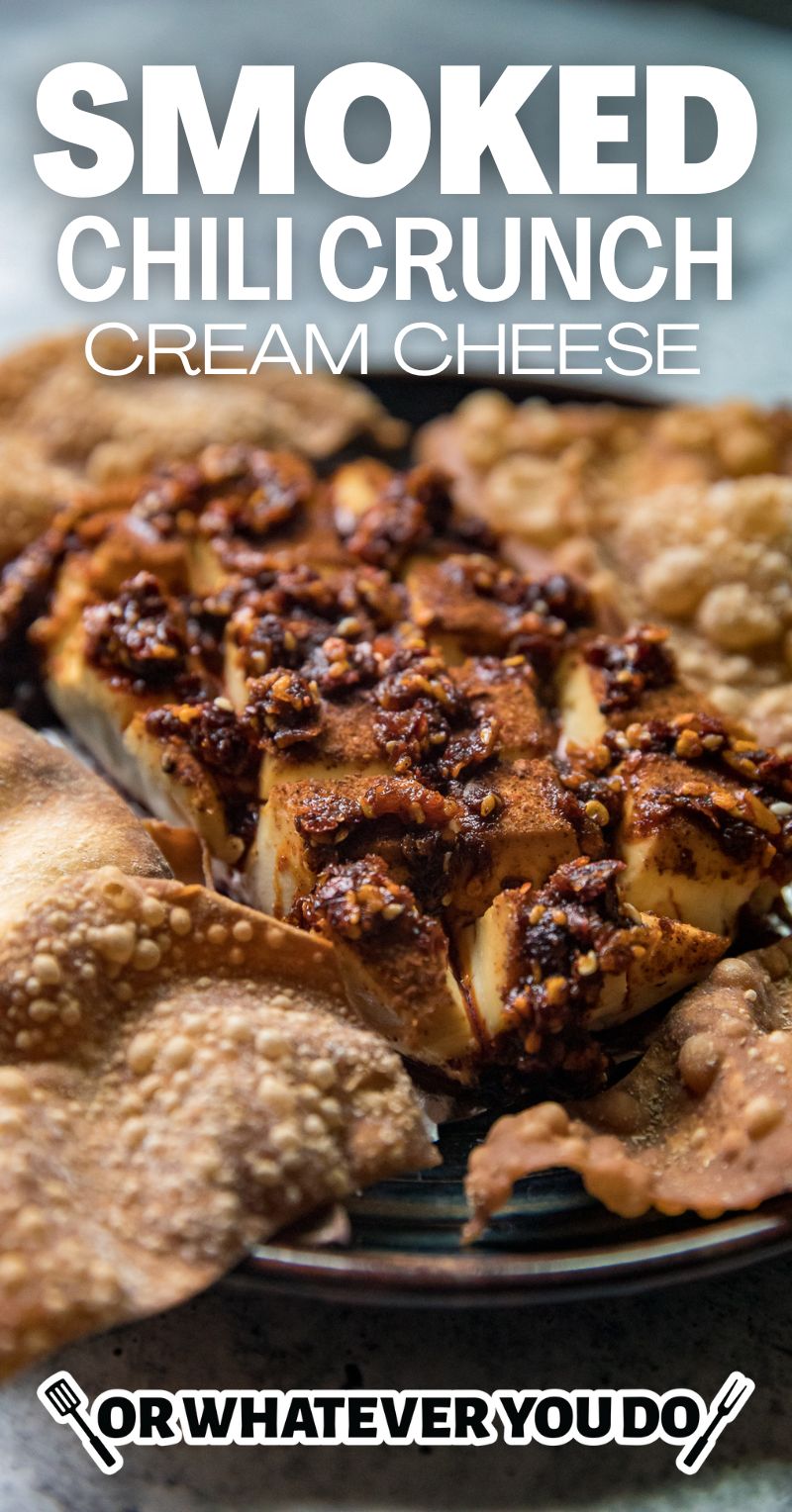 Smoked Cream Cheese with Chili Crunch
I've been mildly obsessed with chili crunch since I first discovered it a few years ago. The Momofuku version has quickly become my favorite. It has 3 types of chilis, shallots, garlic, onion, and sesame, and it adds a big punch of spice and flavor to stir fry, ramen, chicken noodle soup, pasta, in Potsticker Sauce, to dip my Kimchi Gyoza in, or even spooned on top of some scrambled eggs.
There are many different brands out there, so if you don't have this kind feel free to use whatever kind is handy. There can be a big difference between brands though, so make sure you've already used and like it before slathering your cream cheese in it.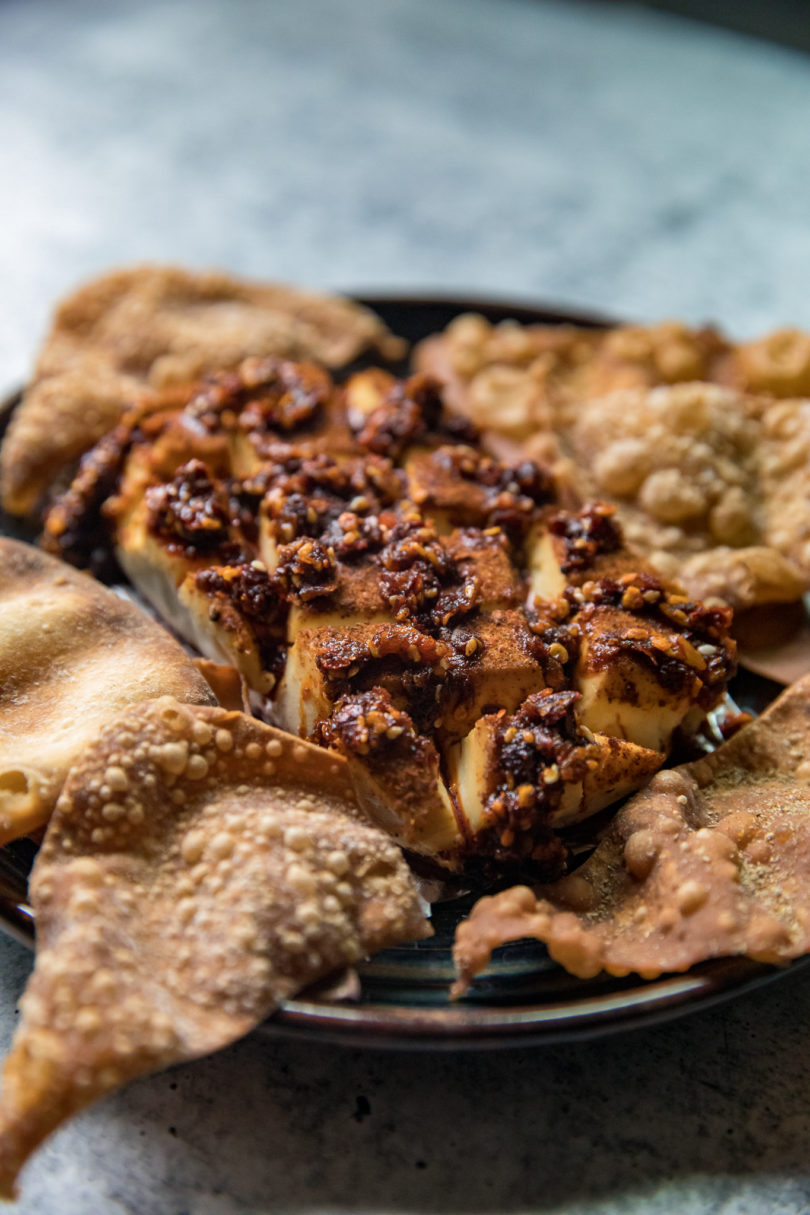 Smoked Chili Crunch Cream Cheese shopping list
Wondering if you have to hit the store? Here's the list of items you'll need to make this recipe. For specific amounts, please refer to the printable recipe card at the bottom of the post.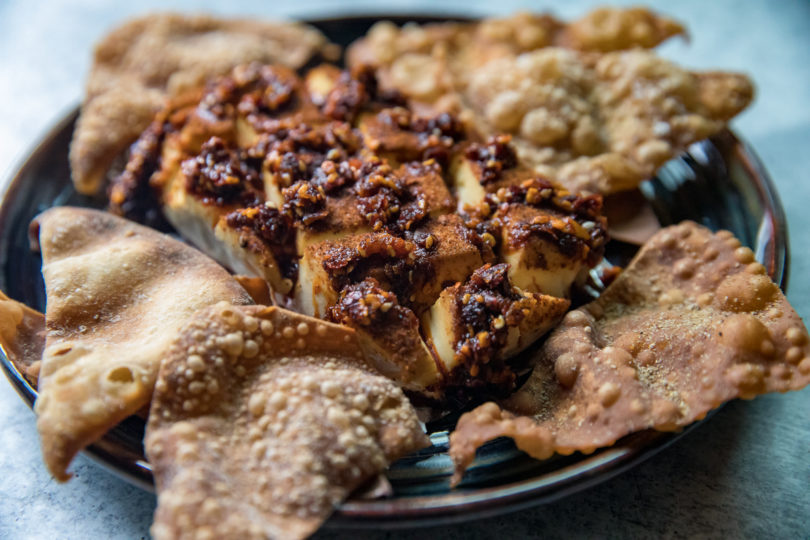 How to make Smoked Cream Cheese with Chili Crunch
This is just the overview so you can see what you're actually getting into here. When you are cooking, you'll want to use the full recipe at the bottom of the page.
Preheat
We're shooting for around 180° here!
Slash & Season
Make 1/2″ deep cross-hatched cuts in the cream cheese and season with the rub.
Smoke
Smoke the cream cheese for an hour.
Fry
Cut your wonton or egg roll wrappers into chip-sized pieces. Heat your oil to 350°. Fry until golden brown. Dust with the tingly salt (or your favorite seasoning blend.)
Top
Spoon the chili crunch over the top of the smoked cream cheese and use the fried wonton chips for dipping.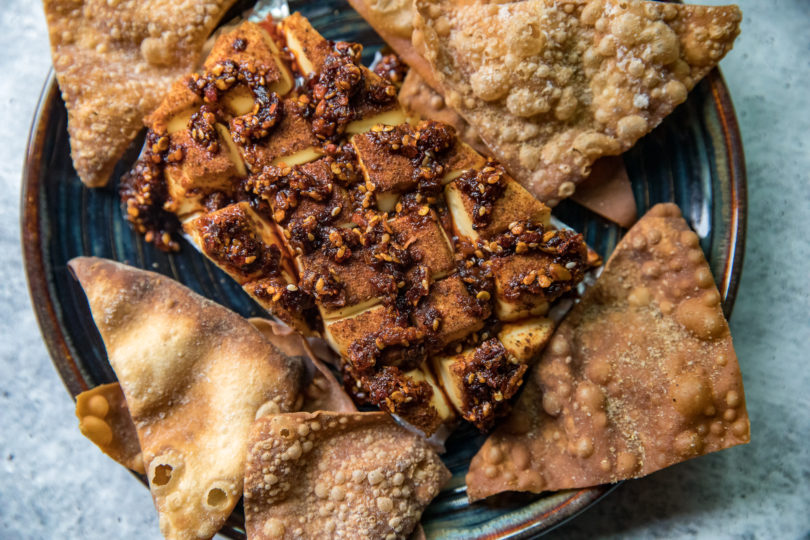 Smoked Cream Cheese Variations
There are so many different ways to switch this up to suit your tastes or try something new! Try one of them below!
| Smoked Cream Cheese Variations | Rubs | Dippers | Toppers |
| --- | --- | --- | --- |
| Nashville Hot Cream Cheese | Nashville Hot Chicken Rub | Celery + Crackers | Hot Honey Drizzle |
| Apple Pie Smoked Cream Cheese | Cinnamon Sugar | Nilla Wafers | Apple Pie Filling |
| Taco Smoked Cream Cheese | Taco seasoning | Tortilla Strips | Hatch Chilies |
| Jalapeno Jam Smoked Cream Cheese | All-Purpose BBQ Rub | Crackers | Jalapeno Jam |
| Everything Bagel Smoked Cream Cheese | Everything Bagel Seasoning | Bagel Chips | Crumbled Bacon |
FAQ
How do you store leftovers?
Covered in the fridge for no more than 2-3 days for best results.
What's the best way to reheat leftovers?
You can reheat these right on the grill, or in a pinch, the microwave. You can also serve this cold.
Are there any substitutions for the Momofuku products?
Yup! You can use any brand chili crunch that's available, and if you don't have the rub, Togarashi is a great substitute for that.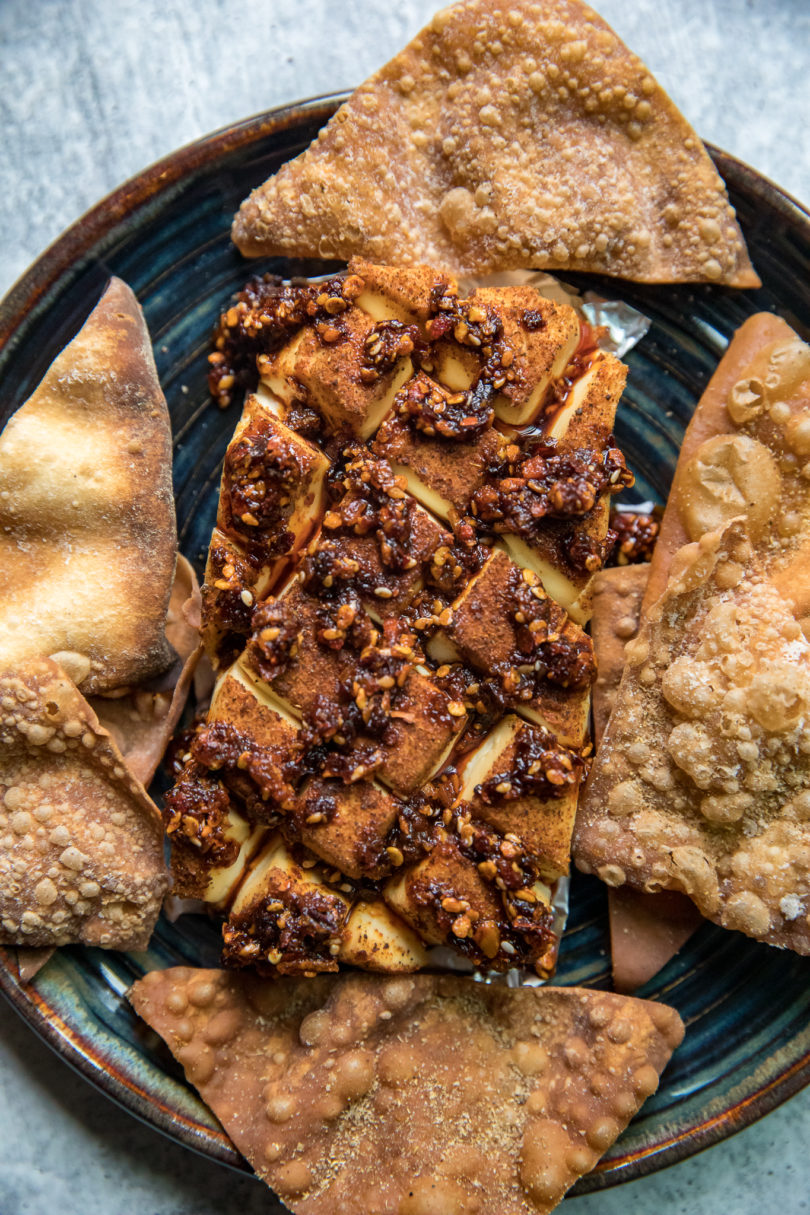 More Smoked Cream Cheese to love
More recipes to enjoy!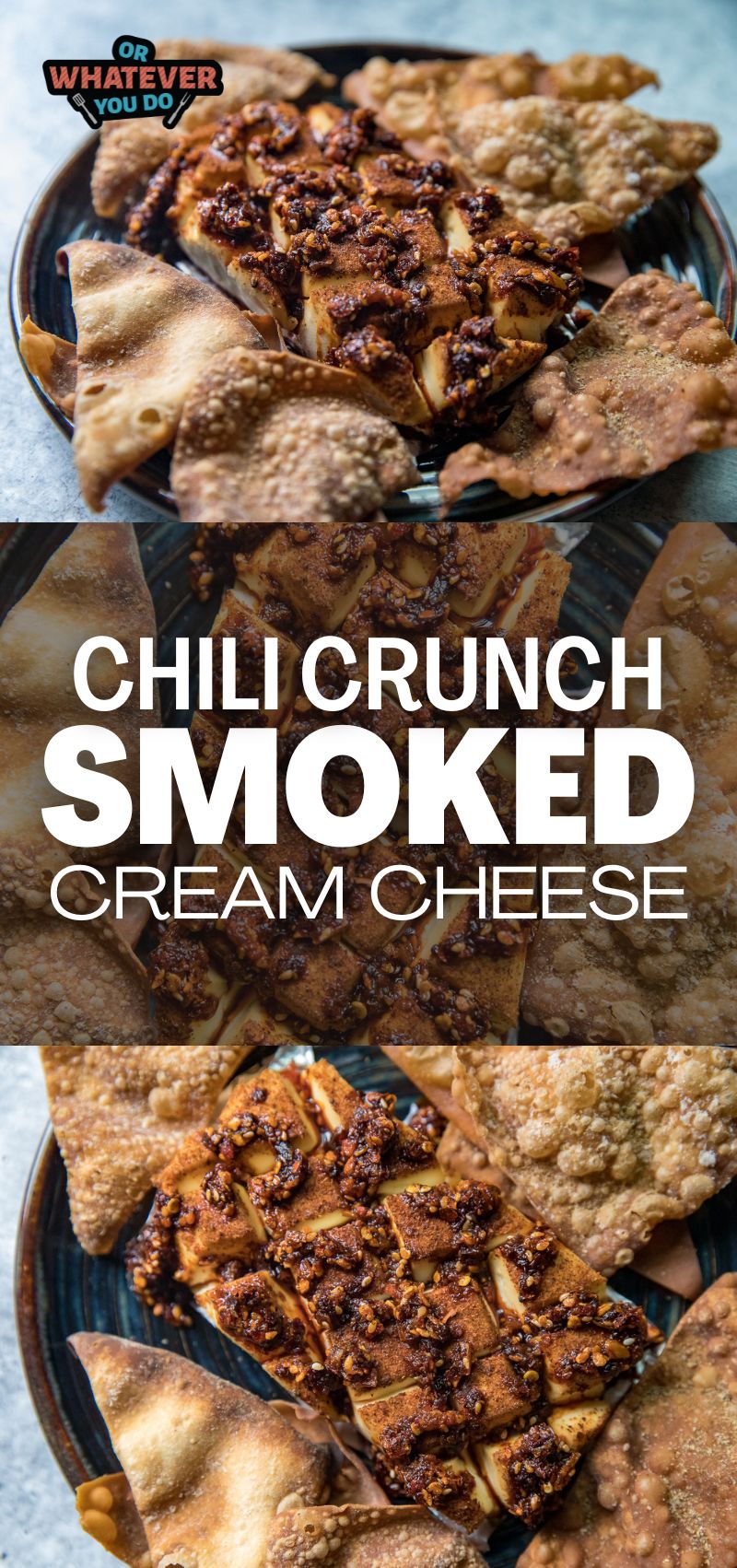 Prep Time
10 minutes
Cook Time
1 hour
Total Time
1 hour 10 minutes
Instructions
Preheat your smoker to 180°.
Place the cream cheese on a grill-safe baking sheet.
Make cross-hatched scores in the top of the cream cheese brick about 1/2″ deep.
Season with the Savory Seasoning Salt.
Smoke for 1 hour.
While the cream cheese is smoking, slice the wonton or egg roll wrappers into squares or triangles. Heat some oil to 350° in a pan and gently fry the wonton wrappers until golden brown. Drain on paper towels and dust with tingly salt while hot.
Remove the cream cheese from the grill and top with the chili crunch.
Serve with the fried wonton strips.
Recommended Products
As an Amazon Associate and member of other affiliate programs, I earn from qualifying purchases.