Sweet Potato Gnocchi with Barnsley Venison Bolognese
3 min read
Courtesy of the Barnsley Resort, enhance a traditional bolognese by adding fall-inspired ingredients like sweet potato gnocchi. Many will favor this one pot dish because of its fairly simple to make. From start to finish, cook all ingredients in the heavy-based Dutch oven. Also its simply delicious.
A typical bolognese starts with a mirepoix, a medley of onions, celery, and carrots, and ends with a lot of patience while it slowly cooks. To make it, you would need some time to layer the ingredients to build savoring flavors. Then the magic happens, in the low and simmering heat for three hours, where the meat will cook until tender. For the final touch, throw in the sweet potato gnocchi for approximately three minutes, and wah-la!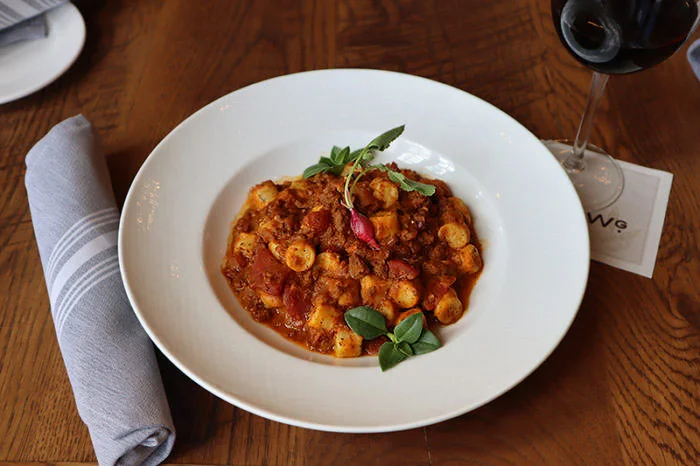 "I love this one pot dish recipe for fall because it is a season when we naturally seek comfort foods. At Barnsley Resort, our sporting lifestyle brings to mind game-inspired dishes such as venison, although you can certainly incorporate any preferred ground meat. Choosing the sweet potato gnocchi adds a beautiful fall color while also adding another layer to this simple yet comforting dish" says Javier Cuesta, Executive Chef of Barnsley Resort.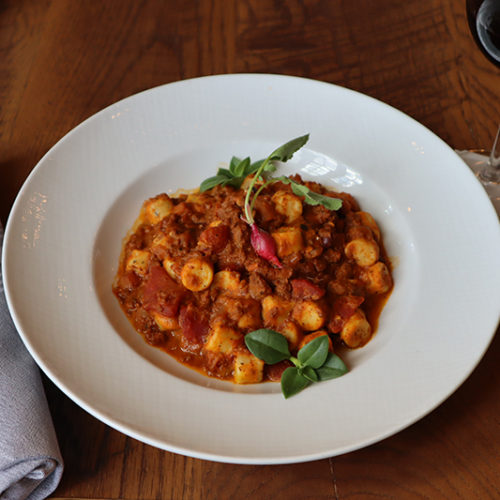 Sweet Potato Gnocchi with Barnsley Venison Bolognese
Javier Cuesta, Executive Chef
In this one pot dish, swap traditional bolognese ingredients for fall-inspired ones like sweet potato gnocchi, courtesy of Barnsley Resort.
3/4

cup

olive oil

2

stalks

celery

finely diced

1

medium onion

finely diced

2

oz

pancetta

finely diced

1.5

lb

ground venison beef

(you may substitute with ground pork, beef, lamb or any combination of your preferred meat)

1

cup

dry white wine

1

cup

puréed tomatoes

Kosher salt

to taste

freshly ground black pepper

to taste

2

lb

fresh sweet potato gnocchi

fresh grated aged Manchego cheese

for serving
Heat the olive oil in a deep, heavy-based Dutch oven or similar pot over medium heat. 

Add the carrot, celery, onion and pancetta to the pot and sauté the vegetables for about 15 minutes until they are lightly browned.

Season the venison (or substitute) with salt and pepper, then add it to the pot and cook for about 8 minutes until browned. 

Add the wine and cook for about 12 minutes until the wine evaporates almost completely and the pan looks dry. 

Add the tomatoes and cook for about 10 minutes until the mixture darkens considerably and begins to look dry. 

Add the chicken stock and cook, uncovered, on very low heat for about 3 hours until the meat is remarkably tender and full of flavor. 

Add the gnocchi and cook for about 2 to 3 minutes with the Bolognese.  
Barnsley Resort is the ultimate retreat to unplug and enjoy all the pleasures and pursuits offered here. With more than 3,000 acres in North Georgia, appealing to the traveler who craves a connection to an outdoor lifestyle. Throw in cozy accommodations, a range of delicious dining choices, a spa, shops and more, and you'll understand the appeal of Barnsley's authentic, active, genuine lifestyle.