Fresh Lemon Ginger Syrup
4 min read
Our homemade lemon ginger syrup starts with fresh ginger root, freshly squeezed lemon juice, and the perfect amount of sweetener to balance it all out. We love honey for this, but agave nectar or maple syrup are excellent substitutes. Jump to The Ginger Syrup Recipe
We struggled a little with what to call this since it isn't thick and sweet like simple syrup, but it's got just the right amount of sweetener to balance ginger and lemon. Plus, you use it like syrup — or you can think of it as a lemon ginger concentrate.
This ginger syrup lasts up to two weeks in your fridge so that it will be ready for
Cocktails
Mocktails
Teas
Flavoring sparkling water or club soda
Making this lemon ginger syrup is easy, not to mention it makes the kitchen smell amazing!
How to Make Lemon Ginger Syrup
First, we must simmer lots of fresh ginger in water until we have a strong ginger tea.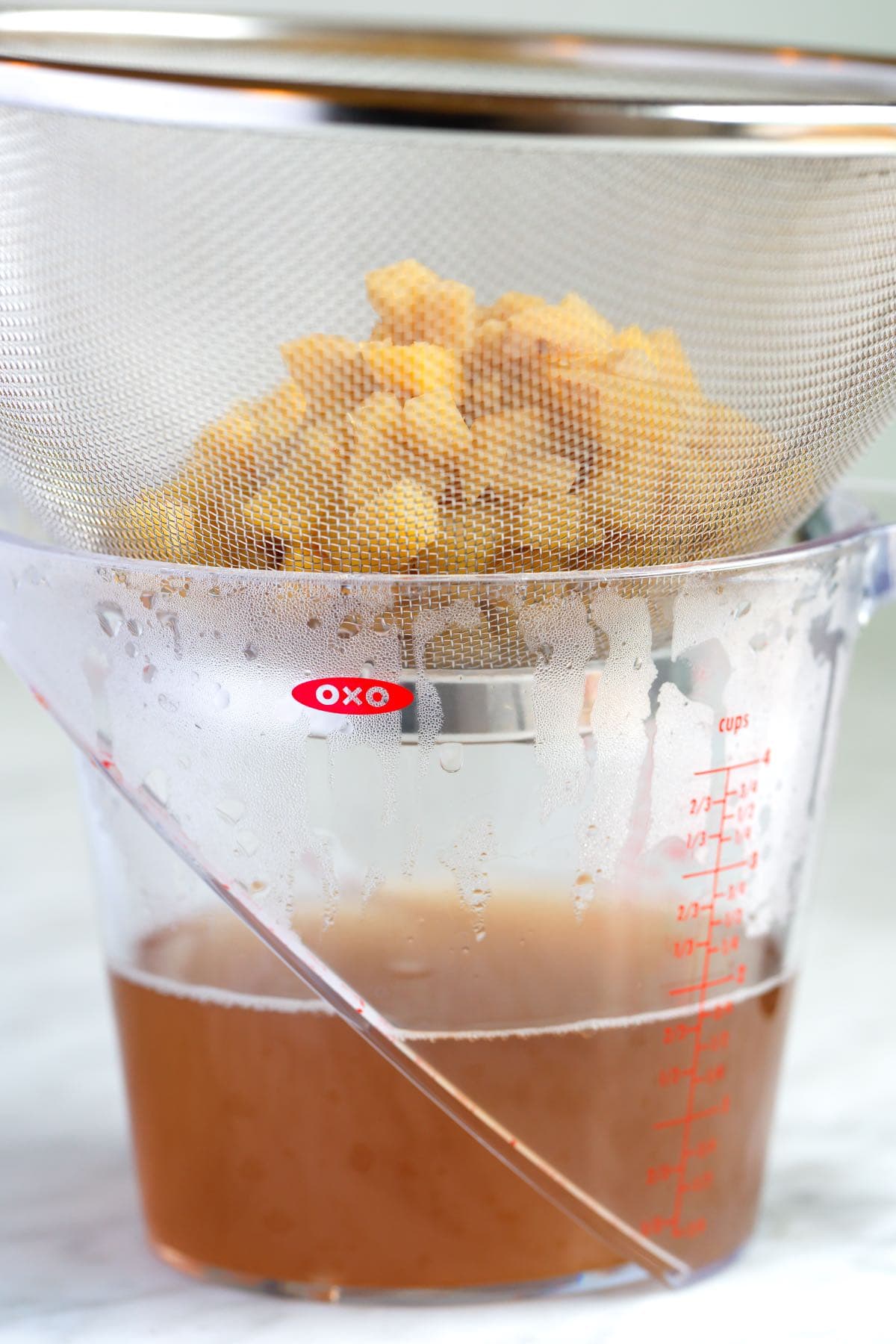 After cooling the ginger tea, we stir in fresh lemon juice and balance the spice and sour notes of the ginger and lemon with a sweetener. I love honey, but as I already mentioned, agave nectar and maple syrup will both work.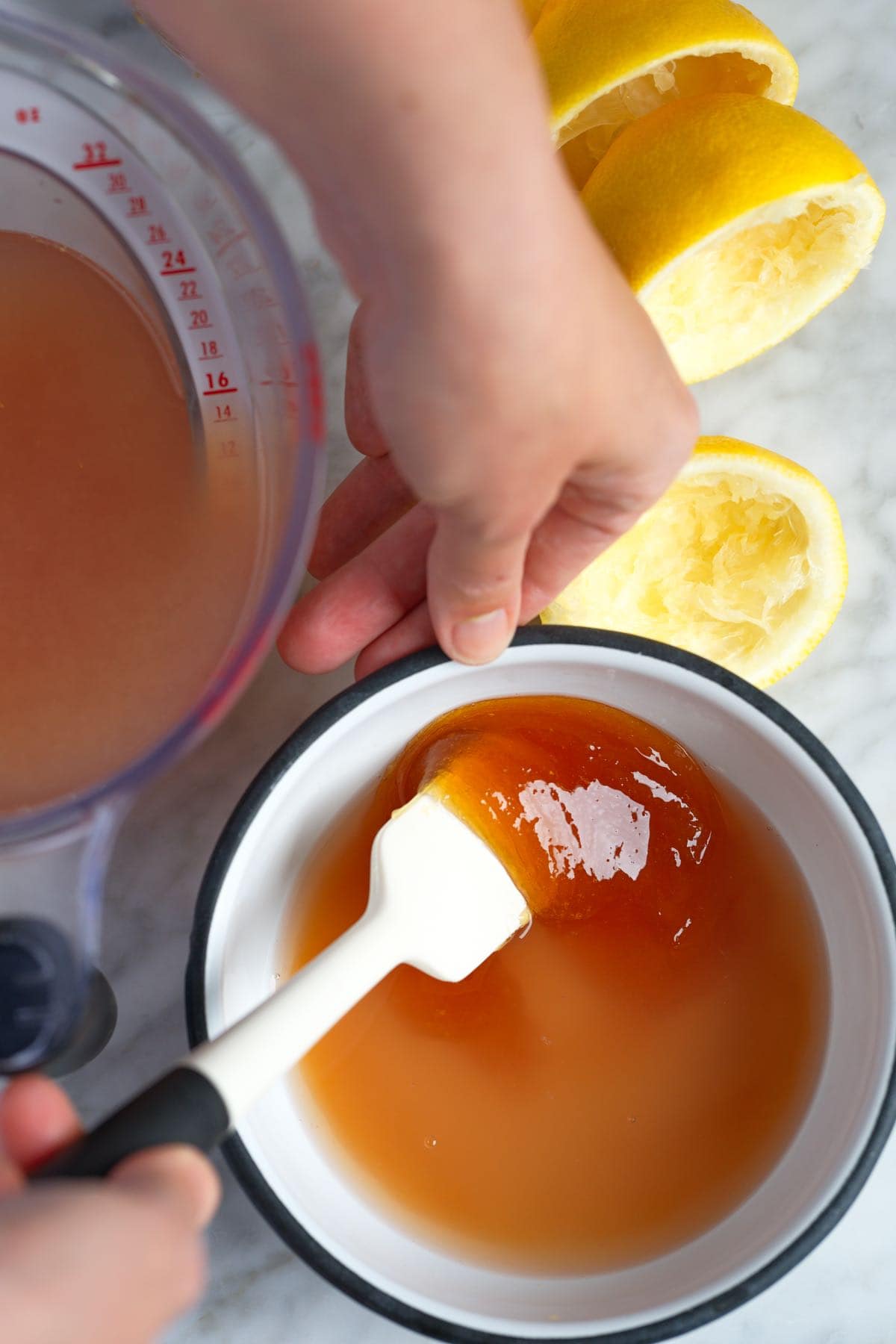 Since honey can be stubborn when mixing into room temperature or cold liquids, I like to "temper" it first by mixing 1/4 cup of lemon ginger tea with the honey. This step thins the honey quite a bit, which helps it to blend in better.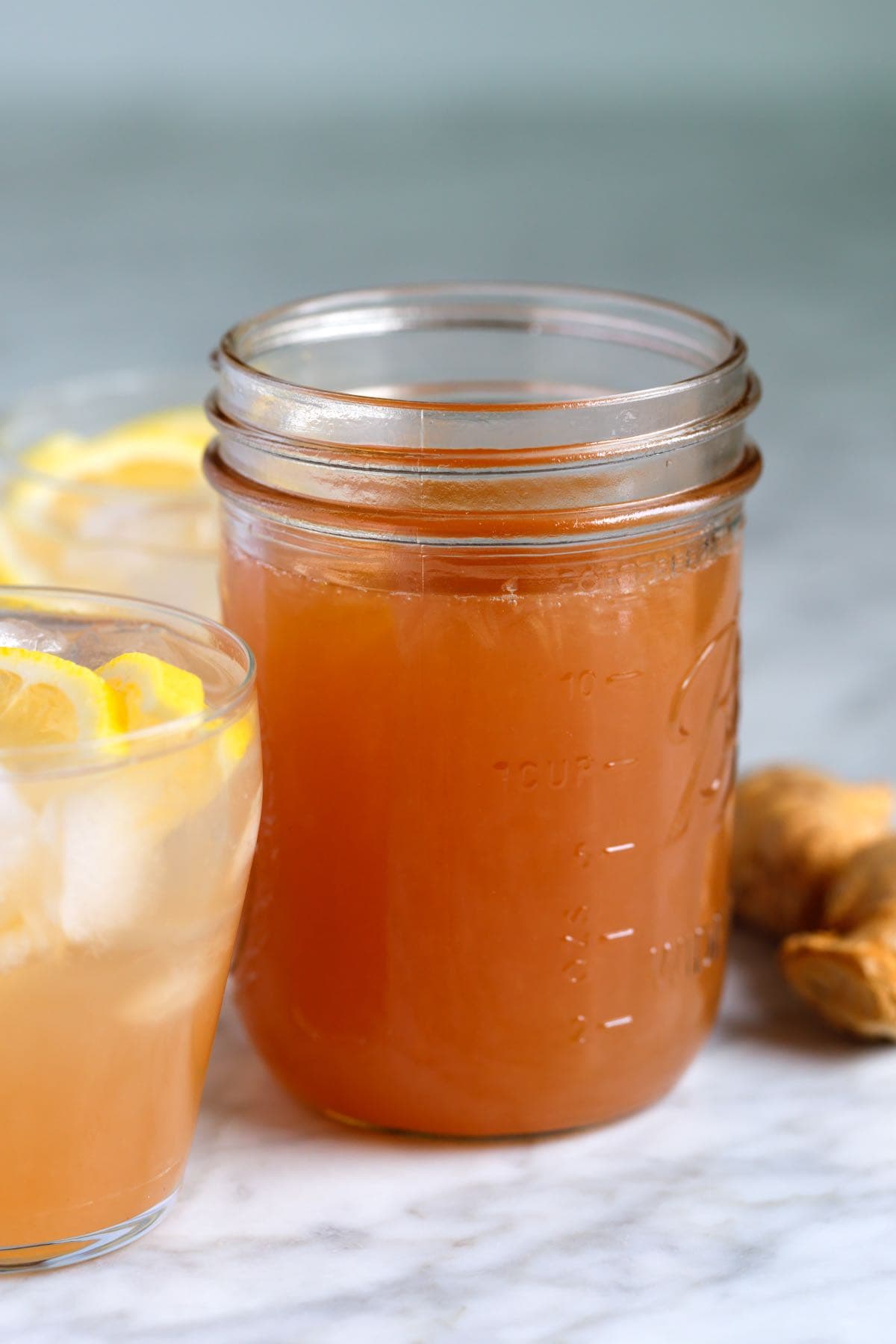 Storing Tips
Keep this lemon ginger syrup in the fridge for up to two weeks. You can probably freeze it, too! I'd imagine for about a month — freezing it in an ice cube tray is a good idea.
When ready to use it, add a couple of tablespoons (or more) to a glass or mug and top it with warm or sparkling water. You can also make cocktails and mocktails!
Fresh Lemon Ginger Syrup
Use this Lemon Ginger Syrup to make cocktails, mocktails, herbal teas, and healthier sodas. Our homemade lemon ginger syrup starts with fresh ginger root, freshly squeezed lemon juice, and the perfect amount of sweetener to balance it all out. We love honey for this, but agave nectar or maple syrup are excellent substitutes.
Makes 2 ¾ cups
You Will Need
8 ounces fresh ginger, 1 ½ cups chopped
4 cups filtered water
1/2 cup fresh squeezed lemon juice, from 2 to 3 lemons
1/3 cup honey, maple syrup, or agave nectar
Directions
Roughly peel the ginger — it is okay if you miss some of the peel in the nooks and crannies. It does not need to be perfect.

Roughly chop the peeled ginger into 1/2-inch pieces, and then transfer to a medium saucepan.

Make the ginger concentrate. Cover the ginger with four cups of water, and then bring it to a boil over medium-high heat. Reduce the heat so that the water is simmering. Cook at a gentle simmer until the water reduces by about half, 30 to 40 minutes.

Place a fine mesh strainer over a bowl or large measuring jug that fits at least 2 cups.

Strain the ginger concentrate, discard the ginger, and allow the ginger water to cool.

When the ginger concentrate is cool enough to hold your finger in it for 10 seconds, stir in the lemon juice, and add the sweetener. Since honey is challenging to dissolve into cold liquids, it is helpful to thin the honey with 1/4 cup of ginger concentrate first before mixing it back into the remaining ginger concentrate.

Taste the ginger syrup, and then adjust with more lemon juice or sweetener as needed.

Transfer the ginger syrup to a jar and store it in the refrigerator for up to two weeks. You will need to stir each time before using.
Adam and Joanne's Tips
Keep this lemon ginger syrup in the fridge for up to two weeks. You can probably freeze it, too! I'd imagine for about a month — freezing it in an ice cube tray is a great idea.
This lemon-ginger syrup is inspired and adapted from Carla Lalli Music of Bon Appetit.
Nutrition facts: The nutrition facts provided below are estimates. We have used the USDA database to calculate approximate values.
If you make this recipe, snap a photo and hashtag it #inspiredtaste — We love to see your creations on Instagram and Facebook! Find us: @inspiredtaste
Nutrition Per Serving: Serving Size 2 ounces / Calories 26 / Total Fat 0.1g / Saturated Fat 0g / Cholesterol 0mg / Sodium 1.1mg / Carbohydrate 6.5g / Dietary Fiber 0.1g / Total Sugars 5.3g / Protein 0g
AUTHOR: Adam and Joanne Gallagher