Make-Ahead French Toast Casserole
5 min read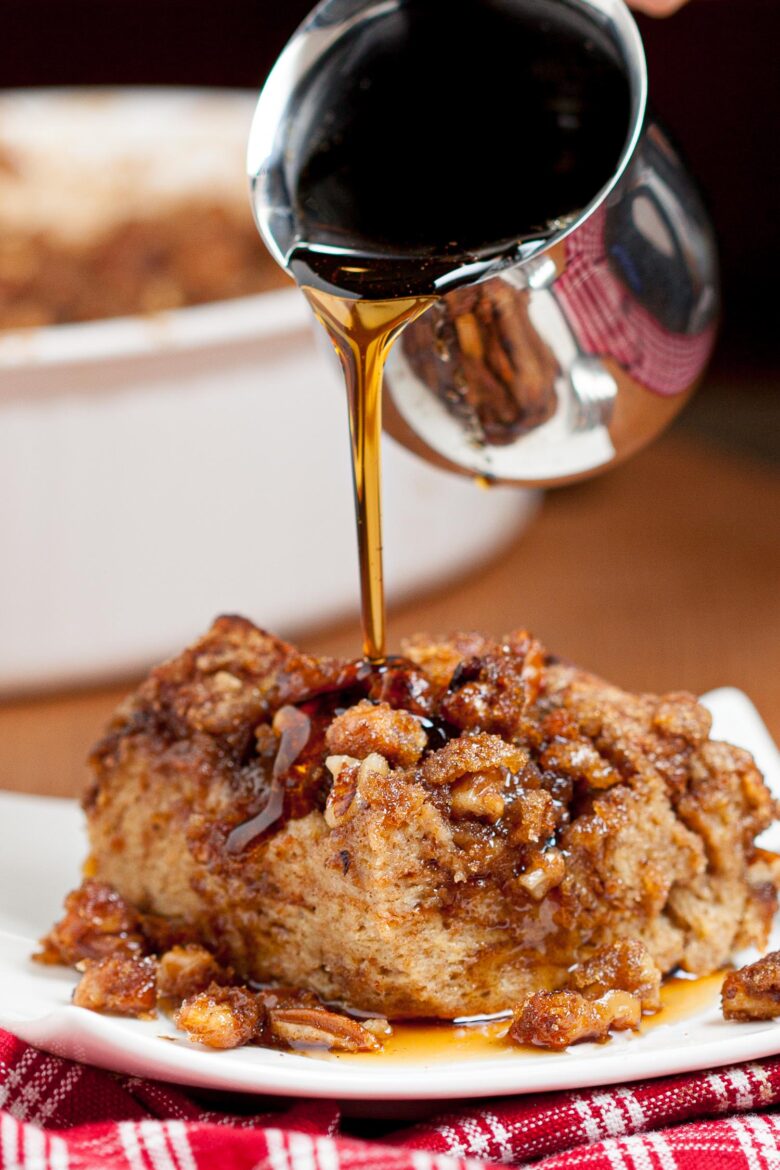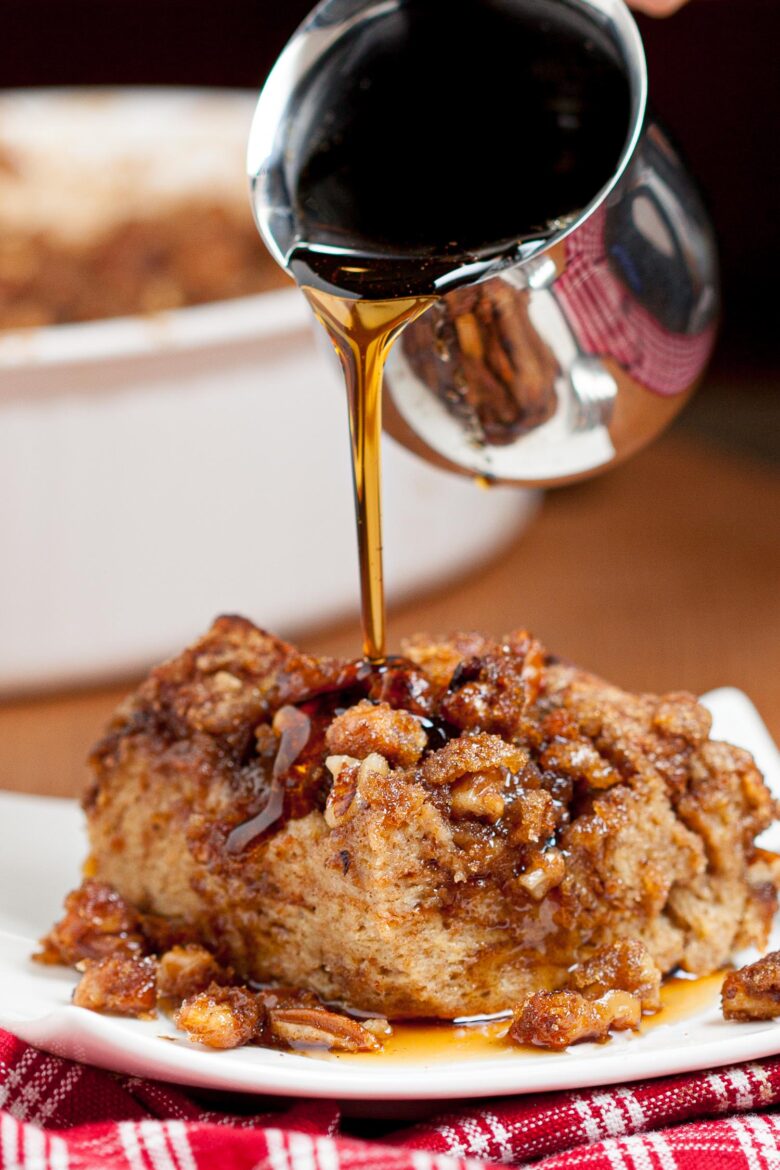 Why You'll Love This Make-Ahead French Toast Casserole
Prepared in advance and baked in no time, this baked french toast casserole is perfect for meal prep!
Made in a 9×13 baking dish, this recipe is great for feeding even the hungriest of crowds.
Pantry staples are all you'll need, making this easy french toast casserole budget-friendly and easy to whip up.
A nice change from oatmeal or savory breakfast casserole, this is one decadent breakfast the whole family will be excited to eat.
Tossed together in one dish and baked in the oven, this make-ahead french toast casserole is basically fail-proof.
Easy French Toast Casserole Key Ingredients
One of the best things about this make-ahead french toast casserole recipe is that you can use any kind of bread you have on hand, even wheat! Take a look below to find all the pantry staples you'll need.
For the Streusel Topping:
Sugar – Brown sugar works best for the topping to enhance the sweetness and add a caramel-like taste without drying out the rest of the ingredients.
Pecans – Included to add a nice crunch and a rich, buttery flavor.
Butter – I recommend using salted butter to coat the mixture.
Cinnamon – Everything tastes better with cinnamon! We use a fair amount for a hint of sweet spice.
For the Baked French Toast Casserole:
Bread – We use wheat bread for this easy french toast casserole, but any hearty bread you have on hand will taste great. For the best results, opt for stale bread as it absorbs the egg mixture more easily.
Eggs – Crucial to locking in moisture and creating a crisp, golden exterior.
Milk – For an extra rich flavor, we recommend using whole milk. If needed, you could replace it with a dairy-free alternative.
Sugar – Regular granulated sugar is combined with the egg mixture for a sweet dessert-inspired breakfast.
Salt – Used to enhance the rest of the ingredients.
Vanilla Extract – Makes for an even sweeter recipe.
Maple Syrup – Technically optional, we love a good drizzle of pure maple syrup on top!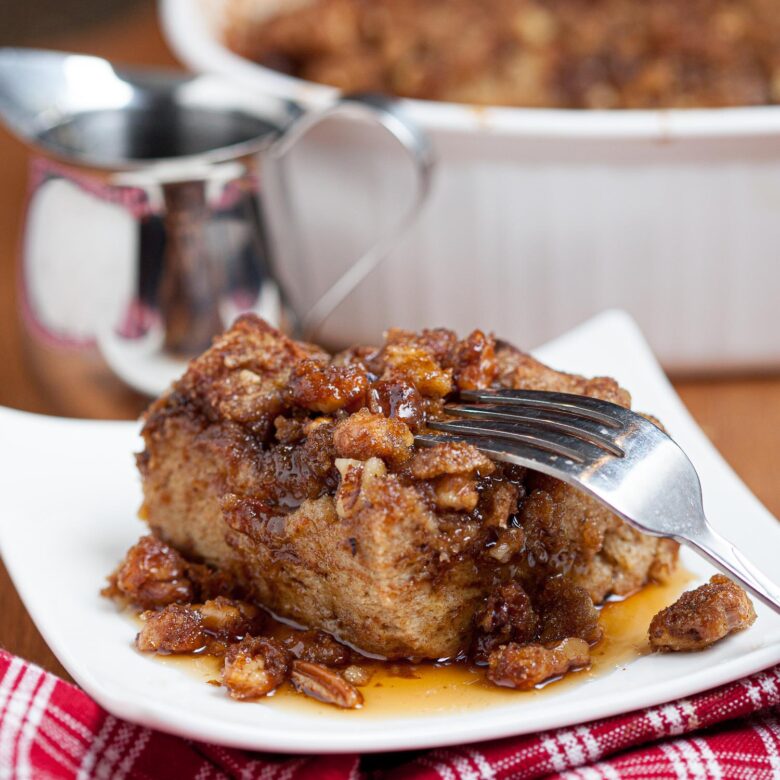 Flavor Variations
There are endless ways to prepare this make-ahead french toast casserole. Feel to experiment with your favorite mix-ins and substitutions such as those listed below.
Allergy-Friendly: If needed, use dairy-free milk, gluten-free bread, and omit the pecans to fit all your dietary needs.
Fruity: Try mixing in fruit such as blueberries, strawberries, or apples into the bread mixture. Or, top your french toast with banana coins, orange zest, or even a dollop of jam.
Savory: For a sweet and savory combination, add crispy bacon pieces to the bread mixture or sprinkled on top.
Extra Cinnamon: If you're a cinnamon lover, swap out the plain bread for cinnamon swirled bread pieces instead. 
How to Make the Baked French Toast Casserole
Prepare the streusel topping. Mix all of the topping ingredients together in a small bowl until it resembles damp chunks. Then, cover the mixture, and place it in the fridge to chill.
Prepare the bread mixture. Add the bread pieces to a well-greased 9×13 baking dish. In a separate bowl, whisk together the eggs, milk, sugar, and vanilla. Pour the mixture over the bread cubes, and toss ensuring all of the bread pieces are well coated. Cover the dish, and store it in the refrigerator overnight.
Bake. Toss the bread to stir up any of the egg mixture that may have sunk to the bottom. Sprinkle the streusel on top, and bake until the casserole is golden brown and bubbly.
Cool and serve. Allow your easy french toast casserole to cool slightly. Then, add a drizzle of maple syrup on top, and dig in!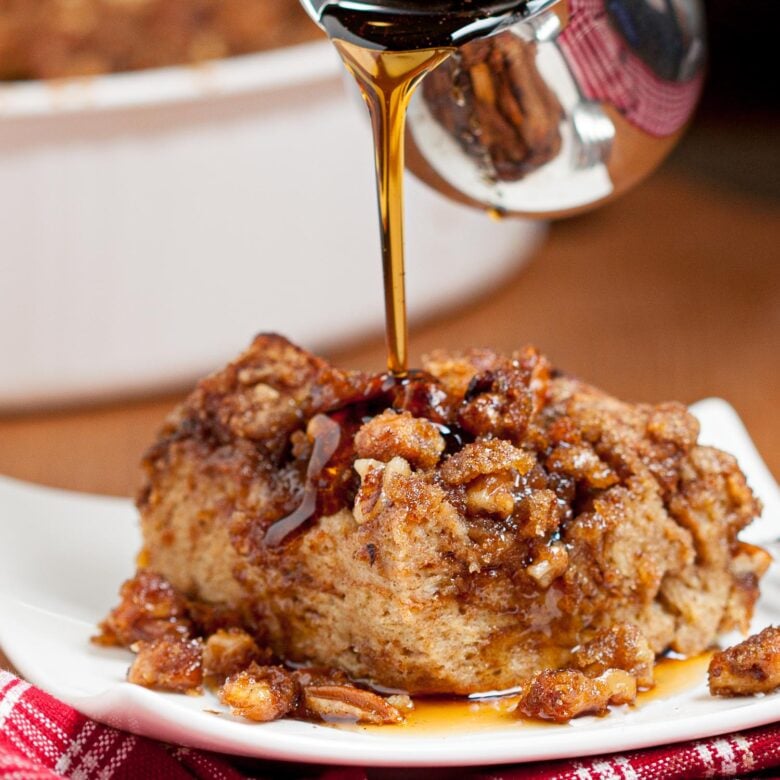 Make-Ahead French Toast Casserole Common Questions
How do you prevent French toast casserole from becoming soggy?
The most important factors to non-soggy results are the type of bread and the liquid to bread ratio. You want the bread pieces to be coated in the mixture, but not drowning in liquid. If needed, add more bread to the baking dish to absorb any excess liquid before baking. Be sure to use a hearty bread that's at least a few days old.
How long does this baked French toast casserole last?
Once baked and cooled, leftover french toast can be covered and stored in the fridge for up to 3-4 days. To reheat, place it in the oven at 350° Fahrenheit for 15-20 minutes until heated through. Or, pop it in the microwave instead.
Can I freeze baked French toast? 
French toast casserole is really best served fresh, straight from the oven. However, you can freeze baked French toast leftovers by wrapping them in foil and freezing them for up to 2 months. Thaw it in the fridge overnight, and warm up it when you're ready to eat.
Do I have to let French toast casserole soak overnight? 
This make-ahead french toast casserole is best when left to soak overnight as it allows the egg mixture to really sink into the bread, creating a soft fluffy interior and crisp, golden exterior. However, if you're in a bit of a rush, you can bake the casserole after an hour of soaking.
---
More to Bake and Eat
---
---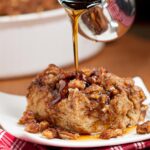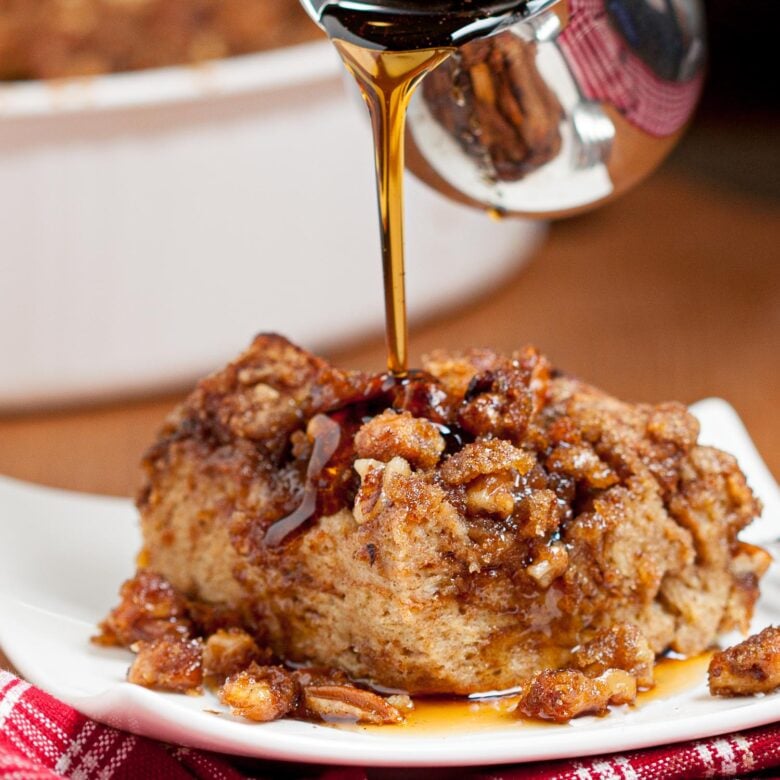 Make-Ahead French Toast Casserole
A fail-proof recipe, this make-ahead french toast casserole is fluffy, sweet, and topped with a scrumptious cinnamon streusel topping. Prepare it the night before for a showstopping breakfast or brunch!
Servings: 16
For the French Toast Casserole:
Combine all streusel ingredients in a bowl, mixing well until they resemble wet sand-like chunks. Cover and keep in the fridge until ready to use.

Grease a 9×13 baking dish with butter. Place 12 cups of bread cupes in the dish.
In a large bowl, whisk the eggs, milk, sugar, salt, and vanilla until smooth. Pour the mixture evenly over the bread cubes, tossing to ensure they are well coated. If there seems to be too much liquid, add another cup of bread cubes until it is mostly absorbed. (There will be a thin layer of excess liquid at the bottom.)
Cover the dish, and place it in the fridge to chill overnight, if making ahead of time. Gently toss the soaked bread cubes again before baking.

Preheat the oven to 350F. Sprinkle the chilled streusel topping over the top of the casserole. Bake for 45-60 minutes or until the top is golden brown and bubbly. If it starts looking too browned at the 45-minute mark, loosely tent the baking dish with foil, and continue baking.

Allow to cool for 10-15 minutes, and serve warm topped with maple syrup, if desired.
Streusel topping can be made several days in advance.
We often use whole wheat bread in this recipe, with great results.
If you enjoyed this recipe, please come back and give it a rating ♡
Serving: 1serving | Calories: 537kcal | Carbohydrates: 113g | Protein: 27g | Fat: 20g | Saturated Fat: 7g | Polyunsaturated Fat: 5g | Monounsaturated Fat: 6g | Trans Fat: 0.2g | Cholesterol: 103mg | Sodium: 402mg | Potassium: 610mg | Fiber: 12g | Sugar: 43g | Vitamin A: 380IU | Vitamin C: 0.1mg | Calcium: 392mg | Iron: 5mg
Did you make this?
Leave a comment below and tag @chewoutloud on Instagram